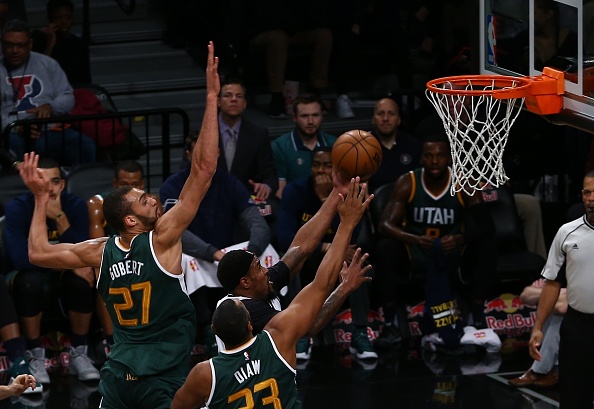 Donovan Mitchell and the Utah Jazz fall to eighth in the Western Conference Standings with their loss to the Atlanta Hawks.
Rudy Gobert and his team have been playing playoff basketball. Tuesday they were caught by surprise from a team with nothing to lose.
Utah only lost by five points. This loss gives the Denver Nuggets and LA Clippers a chance to make a playoff run. The Jazz only had one starter who didn't score any points. Only if Jonas Jerekbo scored the Jazz would have come out of this game victorious.
One positive that arose from this game is that Rudy Gobert recorded a double-double, with sixteen rebounds, fifteen points. Rudy Gobert and Donovan Mitchell were two out of four Jazz players who scored double digits. Mitchell played forty-one minutes scoring twenty-four points.
"It was an off night, and when you're not making shots you've got to figure out other ways to score."

>> https://t.co/hN7K6K53W4 pic.twitter.com/Tk83ypdgaB

— Utah Jazz (@utahjazz) March 21, 2018
Points were hard to come by for Utah. They did okay yet there field goals weren't falling down. According to the box score, Utah only made six out of an attempted thirty-four three pointers for 17.6 percent. They also made twenty-two out of twenty-five attempted free throws for 88.0 percent. The teams field goal percentage was 37.1 percent making thirty-three out of eight-nine field goal attempts.
Additionally, turnovers were the other area that hurt them other than missing shots. They turned the ball over sixteen times. The Jazz had sixteen assists, which is five less than their opponents.
Utah may be the eighth seed, yet they are still eleven games left in the season and they can end up as the third seed. Where they end up seeding for playoffs will come down to the last games as seeds three-eight are all within a few games of each other.
If Utah wants a good chance at advancing in the postseason they must keep winning their games. They have eleven games left to make a playoff push.
Utah is a dark horse in the Western Conference to watch out for if they end up making the playoffs. This is because they can hold their own with anyone in the league, yet alone defeat them in a game.
Main Photo: