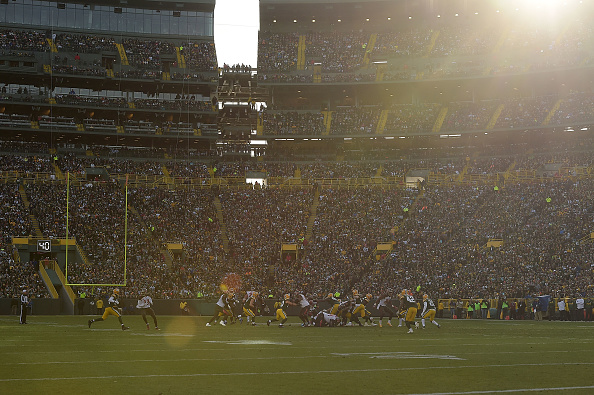 The new NFL "year" started out yesterday with the confirmations of two key signings for the Packers. Tight end Jimmy Graham was signed to a 3-year, $30 million contract along with defensive end Muhammad Wilkerson signing a 1-year, $5 million with $3 million in incentives.
2018 Green Bay Packers
Under the new regime, Brian Gutekunst wanted to find value as well as be aggressive with prospective free agents. Although they had to make Graham the highest paid tight end, the move checks off a top need for them. The move also gives Aaron Rodgers a versatile play maker who will be his go-to target, in the red zone. Wilkerson, on the other hand, gives the Packers a must needed pass rusher without the risk. The deal is, essentially, a prove it deal. Minimal risk with high reward since it's on Wilkerson to prove himself. Now that the frenzy is over, here are five predictions on the Packers 2018 season before the NFL draft.
Clay Matthews Will Have More Than Ten Sacks
Since 2014, Matthews hasn't recorded a season with more than 7.5 sacks. Before that, he recorded more 10 four out of six seasons. Most of this is because he couldn't stay healthy along with the Packers moving him to middle linebacker. Enter, Mike Pettine. Pettine's defense thrives with versatility. Adding Wilkerson will help free up Matthews along with Nick Perry.  As long as he can stay healthy, Matthews will once again reach double digit sacks.
Defense Will Rank In Top-12 Overall
Here's the rankings for last year defense:
22nd in yards (23rd in passing, 17th in rushing)
26th in points (32nd in points per drive)
28th on 3rd downs
31st in the red zone
To say they weren't very good, would be an understatement. There's two reasons why. The first would be Aaron Rodgers. Sometimes your best defense is your offense. Brett Hundley, more importantly Mike McCarthy, couldn't keep drives alive meaning the defense was always on the field. Second, a Mike Pettine defense. As a coordinator, his defenses were ranked five times, in the top-10. There will be a new look to next years defense even without their glaring need of cornerbacks. Those will come.
Jimmy Graham Will Have a 1,000-yd Season
In his seven year career, Graham has only amassed 1,000 yards twice. Once in 2011, then in 2013. You may say that those days are behind him or are long gone. That is not the case. The last three years were spent in a system that didn't work for him. Seattle was never going to use him the way he was used in New Orleans. They needed him to stay inside to block more than spread him out. Expect Joe Philbin to use him the same way New Orleans used him. Also, remember the name Jermichael Finley? This won't be the first time Philbin has game planned for a guy like Graham.
Aaron Rodgers Will Win MVP
2013 was the year Aaron Rodgers went down with a broken collarbone. The next year, he came out to throw for 4,381 yard to go with 38 TDs and only five interceptions. The guy plays with a chip on his shoulder ever since he came into the league. Just because it's the same injury doesn't automatically qualify the same results. The way Rodgers is wired is why he will win MVP. There are other quarterbacks that are signing bigger deals. There are other quarterbacks gaining more accolades. That is not to say he cares about those things, but he still uses them to fuel the fire. Expect Rodgers to come back with a vengeance.
The 2018 Packers will have a new feel to go along with their new look. There are still some holes that need to be filled, but Gutekunst and the Packers are only getting started. Remember, the best offseason transaction will be getting a healthy #12 back.
Main Photo: