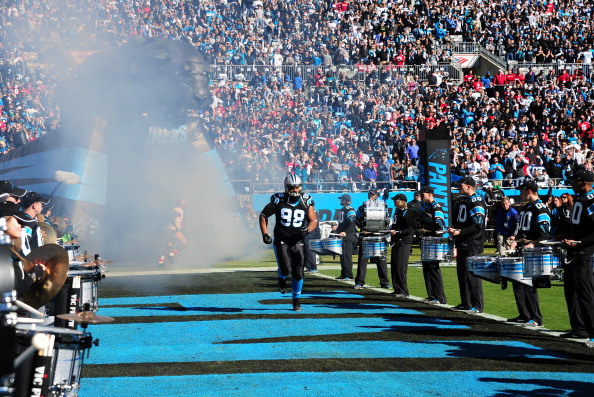 The Buffalo Bills have signed former Carolina Panthers Defensive Tackle Star Loutlelei. Star is a 6'3 310 lb beast in the middle of the line. He only has 11.5 career sacks, but that isn't the whole story on Lotulelei. Where Star excels is the run game. He is a dominant run blocker that will bring an immediate impact to a Bills defense that has struggled in that department. Star Lotulelei brings run support, but that is not all he brings to the Bills. Here is how Star Lotulelei will help the Buffalo Bills in 2018 and beyond.
How Star Lotulelei Will Help the Buffalo Bills in 2018 and Beyond
3. Run Defense
Signing Star Lotulelei bring much-needed help to the Bills front seven. The run defense has been a major concern for Buffalo over the past few seasons and it was never more evident than last season. The Bills will combine him with Kyle Williams for a perfect blend of pass rush and run stuff. The Bills front seven are already looking better with the signing of Star. He will join Williams, Lawson, and Hughes on the defensive line. If they can retain Preston Brown the Bills can do some serious damage on the defensive side of the ball in 2018 and beyond.
2. Sets up Future of Defensive Line
Signing Star Lotulelei also sets up the Bills future on the D-line. Before they signed Star their Defensive line was starting to age. Their only true stars on the D-line are Kyle Williams and Jerry Hughes. Both have been in the league for a while so getting Lotulelei for the next 5 years. He and Shaq Lawson are going to lead the line into the future. Buffalo also has DT Adolphus Washington who has had experience as a starter.
1. Lighten the load of the Draft
Something that the Lotulelei signing does that goes unnoticed is it lightens up the needs we have to draft. While Buffalo will most likely trade up to draft a quarterback, they will still have plenty of picks in the 2018 draft to fill more holes. Interior D-line will no longer be one of those holes. Instead, Buffalo can try and work on upgrading the receiving core or finding a linebacker for the future.
Main Photo: