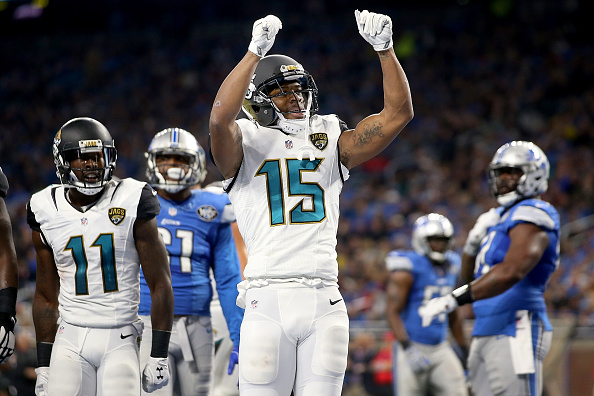 Former Pro bowl wide receiver Allen Robinson did not receive a franchise tag from the Jacksonville Jaguars and is expected to hit the open market at the start of new league year on March 14. Robinson, just 24, is the undisputed top receiver to hit free agency, as the Los Angeles Rams are expected to get a deal done with Sammy Watkins before free agency begins. Robinson is coming off an ACL tear in 2017 and a down 2016, but he put up a 1400 yard, 14 touchdown pro bowl caliber 2015 season. Looking at the teams with receiver needs, there are a couple of obvious options for Robinson to land. Here are five potential landing spots for Allen Robinson.
Landing Spots for Allen Robinson
Jacksonville Jaguars
Most assume that the Jaguars are letting Robinson walk because they did not tag him, but that's far from the true. Jacksonville still has a week to work out a new deal with him before he officially tests the market. While Jacksonville has a multitude of young receivers, Robinson is by far the most important asset. With Marquise Lee most likely hitting free agency and Allen Hurns having injury troubles in the past, the Jaguars could go into next season having to rely on 2017 rookies Dede Westbrook and Keelan Cole. Robinson is better at 50/50 balls than 90 percent of receivers in the league, and with an inaccurate Blake Bortles throwing the ball, the Jaguars desperately need someone like that. With limited options in free agency, they should give Robinson what he is asking for and keep him from falling into the free agent frenzy that will be waiting for him.
San Francisco 49ers
The Jimmy Garoppolo effect is real in California. Players want to play with Jimmy GQ and head coach Kyle Shanahan. San Francisco also has loads of cap room to make a strong push for Robinson and other offensive playmakers. Robinson would step into the WR1 role in San Fran, giving them a much needed big bodied red zone threat who can still stretch the field. While the 49ers will be getting Pierre Garcon back from injury, he is already 31 years old and is more of a possession receiver at this stage in his career. Robinson would slide in nicely alongside speedster Marquise Goodwin, who topped 950 yards this past season with only six games of Garoppolo. Signing Robinson would almost immediately put San Francisco in contention for the NFC West and the playoffs.
Chicago Bears
The Bears wide receiver core suffered from injuries to both Kevin White and Cam Meredith, but either way it was one of the worst in football this past season. They ended up starting Deonte Thompson, Kendall Wright and Markus Wheaton at wideout in 2017, mixing in some Tarik Cohen in the slot. The addition of Robinson almost makes too much sense for the Bears, as they clearly need some weapons outside of Jordan Howard to help out 2017 rookie quarterback Mitchell Trubisky going forward. While Robinson will be expensive, Chicago has over 64 million dollars in cap space. He would become the focal point of that passing offense and would give a young QB a much needed trustworthy red zone threat.
Baltimore Ravens
Baltimore has question marks all over the offensive side of the ball, but especially at receiver. Their current depth chart features aging Mike Wallace and Jeremy Maclin, wildcard Michael Campanaro and former first round pick turned bust Breshad Perriman. With reports that Maclin could be on the chopping block, the Ravens become a team in desperate need of a true top wide receiver to catch passes from Joe Flacco. Robinson would again most likely become the focal point of the Ravens' passing attack, but the issue the money may not be there. Currently, Baltimore has just over nine million dollars in projected cap space, according to Spotrac.com. Also taking into account signing draft picks and other free agents, the Ravens will most likely not have the cap room to give Robinson the deal is looking for.
Washington Redskins
Washington's signing of Terrelle Pryor last season turned out to be a bust, and Pryor will hit the open market next week. This leaves a hole in the Redskins' passing attack that will be headed by newly acquired Alex Smith. While Washington has weapons in the receiving core, such as Josh Doctson and Jamison Crowder, signing Robinson would give them one of the more dangerous offenses in the league. Robinson would give Washington one of the best red zone offenses in the league as well, featuring Robinson (6'3), Doctson (6'4), and Jordan Reed (6'2). The Redskins have the money to make this Robinson dream a reality, and signing him would give them a young offensive core that would not only be set for the present, but also for the future. However, Washington has more glaring needs than receiver, especially on the defensive side of the ball, so Robinson will most likely not be a priority.
Prediction 
I would predict that Robinson ends up staying put in Jacksonville or going out to the west coast to San Francisco if Jacksonville can't come to an agreement before next Wednesday.
Image Credit: Embed from Getty Images