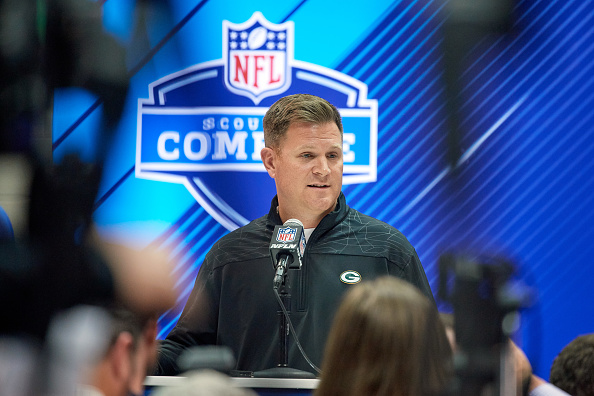 The Green Bay Packers had a forgettable 2017 season. The season started with a lot of promise only to be cut short by week six against the Minnesota Vikings. Quarterback Aaron Rodgers went down on a controversial hit, by Anthony Barr, that left Rodgers with a broken collarbone. After that, the weaknesses were highlighted and exposed because Aaron Rodgers wasn't able to hide them. Their pass rush was suspect. Their secondary couldn't help get them off the field. To top it off, their offense never got into any sort of rhythm. For the Packers to get back on track, here are five free agents they need to sign.
Muhammad Wilkerson
Mo is only two years removed from signing a five year, $86 million contract extension with the Jets. Since Mo came into the league, he has been regarded as one of the best defensive lineman, in the NFL. With his versatility, he has been able to get to the quarterback as a defensive tackle as well as a defensive end. Add him to a line that already has Mike Daniels as well as a promising Kenny Clark, that'll free up Clay Matthews and Nick Perry to let them do what they do best.
Allen Robinson
The Packers are at a cross roads with their aging wide receiving corps. Last year, Davante Adams was the only receiver that could get any separation. They need someone who can stretch the field. Before his injury, Robinson was regarded as one of the top down field threats. He's coming off a major knee injury so the value is going to be there. What would be better than catching footballs from one the all-time greats?
Josh Sitton
Welcome back, Josh! Protecting Aaron Rodgers will the top priority for next season. Bringing back Sitton, would shore up the offensive line especially since Bryan Bulaga, Jason Spriggs and Kyle Murphy all ended the season on the IR. He knows the system along with the playbook so there won't be any adjustment period.
Richard Sherman
Reports are that Sherman will be released by the Seahawks. Packers will need to pounce on him right away. Kevin King provided a glimmer of hope even with a bad shoulder. The Packers ranked towards the bottom of the league in third down defense. Adding a pass rusher along with a shutdown corner will go a long way to helping them get off the field. Sherman is a proven commodity even coming off an injury. Lining him up on one side of the field will open up opportunities for a Mike Pettine defense.
Kenny Vaccaro
The Packers seemed to have moved on from Morgan Burnett. Rightfully so given Burnett's injury history. Vaccaro will bring in the same versatility along with the veteran experience they need for Josh Jones. Pettine's defense thrives on versatile players who can play multiple positions. Vaccaro fits that bill to a T.
Whether the Packers sign all or none, the expectation is to be more aggressive in the free agent market. Providing veterans will not only help this year, but will also help groom the incoming rookie class. Brian Gutekunst will have a tall order with, arguably, the biggest off-season of his career.
Image credit: Embed from Getty Images