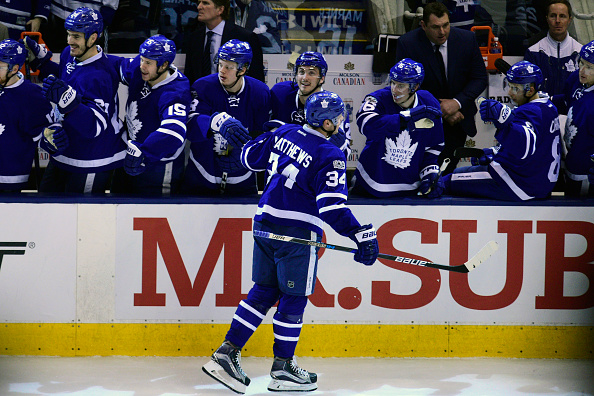 Throughout this season we have seen both magic and disappointment from the Toronto Maple Leafs. They have been hotter than the sun and colder than ice. This is a result of the Buds being a little too young and inexperienced. This isn't a bad thing, it just means this team is still growing. With 14 games remaining and a playoff spot basically locked in, here are five reasons why it's still not their time…yet.
Not The Toronto Maple Leafs Time… Yet
No Defense? Big Problem!
The Toronto Maple Leafs have had offensive furies all season long. They have an abundance of skill and firepower when it comes to their forwards. Even this season we have seen outstanding offensive ability from the blueline in the form of Morgan Rielly and Jake Gardiner. But defensively this team has also shown that at times it can be, for lack of a better term, out of whack. Not to say that the defensive side of the Leafs is borderline atrocious, but it needs some cleaning up.
Roman Polak needs to go; he is a great leader and team guy but when it comes to being on the ice, he's just not cutting it anymore. His lack of speed is dreadful and he was brought back in to be a penalty-kill specialist but the problem is he is the player taking the penalties. Obviously, they are young on the back end too which is why mental errors are going to happen. But with the likes of Travis Dermott, Andreas Borgman, and Timothy Liljegren, this team does have a bright side for the defensive aspect moving forward. This year for the Leafs is a learning curve as they didn't get that defensemen they were begging for to help them make a cup push.
Freddie Got Fingered
This season Frederik Andersen has been the MVP for the Toronto Maple Leafs. He has saved them countless times in bad games. Over the last couple months, Andersen has shown signs of fatigue. When Curtis McElhinney steps in, he has somehow managed to hold his own, even with his very unorthodox style of play. With a record of 7-4-1 in 13 games, maybe they turn to McElhinney for a few games late in the season to give Andersen a rest.
When the playoffs roll around, there will be the question if Andersen's body has finally had enough and will start to wear down. You can ride a hot goalie and Andersen has shown to be Vezina-caliber this season. However, over the last little stretch you do notice a bit of tiredness in his game and that could prove to be costly in a long playoff series with the Boston Bruins or Tampa Bay Lightning.
Mike Babcock stubbornness
There is no question about Babcock being a great coach, maybe even one of the best of all-time. However, at times, this year and last, Babs has shown that stubbornness he had with the Detroit Red Wings. This looked to be costly in a few games this season as Babcock was not even trying to juggle the lineup to try and potentially get a spark from new lines. Every time it looked like a possibility Babcock shut that down immediately. He could easily cost this team in the playoffs if this stubbornness continues when the Leafs find themselves in a sticky situation.
This may come to a surprise but Auston Matthews has not had the sophomore season he wanted, but 50 points in 53 games are pretty good production when he has played. Unfortunately, he had a bad string of injuries this year keeping him out of 15 games so far and counting. This is bad news for the Leafs as their star player needs to be there for them come playoff time. The current shoulder injury is not long-term and he will be ready for next week, but there is a chance he could be re-injured. When he is out, there is clearly a void in the line-up. Matthews is their leader and going to be one of the best superstars in the league for years and years to come. If he is not healthy the playoffs will be very dicey for the Leafs.
Lack of experience..period!
The Leafs are lacking in certain areas that are noticeable. Something that isn't so noticeable is the fact that come playoff time, they have little experience when it comes to playoff hockey. Of course, this comes with some exceptions (for example Ron Hainsey, Roman Polak, Tomas Plekanec and James van Riemsdyk). Now this could easily be a "whatever" point due to the fact that they played in the playoffs last year going to five overtimes in six games with the Washington Capitals but the fact is, they'll either be playing a Tampa Bay Lightning team that has been to a cup finals in the past five years as well as a Bruins team who as well have many guys from their 2011 Stanley Cup win and have also been to the finals in the last five years.
These are the top five reasons why it's not the Leafs time to win…yet! This team has many small flaws that will make it tough if they want to somehow push through two tough rounds of either playing Tampa or Boston. But, who knows what can happen in playoff hockey? It will be fun to watch regardless. All one can say for sure is that playoff hockey is always interesting. It's going to be another fun challenge for this team come April!