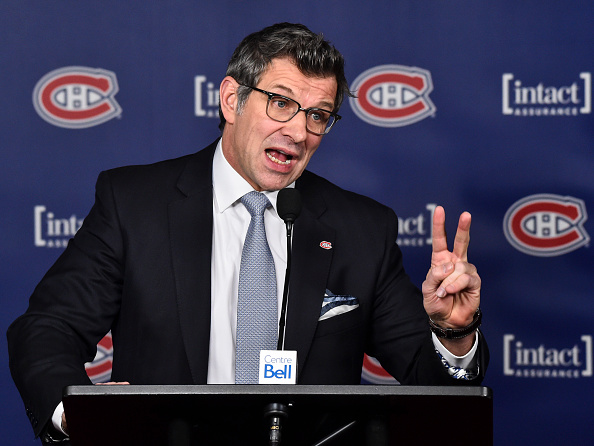 The Habs went into the trade deadline as sellers. While they did sell off a few assets, they did not move as many pieces as some fans would have liked. For a team whose season is all but over and is playing for a better draft pick, the Habs elected to keep most of their roster together. Now whether that's because there was no market for these players, or Bergevin did not receive fair value for his assets, we will never know. What we do know is that with the trades he did make, he got fair value and has he elected to go younger and faster with his team.
The Habs traded Tomas Plekanec to the Toronto Maple Leafs for Rinat Valiev, Kerby Rychel and a 2nd round pick. This was a solid return for Bergevin, as he got two young prospects who could slot into the line up as early as next season. It also gives Bergevin his 4th second round pick of the 2018 draft.
Valiev is a 22 year old lefty shooting defenseman, who possesses good size at 6'2" and 208lbs. He's has good foot speed and plays a physical shut down type of game. He's not the most offensive defenseman, but does make smart, high percentage plays to move the puck out of the defensive zone. Valiev is projected to challenge for a bottom pairing role with the Habs. He gives them some much needed depth on the left side, which is a position of weakness right now.
Rychel is a former first round pick of the Columbus Blue Jackets. Although, he hasn't really developed as quickly as some would have liked. He plays with a bit of an edge, and possesses good hands and has a decent scoring touch. Rychel's not the greatest skater, but he has improved since his days in juniors. He has developed his two way game in recent years. Rychel should challenge for a spot on the Canadiens bottom two lines next season.
Joe Morrow to the Jets
The Habs traded Joe Morrow to the Jets for a 4th round pick. Dumping Morrow is a clear win for Bergevin. Morrow was not able to earn a full time role with the Canadiens this season and is a UFA at seasons end. They also picked up a 4th round pick, which they did not have as they traded there's last year. Although, they have the potential to add two more 4th rounders from conditional trades with the Oilers and Kings.
The Habs traded Jerabek to the Washington Capitals for a 2019 5th round pick in the days leading up to the trade deadline. They then flipped that pick to the Minnesota Wild for left handed defenceman Mike Reilly. Essentially the trade ends up being Jerabek for Reilly.
Reilly is younger and faster then Jerabek, and has more NHL experience playing 84 games to Jerabek's 26. He also has another year left on his contract which he will then become a restricted free agent. So the Habs still have control of him after next season. Jerabek is set to become a UFA at seasons end. There still lies the possibility of bringing Jerabek back into the fold. However, with the acquisitions of Valiev and Reilly, it seems very unlikely.
Overall
After the work Bergevin did leading up to, and at the trade deadline, I would give him a B rating for what he accomplished. I am very satisfied with the return he got for his assets. However, I would have liked to see him deal a couple more pieces for some draft picks. With that being said, Bergevin still has the opportunity to moves these players at the draft, as they are all still under contract. It's definitely a step in the right direction, with potentially nine picks in the first four rounds of this years draft. Bergevin has the Habs set up as the most interesting team to watch this off-season.
Main Photo: