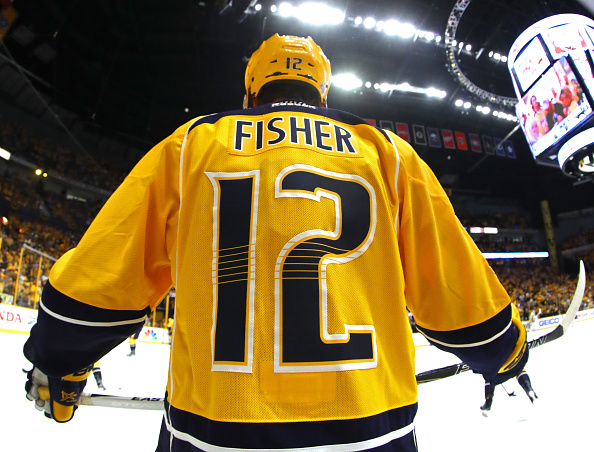 Nashville is not known for its huge hockey records but many are very excited to see the return of Mike Fisher. After taking less than a year of retirement Fisher has returned and is ready to come back and fight for the cup. On Monday, the Predators signed Fisher to a prorated contract worth $1 million, officially signaling his return to the active roster.
Fisher had to be under contract by Monday in order to be eligible to play this season. His remaining cap hit is $215,054, according to CapFriendly.com. There are no signing or performance bonuses attached to his contract.
Fisher is expected to play for Nashville during the Predators' four-game road trip, against the Winnipeg Jets.
The team announced the return of Mike Fisher back in January. He began with the team full time on February 12. It seems that he will be a 4th line center to start.
Prior Stats
Fisher had played 17 seasons with the NHL over various teams including Nashville and Ottawa. He has worked very hard to see what he can become over the years. All he wanted to do was play. During the NHL lockout year in 2004/05, Mike joined EV Zug of the Swiss Elite League. He recorded 27 points in 21 games that year. Mike played for Team Canada at the 2005 World Championships.
While playing with Ottawa, Mike was known for his aggressive play, but he has also shown a great deal of speed and skill. He holds Ottawa's unofficial hardest shot record at 105 mph. In the 2005-06 season, Fisher had a career year, setting new personal bests with a plus-minus rating (+/-) of +23, 64 penalty minutes, 149 shots on goal and 14.09% shooting percentage in just a mere 67 games.
Fisher was the player coaches and teammates loved and many expected to see Fisher play his entire career in Ottawa, but all that changed with one phone call and news that Bryan Murray had traded Fisher to the Nashville Predators. This was due to the fact that he was marrying Superstar Carrie Underwood, but Ottowa fans were heartbroken.
But Mike Fisher came to Nashville and played his heart out. In the 2011-2012 season, Fisher scored 24 goals, a career second best. He wanted to play and showed that he could.
Mike Fisher is a player who deserves to play the game. He loves the city of Nashville and hockey itself. He wasn't ready to retire when he did but he seems to have realized it and wants to come back for the chance at a Stanley Cup before he leaves again.
Main Photo: