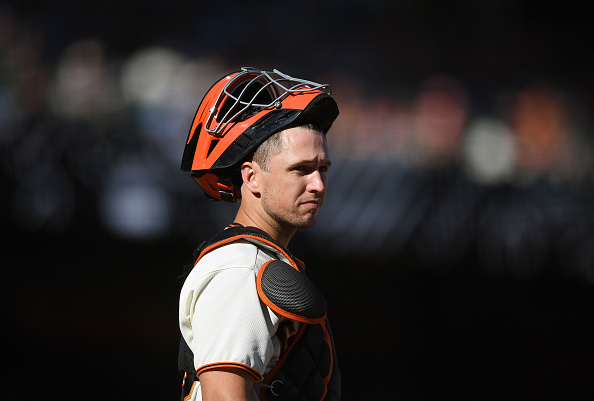 Catchers are the field general on the diamond. A catcher doesn't just have to produce offensively, they also have to call a good game behind the plate. Here are the top catchers in the game today.
Top Catchers in MLB
Lucroy was the hot commodity at the 2016 and 2017 trade deadline, however in free agency he hasn't sparked much interest. He was one of the better offensive catchers in baseball, though he seems to be on the decline. Last season between the Rangers and Rockies, Lucroy hit .265 with only 6 home runs and 40 runs batted in. At this point in free agency, Lucroy could be hand for cheap and could bounce back in a big way in 2018.
Grandal has produced back to back terrific offensive years with the Dodgers. Since joining LA, he is a .237 hitter with 65 home runs, 53 doubles, and has driven in 177 RBI's. He also threw out runners at a 32% clip last season. Grandal isn't going to win you a batting title, but he will certainly produce.
Gattis has been a productive power hitter, when healthy. In 2016, he hit a total of 32 home runs, and he has topped 20 home runs four out of five years of his brief career. Gattis does not hit much to contact, but he displays some raw power. In 2017, he appeared in only 84 games, and hit only 12 long balls. Gattis is a good bet to hit at least 20-30 home runs each year as long as he can stay healthy.
Ramos would be ranked higher, if not for a knee injury limiting to only 64 games in 2017. Although he still hit .260 with 11 home runs with the Rays. In 2016 with the Nationals, Ramos had a career year. He hit .307 with 22 home runs and 80 RBI's. Ramos finished 17th in MVP voting, and was awarded the Silver Slugger award.
Yadi has been one of the better defensive catchers in the game for a long time. He is an eight time Gold Glove award winner and a four time Platinum Glove recipient. Offensively, Molina is a career .284 hitter with 335 doubles. He had an outstanding 2017 season, hitting .307 with 38 doubles, and finishing 23rd in MVP voting. Though, his numbers fell a bit in 2017, as he hit .273 with 27 doubles and 18 home runs.
Realmuto is one of the most underrated catchers in the game today.  In his second full season in the big leagues, 2016, the Marlins catcher hit .303 with 11 home runs. Although his average dipped a bit in 2017, he still hit 17 home runs and drove in 65 RBI's. Realmuto recorded the third most caught stealing's in 2016 with 28, and threw runners out at a clip of 32% in 2017.
Salvy is one of, if not, the best defensive catchers in baseball. He is a four time Gold Glove award winner for his magic behind the plate. In 2016, he had a career high 48% caught stealing rate. Though he is a defense first catcher, Perez doesn't give much up at the plate. He is a career .272 hitter and averages 20 home runs and 25 doubles a season.
3 Wilson Contreras
Contreras has put together back to back solid offensive years, and he is only scratching the surface. In a total of 193 games, Contreras is hitting a career .278 with 35 doubles, 33 home runs, and 109 RBI's. Contreras has really matured as a hitter since he came up with the Cubs in 2016.
Power wise, Gary Sanchez is the best hitting catcher in baseball. In just 177 total games over two seasons, Sanchez has hit 53 home runs in Yankee Stadium. When you add Aaron Judge and Giancarlo Stanton with Sanchez, those numbers are only going to increase. El Gary could certainly use to cut down the strike out numbers, however he certainly makes up for his flaws in the power department!
Posey is easily the best overall catcher in the game today, quote me on it. First of all, he is an MVP and Rookie of the Year winner, and not to mention he has an MVP name. Posey is is a career .308 hitter with 128 home runs. Not to mention, he is one of the best two-strike hitters in the game. Posey is a five time All-Star, four time Silver-Slugger winner, and has taken home a Golden Glove. Posey is rightfully so, the best catcher in the game today.
Check out and compare the top catchers from 2017 here!
Main Photo: