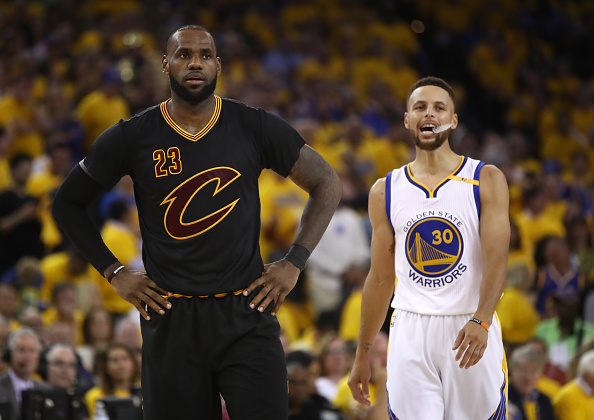 If you were among the millions of NBA fans that cried out in terror last night at the report that Cleveland Cavaliers star LeBron James could join the Golden State Warriors next season if cap space is cleared for a max contract, allow me to console you. LeBron James is NOT going to sign with Golden State.
Yes, Golden State is currently the best team in the NBA, hands down. Yes, it is true that they're probably going to play in the NBA Finals again this year. Why yes, LeBron would take such a team to extreme new heights. Really, people? Do you want to buy into that hype?
Don't get me wrong, I don't believe that Cleveland has a chance of getting LeBron to stay this year. I would be shocked to see LeBron stay in Cleveland. Reports are surfacing daily that he's already made up his mind to leave.
However, here are three reasons why LeBron will never go to Golden State.
Golden State has No Cap Space
The report that surfaced yesterday was that LeBron would consider playing in Golden State if they could clear the cap space to give him a max contract. That's somewhere close to $40M next season alone.
Explain to me how Golden State can afford to pay Draymond Green, Stephen Curry, Klay Thompson, Andre Iguodala and LeBron to all be on the same team and still have a bench? Currently, the projected salary cap next year sits at $101M, with the luxury tax threshold at $123M. Between those five players, the Warriors will be paying a projected $128M.
Now if by some miracle the Warriors were able to trade away Klay Thompson and Andre Iguodala to make way for LeBron, what would be left of the team? It would basically be Steph, LeBron and Draymond. Kevin Durant can't stick around because of cap issues and playing time after all he and LeBron play Small Forward. So the team would depend completely on Steph and LeBron, and that might not be enough with Houston, Oklahoma City, San Antonio and Boston running around.
LeBron Cares About His Image
LeBron James is an entertainer. He has a brand and self-image he is always building and maintaining, so what the fans want means a lot to him.
Just as any other competitor desires, LeBron wants to win rings. LeBron is a mastermind when it comes to balancing the entertainment and the competitiveness. He knows that at 34 years old, he is getting old. No player in the NBA can single-handedly carry a team to a ring, and he knows that he is no exception.
LeBron has a list of players he wants to play alongside. He considers all of his options and goes where he has the best chance to win championships. That's why he left to play in Miami. That's why he came back to Cleveland. These teams had set up their rosters for success upon landing LeBron. That's what attracts the King.
If LeBron were to go to Golden State, it would become intrinsically clear that he has no dignity. Durant took a lot of pressure when he left Oklahoma City to join Golden State. Not only was he the best free agent in that offseason, he was joining the best team. People look at it as the "easy way" to win championships. That doesn't sell a brand, nor does it gain national respect.
LeBron knows this. He's not going to risk his brand and national image to win a few rings potentially.
LeBron Has to Be the Focus Star on the Team
Let's face it, King James has an ego. From Instagram posts congratulating himself to the subtle things he taunts players with on the court, he displays his confidence and ego very often. He knows that he is the King of the NBA and everything in the league tends to revolve around him. So LeBron is not going to join a team where a player could potentially overshadow his greatness.
Golden State has a player who could (and does) do just that consistently. Stephen Curry. Even though Steph's and Lebron's playing styles are completely different, Steph has a tendency to steal the show. LeBron doesn't mind that happening two or three different nights over a season where a player outplays him and they win. But a player who does it twenty or thirty times a season will be too much for him to handle.
Where Could He Go?
As I mentioned earlier, I would be shocked to see LeBron wearing the maroon and gold of a Cavalier's jersey next season. Every indication that he has made is that Cleveland won't be his home next season. So where could he go?
Honestly, there is no glaring team everyone is pointing to that screams for LeBron to come and join. I think LeBron feels that way too. So, being the entertainer and marketer that he is, LeBron introduces the idea that if Golden State could pull it off, he would seriously consider joining them. It was never a serious report. He's encouraging teams to line up their best shot and say, "Let the King come home." He's asking teams to make a run for him.
Did you think that Blake Griffin trade to Detroit was crazy? I don't think we have even scratched the surface on crazy blockbuster trades to come before the deadline. The NBA will be scrambling to make sure that LeBron James doesn't end up as a Golden State Warrior. Who can blame them? I mean, do you want to see LeBron a Warrior?
Cavs fan? Check out Drew Lutt's piece on Five Trades the Could Help Improve Lebron and the Cavs here.
Main Photo: