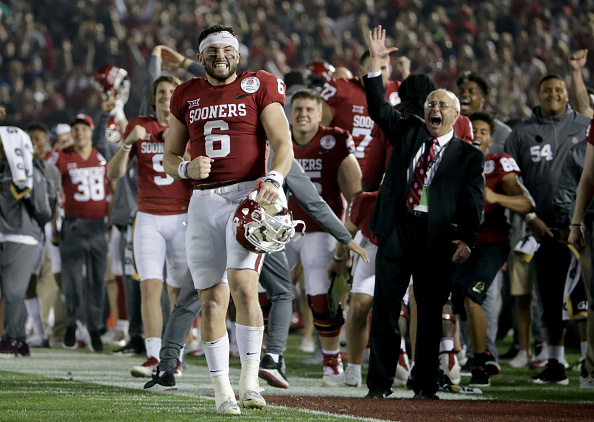 Baker Mayfield has been one of the most polarizing characters in college football for the past couple of years. Showing signs of problematic behavior, are his antics based upon passion or on immaturity?
The 2017 Heisman Trophy winner from Oklahoma is certainly a controversial figure in sports. He's brash and a smack talker. He will stop at nothing to get into your head before a game starts. Despite his competitive nature that sometimes flirts with dirty, Baker Mayfield is the ultimate competitor and one of the most exciting players coming into the NFL Draft in April.
NFL scouts have compared Mayfield to former college football star Johnny "Football" Manziel from Texas A&M. The former Aggie was incredible on the gridiron during college. Apparently, he was the life of every party he attended, which seemed to be every day. Despite his clearly extraordinary talent on the football field, Manziel was never able to focus on football and fell out of the league after two disappointing, drama filled seasons.
While Mayfield doesn't have the criminal background that Manziel has, many worry that he will in the future. Some don't, like Browns General Manager John Dorsey who said that the Browns don't see character problems with Mayfield.
Let's take a few minutes to dive in, together, to the case of Baker Mayfield.
On the field:
"Baker the Playmaker" is certainly one of the most gifted players entering the NFL Draft. Think of a quarterback with arm of Russell Wilson, the accuracy of Drew Brees and the playmaking ability of Manziel. That's who Mayfield is in a nutshell.
His arm never seems to tire during a game. He is capable of throwing a ball sixty yards down field to his receiver on a dime in the fourth quarter. While he's not the fastest man on the football field, he has excellent field vision and athleticism to make defenders miss and pick up precious yards. His clutch gene is one of the best in the business, and he thrives under high pressure situations.
Many can compare him to a more athletic version of John Elway, who wasn't considered the best quarterback when coming out of Stanford in a loaded draft class in 1983. It was his clutch gene and his playmaking made him one of the best quarterbacks of his time. Mayfield has Elway-esque potential.
Off of the field:
Mayfield was arrested in March of 2017 for public intoxication, disturbing the peace and resisting arrest. A video from the incident surfaced a few days later, showing him running for his life, being chased by police officers who caught up with him quickly and tackled him, slamming his head into a brick wall. He later apologized for the incident and promised never to do it again.
After Oklahoma's second game of the season, a stunning upset over the Ohio State Buckeyes in Columbus, Mayfield took fire for planting the Oklahoma flag at the fifty yard line. People called it "disrespectful" and "childish." Mayfield again apologized, and explained that he was caught up in the emotion of winning a big game.
Later in the season, when Oklahoma visited Kansas, Mayfield was seen on national television grabbing his crotch and yelling vulgarities at Kansas players while up 28-3 in the third quarter. Again, he came under fire for his actions, apologized to the media and was suspended for the first drive of the following game by his team.
Is Mayfield really like Manziel?
There is no doubt that Mayfield has made some mistakes along his path to the NFL. Walking around, disturbing the peace while being intoxicated certainly isn't a smart move when you're hoping to play in the NFL. However, let's look at the type of issues Manziel had in college.
Manziel's on the field character issues were mainly his "money" signal, where he would rub his fingers after great plays as if to talk about money. That rubbed many scouts the wrong way, and left them questioning where his priorities were.
Mayfield doesn't have a signature trademark move. It's clear that his priority and passion is football.
Manziel would constantly post videos and pictures on instagram and twitter. He would be at a party, usually intoxicated, rubbing up on random girls and sloshing beer on his friends. To scouts, it showed that he liked to party and they wondered if he loved football enough to commit to it over partying.
Mayfield doesn't share whether he parties or not on social media.
Manziel had domestic violence issues with ex girlfriends, landing him arrests and jail time for being overly aggressive while intoxicated. He is clearly an alcoholic and scouts were afraid to take him in fear of him not sobering up.
Mayfield doesn't have that kind of a criminal history.
Are the comparisons wrong?
To an extent, yes. Mayfield isn't the type of character that Manziel was. Despite that, Mayfield isn't perfect. Groping your own crotch and screaming vulgarities at the opposing team is a very bad idea at any level. Mayfield has made mistakes just as almost any other young man his age has. 
There is no doubting Mayfields passion for the game. He has a fiery, competitive nature and from that personality comes his passionate antics on the field. Clearly, he doesn't think things through before doing them and get's into trouble. Despite all of this, there is no reason not to believe that he learns from his mistakes and moves to make himself better in the long run. Has he made the same mistake twice? No. I have confidence that he is a young man with good intentions. He's a proven winner and I want him on my team.
When falling under fire for showing up to the Senior Bowl practices late because of a "family matter," Mayfield explained that his mom is very sick and he was visiting her in the hospital in Texas. He left the Senior Bowl at halftime to go back and be with her. This shows even more about the type of character he is. He could easily say that he is too busy advancing his career to spend time with his ill mother. The point he is making is that family matters, the people who got you where you are matter. He has always credited his mother as one of his biggest fans, and that's honorable. I have no reason to believe he won't do the same for his "second family", his teammates.
In summary:
Say what you want about the fiery competitor. Everyone else is. He is all over mock draft boards. Pro Football Focus has him listed as the first overall pick in their latest mock draft. Others have him falling out of the first round. I firmly believe that Baker will use these next three months to solidify to NFL teams that he is the real deal. I firmly believe that teams will see him as a good team player that they want involved in their franchise. In my opinion, he is the only quarterback in this draft class who can instantly lift a franchise.
He has never given me a reason not to believe.
Main Photo: