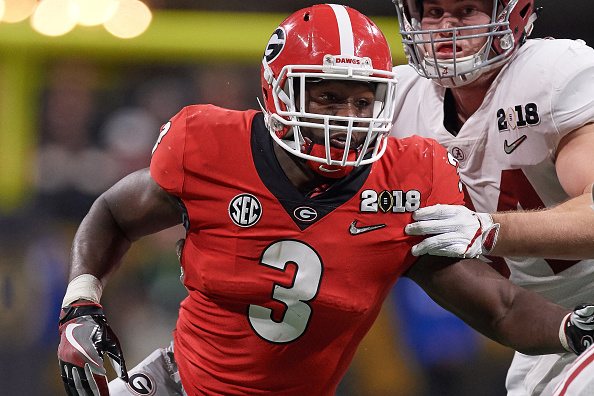 It's been quite a ride for University of Georgia fans these past five months. The season started the season with a highly rated, but true freshman quarterback paired with a veteran defense and offensive weapons. Expectations were not that high for the Dawgs but they shot through them and finished just two downs away from a national championship. While the Dawgs couldn't dethrone the Rolling Tide of Alabama, they have a lot to be proud of and Kirby Smart has set the Dawgs up to be a powerhouse for years to come. Let's hand out some awards.
Unofficial 2017 Georgia Bulldogs Team Awards
The future NFL first round draft pick was the heart and soul of the defense, if not the whole team. The middle line backer was a big hitter downhill and athletic enough to cover tight ends one-on-one. Along with his 137 tackles, 14 tackles-for-loss and 6.5 sacks, Smith earned 1st Team All-SEC, 1st team AP All-American, SEC Defensive Player of the Year and the Dick Butkus Award (nation's best linebacker) because of his stellar play this year. Georgia fans will never forget the key third down big hit he made against Oklahoma in the fourth quarter of the National Semi-Final.
Offensive Player of the Year: Sony Michel
This award could have gone to any of four players: Sony Michel, Nick Chubb, Jake Fromm, and the offensive line were all candidates. If one asks any of the skill players to accept an award they will thank the line. It would be correct and they would not do anything without their blockers.
Michel was the lightning to Chubb's thunder in the running game. Michel's explosiveness and ability to run through tackles came alive this year as he ran for 1,227 yards, averaged 8 yards per carry and ran for 16 touchdowns. He improved the team and his NFL stock by showing that coming back for his senior year was a worthwhile decision.
Defensive Player of the Year: J.R. Reed
This award could have gone to Roquan, however we are spreading the love. J.R. Reed was a transfer safety from Tulsa that sat out in 2016. While Reed didn't contribute much as a freshman at Tulsa, he burst onto the scene as a junior as the team's second-leading tackler (79) and third in interceptions (2). Reed blitzed, covered, and played the run very well game after game. His play earned him 1st team All-SEC for Pro Football Focus and 2nd team AP All-SEC. The Bulldogs will rely on Reed to lead the secondary next year as they lose Malkom Parrish, Aaron Davis and Dominick Sanders to graduation.
Newcomer of the Year: Jake Fromm
What is there to say that hasn't been said about freshman phenom Jake Fromm? In the first game of the year, the starting quarterback, Jacob Eason, went down with a knee injury. The five-star quarterback from Houston County, Georgia (How-ston) took the reins of the offense and did not let go. All Fromm had to be was a game manager. The running game was in place and so were the passing weapons. Fromm did not try to overstep his role and get more credit than he needed to. He stepped up when the Dawgs needed him. It also helps that Fromm has a very good arm and is a very good decision maker. Those two traits (among many others), have draft evaluators salivating to watch his tape and throw him at the top of the way too early quarterback rankings for the 2020 NFL Draft.
Before we get too far ahead of ourselves, let's appreciate Fromm's first year as a starter: 2615 yards, 24-7 touchdown-to-interception ratio and a 62 percent completion rate. Fromm's impressive year put him on the ESPN All-Freshman Team, AP SEC Co-Newcomer of the Year and Coaches SEC Freshman of the Year.
Fromm's position isn't safe though; dual threat incoming freshman Justin Fields has the arm and leg to expand this offense to even broader boundaries. Fromm will have to stay on his A-Game throughout spring and fall camp while the coaches sort out what people say is a good problem to have: Two good quarterbacks.
Baker flashed in his sophomore year with two interceptions and started in seven of the 12 games he played. This year he started at the outside corner all year. Baker rarely gave up big plays. Baker led the Dawgs in pass breakups (9) and was second in interceptions (3). His steady improvement earned him 2nd Team Coaches' All-SEC. While he did consider the draft, he has decided to return to Athens for his senior year. Baker and J.R. Reed lead the Dawgs secondary in 2018.
Main Photo:
Embed from Getty Images