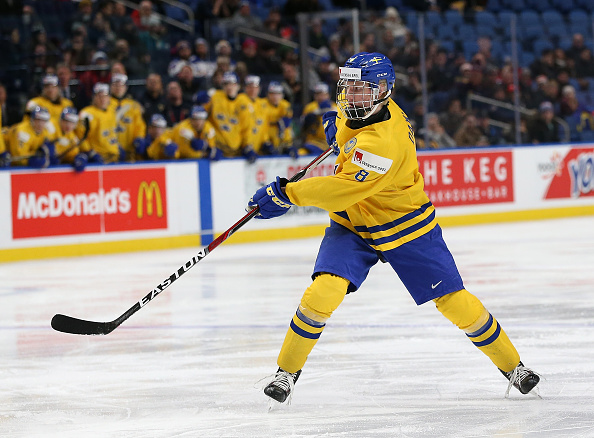 When it was announced that NHL players would not take part in the Olympics, hockey fans everywhere were discouraged. Some of hockey's greatest moments are from the Olympic tournament as recent as Sidney Crosby putting an OT game-winner past Ryan Miller in Canada's home ice gold medal win over the USA.
The idea of not seeing the best possible product on the ice on perhaps hockey's biggest stage is deflating but there are still reasons to tune into the international tournament. Even though NHL fans will not see Connor McDavid skating on a line with Steven Stamkos the event will feature names everyone knows and should provide a nice alternative to watching NHL action at a time between the beginning of a new season and the playoff push.
This year's teams will be filled with KHLers, Swedish Elite league players, and depending on a team's depth, draft-eligible youngsters. Certain members of each country's World Junior teams are making the trip to South Korea and should provide one of the most balanced competitions in recent memory.
Why It Is Worth Watching The 2018 Men's Olympic Hockey
Familiar Names
Thinking of the possibilities for the line pairings of each national team with NHL players is nice, but they aren't happening and everyone needs to get over it. However, that doesn't mean that the teams are made up of nobodies just picked off the streets from the closest men's league practice. On the six rosters already announced (including Slovakia and Germany), there are former NHL players that most hockey fans will recognize and perhaps love to watch play again.
A plethora of former NHLers will be skating for Canada including Derek Roy, Mason Raymond, and Rene Bourque. Raymond and Bourque played as recent as the 2016-17 season and Roy accumulated over 500 points in his 738 games of NHL action. The former pros aren't limited to just Canada either. Defenseman James Wisniewski will be suiting up for the United States — four years removed from a 51 points season. He fills a roster that also adds former Montreal Canadiens captain Brian Gionta, and former Oiler Mark Arcobello.
There are also players that have name brand value even though their NHL careers were short. The biggest name on that list is Sweden's Linus Omark. Omark's career was short-lived but most observers remember from his highlight reel shootout goals. Though he never panned out into a true NHL talent, wouldn't it be nice to see the game rest on Omark's stick in a sudden death elimination shootout? He has done it in the NHL and would only further boost his lore if he did it again in front of the whole world.
And just to throw some other names out there: Martin Erat, Johan Franzen, Christian Ehrhoff, Ladislav Nagy.
Rasmus Dahlin
It's pretty crazy to think that the best player playing at the Olympics this year could be a player yet to be drafted into the NHL. Rasmus Dahlin is regarded as the consensus best draft-eligible NHL prospect for 2018 and is going to have his chance to prove it on the national stage. He already did it in a slightly less popular fashion at the World Juniors early this month but this will be his first real test. It might not be against the best of the best but it is against men.
Dahlin took home Top Defenseman honors at the World Juniors in Buffalo, performing exactly how draft analysists expected. He looked like a first-overall pick in the tournament, controlling the game when the puck was on his stick — making his presence known at both ends of the ice. The Swede picked up six assists in seven contest, only trailing the Czech Republic's Libor Hajek (who is two years older) for tops among defenseman. He also helped Sweden pick up a silver medal as well.
The Olympics are a new challenge for Dahlin and his performance in Pyeongchang can only boost his draft stock. Dahlin is still 17 years old and faces men every day but the Olympic skill level will be noticeably higher than that of the Swedish Hockey League. He is also no more than 170lbs — a disadvantage that could play a huge part in matching up against the former NHLers. If Dahlin can dominate this tournament in the same way he did the World Juniors, NHL teams could begin the tanking process sooner rather than later, clambering to get their hands on the next great Swedish defender.
The Gold Medal Start Time
Most of the start times for hockey games seem incredibly inconvenient for the North American viewer. Due to Pyeongchang being on the complete opposite side of the planet, fans who want to watch the hockey action are going to need to get creative with their sleep schedules. The majority of games start at around 2:40 am or 7:00 am EST. But an exception to this is the final game of the tournament.
The gold medal game in Hockey has an official start time of 1:10 am which may seem annoying for the casual viewer but strikes gold in the demographics of 18-35 year-olds. It takes place on a Saturday night/Sunday morning and could become the hottest event in town to go and watch at prime time in most bars. Imagine getting all of your closest buddies together to go out on Saturday night and watch a makeshift team of skating nostalgia play in perhaps the biggest game of their careers. Not to mention a chance to be etched in Olympic history. Pretty good play eh?
The NHL action on the day (Saturday) of the gold medal game begins at 2:00 pm EST and if you include the Olympic finale, it won't end until approximately 4:00 am on Sunday. That will be just about 14 straight hours of consecutive hockey. The marathon of hockey on that day will be maybe the best until the first round of the playoffs (or even the entire year) and will be a hockey viewers dream especially if the finals end up being a classic matchup such as Canada vs. Russia.
Image Credit:
Embed from Getty Images