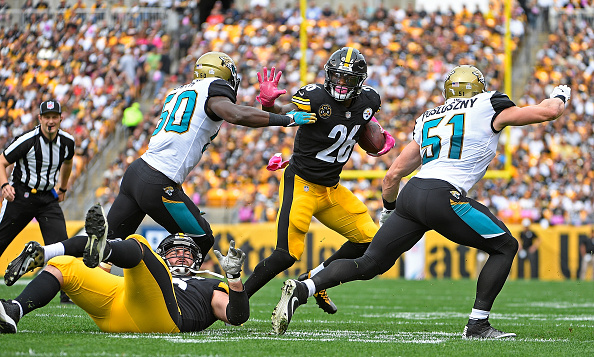 The Pittsburgh Steelers will be taking on the Jacksonville Jaguars on Sunday, January 14th, 2018, at Heinz Field. This is a highly touted matchup of the best defense in the league and one of the best offenses in the league.
The Steelers enter the game as a heavy favorite to move on to their second straight AFC Championship game but the Jags played one of their best games all year against Pittsburgh in their week five matchup. Jacksonville rode two pick-sixes and a Leonard Fournette 90-yard touchdown run on route to a 30-9 beatdown victory on the road.
If Pittsburgh hopes for a reversal of fortunes in Sunday afternoon's matchup, here are three steps to assuring a win at home.
3 Keys To A Pittsburgh Victory: Steelers Vs. Jaguars
1. Stop Leonard Fournette
The easiest way the Steelers can come out on top in this game is by stopping Fournette. He gave the Steelers fits in the first meeting between the two clubs. He scorched the Steelers defense to a tune of 181 yards on the ground along with 2 touchdowns. Given that Blake Bortles hasn't been much of a factor in the passing game throughout the entire season, the Steelers should gameplan around Fournette and make Bortles beat them. With a healthy Cameron Heyward led defensive line, the Steelers should be very capable of shutting down last years fourth-overall draft pick.
2. Unleash Le'veon Bell
Ben Roethlisberger did not fare well against the Jaguars in the first matchup back in October. He had thrown 5 interceptions, not that all of them were entirely his fault, but that is what you have to expect against the leagues best pass defense. Jalen Ramsey, an all-pro cornerback, paired with A.J. Bouye, a second team all-pro, provide opposing quarterbacks with no lanes to pass. Although the Jacksonville secondary can very well be exposed, especially with a more motivated Big Ben, the Steelers may fair better by feeding the best running back in the game. Le'veon Bell only had 15 carries for 47 yards in their first meeting. He also had 10 receptions for 46 yards, but 15 carries is a little less than he should be getting. This is a great opportunity for Tomlin to unleash Bell on the Jaguars defense.
3. Don't Allow Any Turnovers
The Jacksonville defense thrives off of turnovers. They recorded 21 interceptions which ranked second in the NFL and returned 2 of those 21 interceptions for touchdowns. The unit also chalked up 17 forced fumbles and took 5 of them to the house. This defense along with their special teams generates most of the teams scoring. If the Steelers can manage to not allow any turnovers to this stingy Jags defense, all they have to do is maintain the only other huge threat of scoring, and that is Leonard Fournette.
Image Credit:
Embed from Getty Images