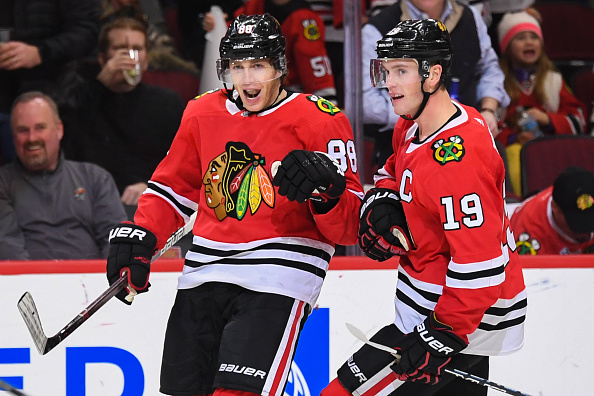 Times arrow is marching on and so is the NHL season. The beginning of the 2018 season was showcased by no-name players stepping up and becoming impact playmakers, thrusting teams like the New Jersey Devils and Vegas Golden Knights near to the top of their respective conferences. The flip side of this situation is how certain teams always at the top of the league have fallen off.
The season might not even be half over but the playoff race will be ramping up as soon as All-Star weekend concludes on January 28th. Time is running out for these teams who look to change their 2018 fortunes in the new year.
4 Teams Hoping To Improve in the NHL New Year
Chicago Blackhawks – 7th Central Division (42 pts)
It was just two seasons ago that the Blackhawks had captured their third Stanley Cup in six seasons. Now in 2018, the Hawks haven't won a playoff series over the last two years and are in danger of missing the playoffs for the first time in nearly a decade. They currently find themselves at the bottom of the Central division and four points out of a playoff position — meaning they have to leapfrog at least two teams to even have a shot at a wild card position.
The Blackhawks had some early season success starting out the year at 5-2-2, largely thanks to the contributions from their depth scorers. Players like Brandon Saad and Ryan Hartman had quality point totals in the first 10 games of the Hawks season but since have provided little to no spark in Chicago's offense. Nick Schmaltz has really come on to replace the production the Hawks lost when Artemi Panarin left, but other than him, Chicago is once again becoming the Patrick Kane/Jonathan Toews show.
After the Hawks were knocked out in the first round of the playoffs last season, GM Stan Bowman wanted to make the team deeper and more physical. Neither of those attributes seems to define Chicago so far. The Hawks are 27th in hits and are getting minimal production from their bottom two lines. The only bright spot has been Alex DeBrincat who is 5'7″ and not exactly a power forward.
If Chicago wants to keep their playoff streak alive they are going to have to hope that depth additions like Patrick Sharp begin to pull their weight.
Anaheim Ducks – 4th Pacific Division (46 pts)
The Ducks began to trend up at the end of 2017 when their captain Ryan Getzlaf made his return from a two-month zygomatic bone injury. Anehiem has been amongst the teams most hurt by injury losing perhaps their top-four players to injury each at some point in the season. Besides Getzlaf, Corey Perry, Ryan Kesler and the Ducks leading scorer Rickard Rakell have all missed time with various injuries but have been getting on the ice together more recently.
Kesler – the team's top penalty killer – took just over 30 games to makes his debut on December 27th and has given to Ducks back the depth at centre that makes them such an elite team down the middle. Adam Henrique has been a perfect addition to the Ducks lineup and when him, Kesler and Getzlaf are all healthy, they form potentially the best 1-2-3 punch at centre in the entire league. Henrique did a good job filling in on the top line during Getzlaf's absence and should benefit greatly from not having to shut down a team's top line every night.
Despite missing all their offensive firepower, the Ducks have still managed just a -1 goal differential. They are one of only two teams holding a playoff spot with a negative goal differential but with the return of Getzlaf – who is averaging 1.35 points a game – the Ducks could find themselves vaulting up the standings quickly. Look for Anaheim to nudge their way into the Pacific division title race come March.
Pittsburgh Penguins – 6th Metropolitan Division (43 pts)
It is really hard to find one thing to blame the Penguins midseason struggles on. Pittsburgh has been inconsistent, to say the least, and it is due to more than just injury. Evgeni Malkin, Kris Letang, and Matt Murray have all been injured at some point this season, but Pittsburgh typically finds ways to get past those little seasonal bumps.
Murray might be the easiest scapegoat for the Penguins struggles. In his first year as a full-time starter, the 23-year-old has struggled mightily when healthy. Murray currently holds a sky-high 2.94 goals against average and has the fourth-worst save percentage between goalies with 25+ starts at .902. Despite the bad numbers, the netminder has accumulated 14 wins in 27 starts. Only twelve other goalies have over half as many wins as starts.
There is no one solution for the Penguins, they simply need to be better as a full team. Besides to powerplay and shot attempts, Pittsburgh has fairly average numbers across the board. Tie that into Crosby's point draught early in the season and you get a team that is just not playing to its potential at the same time. They've played decent all year but have had trouble scoring when Crosby is off his game. Players like Conor Sheary and Jake Guentzel have struggled when they aren't on Crosby's line despite showing signs of maturity last season.
If the Penguins depth can chip in just a little more than they have all season when their stars are slumping, and Murray can find his game, Pittsburgh's 2018 will be a whole lot better than the way they ended 2017.
Edmonton Oilers – 6th Pacific Division (37 pts)
The Oilers are the biggest disappointment of the 2018 season so far and might have a hard time turning it around in the new year. Edmonton ended 2017 looking like the team that was commonly bidding for the first overall pick, conceding goals like it's their day job. Now nine points back of the last wild card spot, the Oilers need to resurrect the team that made it within one game of the Western Conference Finals last season.
For the Oilers to climb back into the playoffs, they need to play better on the backend — in all facets. Edmonton has been bad in every way on defence ranking third last in goal against on the season and dead last on the penalty kill. Cam Talbot has the single worst save percentage at .803 down a man — paying no help to a unit with only one or two quality penalty killers.
It's tricky to say that the Oilers position is based on Connor McDavid's success considering he has 45 points in 40 games on the season but Edmonton just doesn't win unless McDavid has a good game. Of the Oilers 17 wins, only 8 have come when McDavid has had less than two points on the night and have only lost three games when he has multiple points. If this doesn't tell the rest of Edmonton's forwards to help him out, then what will?
The Offense may be middle of the pack but it's next to impossible to get in the playoffs and have success when you give up as many goals as the Oilers have. The Oilers need to get hot and hot soon. If McDavid can break his semi-slump and the defence actually helps out Talbot the Oilers have a shot and can then acquire a veteran stay-at-home defender at the deadline.
Image Credit:
Embed from Getty Images