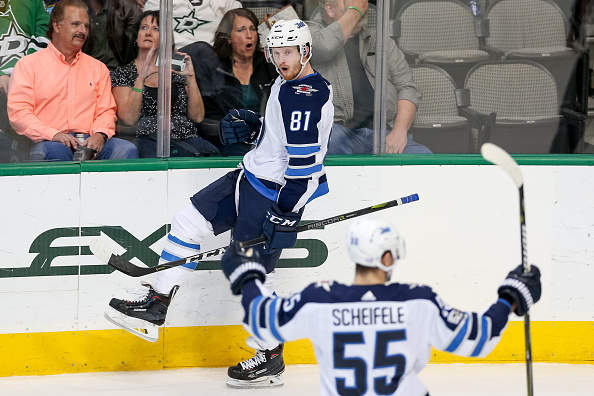 The Winnipeg Jets are flying pretty high right now and for good reason. After years of being labelled as a good team that can't seem to meet expectations, they have been this season.
So how does a team that is basically the same as last year's "disappointment" flip the script into one of the NHL's best?
The Winnipeg Jets Increased Their Altitude
Winnipeg has a lot of skating talent that transitions well into their offensive capabilities. They were seventh in the league in goals per game last season and they're fifth this season. So scoring hasn't been an issue, even when they were struggling.
The majority of their issues came at the other end of the ice. They seemed to have difficulty all season keeping the puck out of their own net. Only the Colorado Avalanche and Dallas Stars gave up more goals on a consistent basis than Winnipeg.
Having a high goals for and against average meant just about every game was a track meet. It also meant that if they wanted to win they would need a good goaltender.
The Jets have made the playoffs just once since coming to Winnipeg. That was when Ondrej Pavelec had a crazy run in the second half of the season in 2014-15. It was also the only year the team's goaltenders didn't finish in the bottom third of the league.
This year has been a much different story than recent ones and it all starts with having a reliable goaltender again. Connor Hellebuyck's strong play this season has given the Jets their confidence back. He holds .920 save percentage compared to last season where he was just .907. As always a good team comes down to good goaltending. The Jets finally have that to rely on again. If Hellebuyck can keep up his strong play we might just get to see what they are capable of come playoff time.
Defence
Another reason for Winnipeg's success has been their defence. At five-on-five the Jets give up the sixth-fewest scoring chances against per game. They also have veteran leadership on their blue-line which is something they have lacked.
One player who has bolstered their defensive core is Dmitry Kulikov. The 6'1″, 204-pound blue-liner inked a three-year deal this offseason, with an average annual value of $4.33 million. The former first-round pick of Florida Panthers played six seasons with the Panthers and then skated with the Buffalo Sabres last season, scoring twice and adding three assists in just 47 games in a season plagued by back issues. Now he's back and looking better than ever. He already has more points than last season with eight in just 29 games.
Up Front
It's not much of a surprise either but it has been the same players  driving their offense. Blake Wheeler had a stellar season last year and is having one again this year. He has 38 points in just 31 games. Wheeler was also enjoying a five-game point streak heading into Tuesday's game against Vancouver. He was held off the scoresheet that night but there is no doubt about it. He's on fire!
Another forward who has been surging in terms of offense has been 21-year-old Nikolaj Ehlers. When he's on the ice you better have your head up. The kid has been flying in just his third season in the NHL. He has 14 goals and 10 assists already.
Last, but certainly not least, Mark Scheifele has been having another great season as well. Last year he recorded 82 points in 79 games and he is on pace for it again. In just 31 games he already has 35 points.
It's clear that the Winnipeg Jets are starting to find themselves and their rhythm. Their minds look to be set on playoff hockey. Only time will tell if their season will continue to soar or come back down for another crash landing.