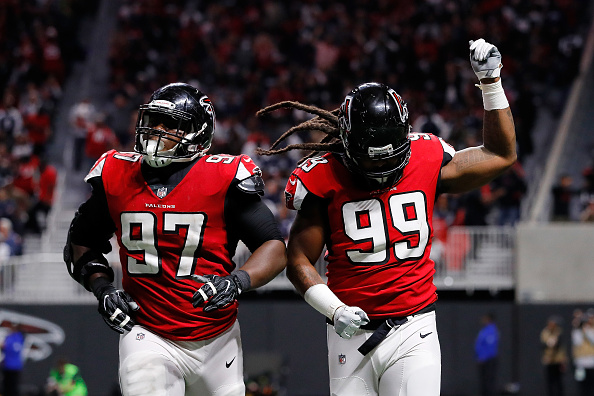 The Atlanta Falcons (5-4) will be out of there element tonight as they travel to CenturyLink Field and the 12th man. Since 2007, Atlanta is 7-2 against Seattle; they also won their last meeting in Atlanta in the playoffs last year. Seattle is 6-3 and 2nd in the NFC West heading into this game.
3 Keys to an Atlanta Falcons Win
3. Contain Jimmy Graham
Jimmy Graham has made defensive coordinators pop blood vessels ever since the Saints brought him into the league in 2010. He has scored a touchdown in almost every one of his games against the Falcons. Coming into this game he is Seattle's 4th leading receiver averaging 9 yards a catch and 6 total TDs. Last year, Atlanta did a great job of containing Graham by holding him to 3 catches, 22 yards and 1 TD during their playoff game; they must do this again. LBs De'Vondre Campbell and Deion Jones and Ss Keanu Neal and Ricardo Allen will be counted on to take Graham out of the game.
2. Dominate the Line of Scrimmage
Atlanta's offensive line has been up and down this year but they need to knuckle up for this game. Seattle's front seven is no joke; Michael Bennett, Jarran Reed, Bobby Wagner and KJ Wright are coming. Atlanta will need to run the ball to be able to further their passing game. Atlanta's front sevenalso needs to take advantage of Seattle's below average and beat up offensive line; G Luke Joeckel and T Duane Brown are game time decisions. Adrian Clayborn is coming off a historic game 6-sack game; while it is unlikely for him to reproduce that, Clayborn, Vic Beasley, Brooks Reed, Takk McKinley and Grady Jarrett must keep Russell Wilson in the pocket. He is the Seahawks leading rusher so they cannot let him run around.
Spread the ball, but FEED THE BEAST!
Julio Jones is the Falcons' leading receiver but he only has 1 TD. Julio also tends to get banged around during the game and doesn't play a lot of snaps. But when he is in the game, Matt Ryan needs to get him the ball at all costs. The Falcons do a great job at spreading the ball to RB Tevin Coleman, WR Mohamed Sanu, TE Austin Hooper and WR Taylor Gabriel. Tevin Coleman will have to fill in full time for RB Devonta Freeman who is out with a concussion. ATL needs to spread the ball but the can't forget who the go to guy is. Seattle's starting corners are Jeremy Lane and Shaq Griffin so they must take advantage of Richard Sherman's absence.
Main image credit:
Embed from Getty Images