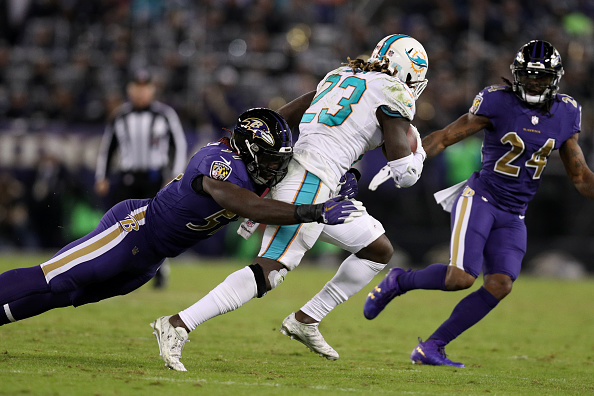 Coming up on the half way point of the season, let's take a look at some of the highlights that should be talked about from this past week.
Chicago Bears Tight Zack Miller.
Going for a touchdown that was overturned by officials. Zack Miller landed hard and hurt his knee. It immediately looked to be a severe hyperextension. Reports from the field said it was a dislocated knee-cap. This could be a bad enough injury as it is, with possible tears to tendons or any other number of problems. We later found out the prognosis took a scary turn. By morning we heard that they rushed him into surgery as the rest of the Bears were flying home. There was now a chance that he could not only lose his career but lose his leg from the knee down.
Miller had surgery and it looks to be successful, though he will still have to go through recovery before doctors are sure. This is a powerful reminder of two things. One, how the family of the NFL all pray and want no harm to come to each other. Two, how tough these guys are and how dangerous the injuries could be and how lucky they are to have brilliant surgeons to care for them.
The final knee push
The Pittsburgh Steelers and the Detroit Lions played a good tough close game. Lead changes, terrific goal line stands, it had a little of everything. When the smoke cleared and the game was seconds from over. All there was to do was for Ben Rothlisberger to take a couple of knees to run out the clock. Call it a gentleman's rule, good conduct in a game, good sportsmanship or what have you. There is an unwritten rule that unless the quarterback somehow drops the ball to the ground, there is little contact during the final plays. Whether it was frustration, passion at a close game not going their way, or just dirty playing.
When Rothlisberger took the first knee he had to jump out of the way because A'Shawn Robinson and Akeem Spence came fast off the snap. This led to a scrap that got Robinson thrown out of the game for throwing a couple of punches. Of course, both sides have their story, the Lions saying it was retaliation for earlier hits while the Steelers say there is no place for that. No fines were handed down by the league, This may be a mistake. This can't become a common practice since ankle and knee injuries are common enough but when you aren't expecting a push, it is just a dirty trick.
Houston Texans vs Seattle Seahawks.
This was simply put, what an awesome football game is all about. Quick, powerful, high scoring, lead changes, amazing quarterback performances. You didn't need to be a fan of either team to enjoy this game. The final score of 41-38 doesn't tell half of the story. In a duel of amazing performances, both quarterbacks threw for over four hundred yards. Houston's Deshawn Watson, 402 yards with four touchdowns and Seattle's Russell Wilson had 452 yards, also with four touchdowns. This was a great competition from beginning to end, from two teams who on paper seemed an uneven matchup. It is games like this that remind us what we love about the sport.
The Miami Dolphins
People know Miami is a bit of a party town, but what kind of party is going on with the Dolphins. In the last few weeks, so much has happened that it is amazing that all the team members make it on to the field. From losing one of their coaches by an exposed video of suspected cocaine use. To a competitive game against the New York Jets where they came out ahead at the end. To a complete meltdown in a loss to the Baltimore Ravens of 40-0.
Then a surprising trade at the end of the trade deadline of Jay Ajayi to the Philadelphia Eagles. This trade left many in the sports world scratching their heads. Many are wondering, especially the fans of the Dolphins, what is going on with this team. Hopefully someone in the front office will take charge and refocus them. We are now officially in the middle of the season. They can regroup and be competitive if they get their heads on straight.
The Cleveland Browns non-trade.
Oh those lovable loser Browns. What can we say about them that hasn't been said? This week, they were so excited about a trade they wanted to do with the Cincinnati Bengals for A.J. Mccarron. Of course in true Browns fashion, it didn't happen. The reports are conflicting, but what seems to have happened is the paperwork, for whichever reason, didn't make it to league office before the trade deadline.
It is one of those things that if you are a fan of this team you just shake your head. If you are a fan of one of their rivals, part of you wants to tease them. Another part of you is like, wow you are just making this too easy. It is like kicking a sick cat, why would you even do it? So bottom line, they have who they have until next year. Perhaps they will have no wins either but we will see if that happens.
So once again, we see there is no limit to what we as NFL fans can or will see on a weekly basis. Now off to week nine.
Main Photo:
Embed from Getty Images