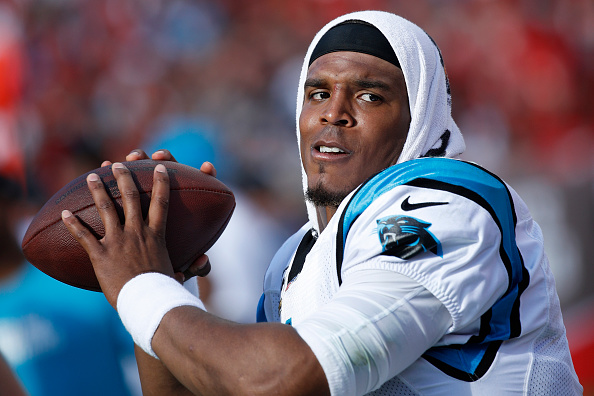 The Carolina Panthers lost to the Philadelphia Eagles in the NFL's week-six Thursday night game. The score was closer than some people thought it would be. It was a loss nonetheless, which put a damper on the team's win streak but was ultimately a good thing.
Why a Loss to the Philadelphia Eagles Is a Good Thing for the Carolina Panthers
Two seasons ago, the Panthers went 15-1 before facing the Denver Broncos in Super Bowl 50. They were without wide-receiver hopeful, Kelvin Benjamin, and still managed to put on one of the most impressive two-loss 2015 campaigns (well…except for that poor display during the title game).
The biggest factor that worked against Carolina was that they didn't have enough experience losing. They didn't lose a game until week 16 of that year and never had the chance to learn from any of their mistakes. Much focus went to the Josh Norman–Odell Beckham Jr. beef and then went on to how great of a season Cam Newton was having.
Panthers only have two losses
Even though it isn't ideal for a team to struggle at home, the Panthers already have two losses on the season. Losing early will help Carolina to tighten any bolts around any part of the squad they need to. Two losses are nothing for this team to panic about. Especially when one of those is a loss to the Eagles.
Let's not forget about the 10-6 New York Giants. They were a wild-card team that went on to beat the New England Patriots (they were 18-0 at the time). That was one of the greatest tests of will for young Eli Manning and his squad.
Carolina has had to face plenty of adversity losing both their star center and their Pro Bowl tight end within weeks of each other and still had to maintain an acceptable performance in their absences. With Ryan Kalil's return looming, and a chemistry already established on his offensive line, the Panthers could be looking at a lengthy playoff run.
Eagles prove they are a great team
Philly has proven week after week that they are one of the teams to beat in the NFC conference. They definitely were big winners last week, beating the Panthers in a road win. Not to mention, the only team the Eagles lost to was the then-undefeated Kansas City Chiefs.
Carson Wentz has proved that he is an elite quarterback throwing 1,600 yards through six games. His ability to create plays inside the pocket, as well as become mobile outside of it, creates the type of offence that is difficult to beat. He is a talented quarterback with a strong offensive line and a bulky defence.
Depending on how successful both teams are down the stretch, they could be meeting again. They might even battle it out for the NFC Championship game. Now that they've played against each other, they both have the experience. Who knows how the next face-off matches up
Major boost of confidence
This season isn't the first one that Carolina has had to power through on the strength of their defense and missing key players.
Their Super Bowl run from the 2015 season had to go on without Kelvin Benjamin who tore his anterior cruciate ligament during training camp. The media thought that team wouldn't win more than eight games. We know what happened.
The season before that, the young team won the NFC South title with a 7-8-1 record and made it out of the Wild Card round of the playoffs. That year was another year where the team was riddled with injury. After going on a six-game win streak, the team won out and–since they were in such a bad division at the time–went on to face the Arizona Cardinals.
Each time they have been faced with a roster challenge, the team has lived the mantra, "next man up," they have done so with confidence. This year is no exception. Ed Dickson and Devin Funchess have played key roles in games missing Greg Olsen. Tyler Larsen has also filled in for Kalil.
Panthers are poised for the playoffs
Of course, every team wants to be undefeated. They all chase the elusive undefeated season that the 1972 Miami Dolphins had. If the '07 Giants taught us anything it's that it doesn't matter how you get to the playoffs, as long as you do.
The Panthers loook like a team poised to head to the playoffs. They have news of their star center coming back which is huge for the offense. Let's see if their loss to the Eagles is as good a thing as I think it is.