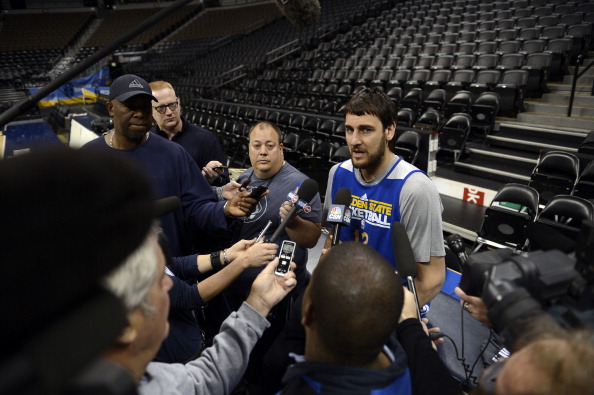 Los Angeles Lakers center Andrew Bogut believes he will be healthy for the season opener, according to a story by Lakers nation.
This is positive Lakers news for all Lakers fans as Bogut brings depth to the center potion. Andrew Bogut not only brings depth, but he also adds a veteran presence who has NBA Finals experience to the Los Angeles Lakers. Bogut won a NBA Finals with the Golden State Warriors when Luke Walton was an Assistant Coach to Steve Kerr. However, Bogut hasn't always been healthy.
For example, last season in 2017, he signed with the Cleveland Cavaliers and in his first game he injured himself. He suffered a season ending injury with a fractured tibia according to a story by bleacher report.
Andrew Bogut believes he will be healthy for the Lakers' regular season openerhttps://t.co/PlBn5dWFO3 pic.twitter.com/XeoGMK7lLL

— Lakers Nation (@LakersNation) October 14, 2017
When Bogut is healthy, he is a physical force to be reckoned with. He has no problem earning a double-double. Bogut has the height for rebounds, and can easily dunk or lay it in. Additionally, he does have a nice soft short-range jumper. When he was with the Milwaukee Bucks, he was one of their "go-to" players and averaged eleven points and eight rebounds.
When he arrived in Golden State as a secondary option, his numbers declined but not much. For example, in his last season with the Warriors he averaged five points and seven rebounds. Therefore when Bogut is healthy he is capable of a steady double-double performance on a consistent basis.
Health is the main concern for the reserve center. If he can stay healthy, he will produce for LA. He is a physical defensive presence in the key, his length helps him with guarding defenders and blocking shots.
He does own some quality traits such as court vision and passing ability that we rarely see in centers. Although, there are a few centers he shares these specific traits with. His ability to see the court and pass opens lanes for his teammates as well as himself.
As already mentioned, Bogut brings along a veteran presence to this young Lakers team. LA wants to make the playoffs and maybe even the NBA Finals, and Bogut brings the experience of being there before and can help lead them there. He may not lead them on the court, but he can off the court by being a mentor to this young Lakers team.
Bogut can be the mentor of the Lakers offense, similarly to when he was with the Warriors. Also, he makes a good decoy to create plays for his teammates. Creating plays leads to an exciting offense and stems from lockdown defense.
LA has an exciting offense that will entertain fans. All they need to do next is craft their defense and they will have success. The Lakers are growing quicker than everyone realizes. This is the year we see the Lakers mature, with the help of Andrew Bogut.
Main Photo: