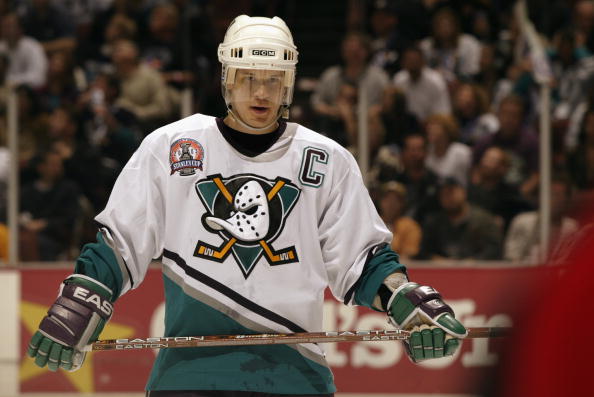 Many of the NHL's best have many accomplishments, including Hart Memorial Trophies, Conn Smythe Trophies, Stanley Cups, and their numbers hanging from the rafters of the teams they achieved greatness with. Here are my picks for 5 NHL players who should have their numbers retired by their teams.
5 NHL Players Who Should Have Their Number Retired
Al MacInnis started his NHL career in Calgary. He was one of the main pieces to their 1989 Stanley Cup Championship team, winning the Conn Smythe Trophy. MacInnis is third in games played with the flaming C on his chest, 803 to be exact. He also is third in points behind Jarome Iginla, and Theoren Fleury. Even Though he may only be third in points, he leads the Flames in assists. He is 16th on the all-time list.
This is a highly controversial choice, as Selanne never played a game for the Atlanta/Winnipeg franchise, he played for the Winnipeg/Arizona franchise. He was a key part of the original Jets, and a fan favorite in Winnipeg. The Coyotes have no lasting link to the old Jets except for maybe a trade tree. The Jets stars were the Jets stars, and few moved with the team to Arizona and played many years there.
Roenick played six seasons in the Arizona desert. He has his number honored by the Coyotes, but his 97 remains in circulation. His six years were split into two stints with the then Phoenix Coyotes. He ended up in the desert from a trade with the Chicago Blackhawks, who sent him to Phoenix in their first season after moving from Winnipeg.
Just like the controversy that comes with the Teemu Selanne pick, we have Bobby Hull and the Winnipeg Jets. Bobby Hull was the first star that the Winnipeg Jets and WHA had. Bobby was the premier star of the Jets during their time in the World Hockey Association.
Paul Kariya is arguably the best player in Anaheim Duckshistory, he is up there with Teemu Selanne. He was inducted into the Hockey Hall of Fame this year, and he deserves to have his name in the rafters of the Honda Center just like teammate and fellow 2017 HHoF inductee, Teemu Selanne. Kariya captained the then Mighty Ducks to the Stanley Cup Final in 2003, falling just short and losing to the New Jersey Devils.
Main Photo:
Embed from Getty Images