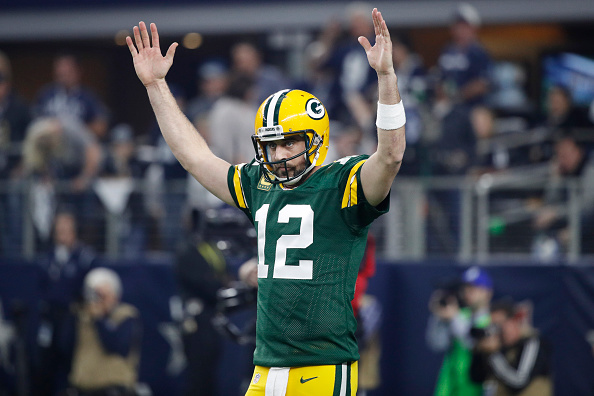 Performance is key when it comes to the quarterbacks of the National Football League. Quarterbacks are the leaders. Wins are based on what a quarterback can accomplish
More franchises are starting to put faith in their rookie to two-year guys with the hopes of bringing something fresh to their teams. Other franchises have quarterbacks that they have relied on for a number of years, because of their ability to win games.
Both rookies and veterans had great week-four performances. We will examine the best rookie and best performances from week four.
Week Four Quarterback Performances
Youngsters (Rookies and Second Year QBs):
His team is 3-1 through their first four games. He already has two more wins than last year in his seven games played. Former Rams head coach, Jeff Fisher, didn't think he was ready to play. But who was the Rams quarterback up to that point? The franchise has gone through eight quarterbacks over the last four years, putting them in an uncomfortable position each season.
Although Goff lost every game he started in 2016, it gave him enough experience and confidence to be the starting quarterback for Los Angeles. He is the epitome of what it means to rely on your draft pick.
In his rookie season, he threw 16 touchdowns and 14 interceptions and was under .500.  Philadelphia Eagles fans are not a forgiving fan base so welcoming the young quarterback to their sacred team was a big deal. He has the ability to stand tall in the pocket and use his mobility to get out of pressured situations.
Through his first four games this season, he has only lost to the sole-remaining undefeated team in the league. The Eagles are shaping up to be the best in the NFC East and could shape up to be the NFC champions. I'd say this franchise struck gold with this kid.
People wondered if Prescott would be able to take over once Tony Romo retired two seasons ago. There was a ton of expectation for the young gun, especially given the fact that he had Dez Bryant and Ezekiel Elliott at his disposal.
Even though Dallas lost to the Rams last week, they are still in better shape than many teams, merely because they have a leader like Prescott under center. How does he fare as quarterback on one of the most hated teams in the league? Eight touchdowns, 941 yards and a 61 percent completion rate through four games. Those stats will only continue to get better as he fights to come out of one of the toughest divisions in the NFL.
Last week, he had one of the most impressive rookie performances in recent history.  Watson tied for best rookie performance with his five touchdowns. After the quarterback carousel over the past several years, Houston surely is happy they picked him up.
Watson did it both in the air and on the ground, he holds the title he once shunned. He is precisely the type of quarterback Houston and head coach, Bill O' Brien, have been wanting. And with all his potential, stands a defense ready to compliment him.
Veterans
Newton out-threw Tom Brady, a rare moment at Gillette Stadium. Questions loomed of whether the Panthers franchise quarterback could hang with the likes of one of the best to ever do it, especially given his performance the first three weeks. He threw more interceptions than touchdowns and started to let his former demeanor to creep in.
Against the Patriots he settled himself. This allowed him to trust the many other weapons he has. That is the upside to having a veteran quarterback. Ed Dickson is a reliable target in Greg Olsen's absence. Having him, along with the other offensive weapons, plus a rowdy defense could recreate the 2015 Panthers (minus the Super Bowl loss).
Dalton posted four touchdowns in their first victory, last week. Of course, the win comes against a permanently downtrodden team. The Red Rifle demonstrated what a veteran does with a vulnerable team, beat them. Dalton averages almost a 90 quarterback rating as he almost always completes more passes than not. I think it is time this franchise gives him more offense to work with.
Maybe Dalton and the Bengals build from here and move towards becoming a championship-caliber team. Or does the six-year vet become another one of those QBs who are great, but not enough to win it all?
10 touchdowns and just three interceptions in four games for Mr. Rodgers and the Packers. This veteran has been in the league for over a decade and has endured every test a quarterback can face. His team has battled so many injuries, including consistent ones to his favorite target, Jordy Nelson. Now that he seems to be over that obstacle, it is simply about winning games.
Beating a division rival last week, kept them in the hunt for top spot in the NFC North. They could use help from the Panthers in this week's matchup against the Lions. Still, Rodgers has done it time and time again. Only once has his performance gotten him the ultimate gratification of a Super Bowl title, but he will always be known as one of the greatest to ever do it.
The former Florida State quarterback is coming off back-to-back 20 plus touchdown seasons. Throughout his professional career so far, he has shown his fearlessness as he's faced some of the league's best QBs and defenses. His meeting against the Giants last week was no exception. A three-touchdown performance only solidified what people already knew about the third-year passer, that he knew how to win a ball game.
The Buccanneers are in a division with people like Newton, Drew Brees, and Matt Ryan. If the Bucs want any shot at being legitimate contenders, they need a consistent performance from Winston that proves just that. From his stats the last three games, it seems he'll be quite the contender.
Main Photo:
ARLINGTON, TX – JANUARY 15: Aaron Rodgers #12 of the Green Bay Packers reacts after a touchdown during the NFC Divisional Playoff game against the Dallas Cowboys at AT&T Stadium on January 15, 2017 in Arlington, Texas. The Packers defeated the Cowboys 34-31. (Photo by Joe Robbins/Getty Images)