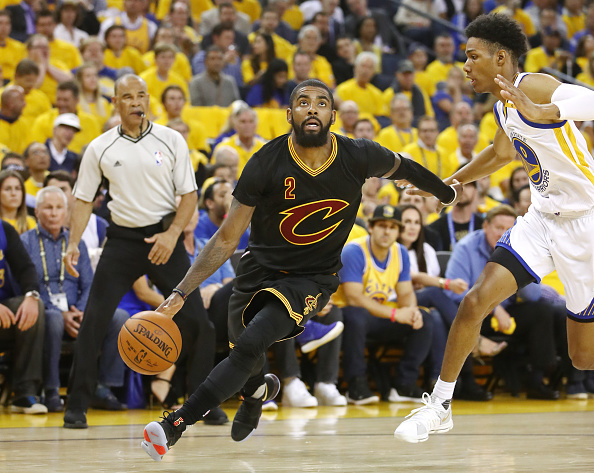 Through the NBA off-season, it has been about the blockbuster NBA free agency moves and trades. In this off-season alone, Chris Paul, Carmelo Anthony, Paul George, Gordon Hayward and other high-profile players have moved to new teams for the 2017-2018 NBA season. Another player who has made headlines throughout the entire NBA is four-time NBA All-Star point guard Kyrie Irving. He was traded from the Cleveland Cavaliers to the Boston Celtics.
Kyrie Irving Getting a New Role with the Boston Celtics
It wasn't so much the new addition of the point guard to the Boston Celtics that caused major headlines throughout the off-season, it was the way Irving was traded from Cleveland. Irving requested a trade from the Cleveland Cavaliers after spending his first six years in the league with the team. They were the top team in the East for three years after re-acquiring LeBron James. As it turns out, James is one of the biggest reasons for leaving Cleveland.
Irving believed that the Cavaliers were a one-man show in the NBA; rather than a big-three with him, James, and Kevin Love. Irving felt a harsh disconnect with the team during the Cavs third NBA Finals chase this past season. The media has been harshly critiquing the trade and the motives for Irving leaving. Here are some things to take notice on why Irving left and his excitement for playing with the Boston Celtics.
Kyrie Irving Wants to be Part of a Team Building Experience
For a while in Cleveland, Kyrie Irving felt that his impact of his performance and play making ability has gone unnoticed because of the major spotlight on LeBron James. Irving did not want to be the big star of the Cavs as he was three years before the return of James in 2014. He just wanted to felt appreciated by his teammates, organization, and fans. It was obvious that Irving did not feel that during the last few months of the 2016-2017 season. Through much speculation, it was rumored that Irving disrespected LeBron James, which was not the case. He did not appreciate the understudy role as James was consistently chasing the goals and records of Hall of Fame Chicago Bulls guard Michael Jordan.
Instead of fighting with James to change the team dynamic between James and the rest of his teammates, Irving opted to leave by the demanding of the trade. Overall, Irving did leave the city of Cleveland to go to Boston for a bigger spotlight. There is, however, a difference between his departure and Kevin Durant's arrival to the Golden State Warriors. Irving left to go to a team who was the top seed in the Eastern Conference playoffs but ultimately lost to the Cavs in the Eastern Conference Finals. Durant left his Oklahoma City Thunder to be on a Golden State Warriors team that was coming off of two straight Finals runs.
Irving Before Lebron James
Three years before James came back to Cleveland, Irving averaged 20.6 points per game, with a .450% field goal percentage, 5.8 assists per game, 1.4 steals per game, and 3 turnovers per game in his first three years in the NBA. In the 2014-2015 to 2016-2017 NBA seasons with LeBron James on his team, Irving averaged 22.2 points per game, a .468% field goal percentage, 5.2 assists per game, 1.3 steals per game, and 2.4 turnovers per game.
While Irving has had more stability, more big plays, and consistency with James; he did have fewer touches (for a point guard this is not good), impact, and control. With his new team, he has their full trust and control from his general manager and coaches. He can operate as a true point guard. Irving also has the support of new teammates in Al Horford, Marcus Smart, and the Celtics new small forward, Gordon Hayward.
Irving has said what he already had to say
With many media outlets still trying to make sense of his trade demands, some have proclaimed him as a villain. Irving has made it clear that it was nothing personal in his departure from Cleveland. He has stated that he wanted a new chance and a bigger opportunity with a team who is considered one of the best in the NBA in the Boston Celtics. Irving will have teammates that are more reliable in total gameplay with Horford and Hayward. His biggest statement and reason for the trade is "maximize potential."
When appearing on big-time sports shows, Irving was asked about his demands of leaving James and the Cleveland Cavaliers. Irving was hesitant and did not completely satisfy the curiosity of the media when answering the question. Irving felt annoyed about still having to still talk about his relationship with LeBron James and the sudden move to Boston. The statement could be made that Irving should just answer the question regarding James and Cleveland. He may not have wanted to answer them because of his desire to move on.
Irving's new role with Boston is the only thing that he wants to deal with. Constantly talking about his dealing with James and Cleveland is unnecessary and bothersome. His potential impact with Boston is a main reason he chose the Celtics. Cleveland in return got two-time NBA All-Star Isaiah Thomas; Jae Crowder; Ante Zizic; the Brooklyn Nets 2018 unprotected 1st round pick; and the Miami Heat's 2020 2nd round pick.
What to watch for in Boston
For the first time since the 2013-2014 season (his third year in the NBA), Kyrie Irving will be a franchise player instead of part of a one-man show possibly disguised as a big-three in Cleveland. Irving made the best decision for himself and his potential as an elite play-making point guard. Going to Boston will help Irving elevate his decision-making and lock-down defense with head coach Brad Stevens. LeBron James will be just fine with his new point guard Isaiah Thomas having more availability to create plays. Watch for an Irving and Horford led Celtics team to challenge an Eastern Conference. They will have to go through James and the Cleveland Cavaliers, who dominated the last three years.
Main Photo:
Embed from Getty Images