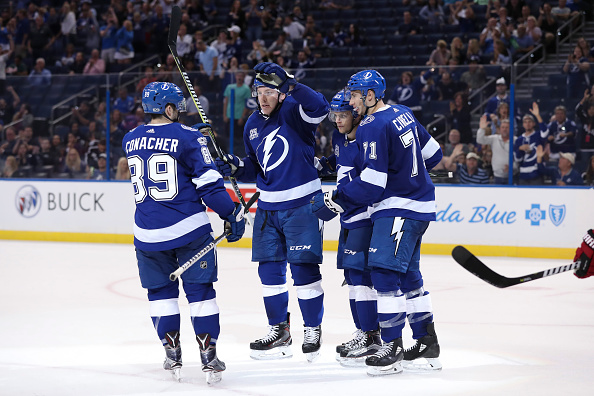 Despite high hopes, confidence, and expectations, for many NHL teams the playoffs proved elusive. Among the teams that did not make the playoffs, some have turned the public's heads in their directions throughout the offseason with their latest acquisitions. Some got a new lease on life, and might have a dramatic rebound.
5 NHL Teams Most Likely to Rebound
1. Tampa Lightning – 2016-2017 – Finished 18th
The Tampa Bay Lightning were plagued by some serious injuries that were key in them not making the postseason. Steven Stamkos, Ben Bishop, Tyler Johnson and Ryan Callahan missed many games, but all seem healthy enough starting this season. Unless something major happens, they should lead them to a playoff spot this season. They signed veteran players in winger Chris Kunitz and defenceman Daniel Girardi. Both players with plenty of playoff experience, could be a great complement in locker room leadership. Also, the fact that Yzerman has goaltender Andrei Vasilevski locked up for three years is important with Ben Bishop having been traded to the Los Angeles Kings last year. Let's not forget the trade that sent Jonathan Drouin to Montreal, which brought a great asset for team's blue line in Mikhail Sergachev. According to many experts, he is ready to start his NHL career. The Tampa Bay Lightning is a team that has proven over the last couple of years how dangerous they could be.
2. Dallas Stars – 2016-2017 – Finished 24th
Two years ago the Dallas Stars clinched the first spot in their division as well as their conference. Though things did not go their way the year after. The team has been known for their lack of consistency between the pipes for a couple of years in a row. Goaltender Antti Niemi (2016-2017: 12W – 12L – 4OT 3.30GAA) and Kari Lehtonen (2016-2017: 22W – 25L – 7OT – 2.85GAA) failed to return this team to a high level. However, Stars general manager Jim Nill has made some solid acquisitions that offer this team a huge opportunity to compete for the Stanley Cup by acquiring the 30-year-old goaltender, Ben Bishop. Known for his big frame, the 6'7 player was able to bring the Tampa Bay Lightning to the Stanley Cup final in the 2014-15 season. The GM has also brought aboard both superstar Alexandre Radulov and the big centreman Martin Hanzal from the free agency. He solidified their blue line by adding the stay-at-home defenceman Marc Methot via trade from Las Vegas. Most importantly, the Dallas Stars addressed their coaching issue by signing the longtime veteran coach Ken Hitchcock. All these additions should place the Dallas Stars among their conference's top teams.
3. Winnipeg Jets – 2016-2017 – 20th
Ever since the Atlanta Thrashers have moved to Winnipeg back in 2011-2012, they have managed to make the playoffs only once–which resulted in a four-game loss to the Ducks.  They are hoping to find consistency in goal with the addition of Steve Mason (2016-2017: 26W – 21L – 8OT – 2.66GAA). A fresh start with the Jets gives an opportunity to this goaltender to revive his career. Also, with the emerging stars like Patrik Laine and Nikolai Ehlers, the team will improve upfront. Further, young defencemen Joshua Morrissey will start his third consecutive season with the Jets. He has had a great year last season and expectations are on the rise concerning him. Despite the last couple of years of disappointment, the Jets have the chance to get show what they are capable of.
4. Carolina Hurricanes – 2016-2017 –  Finished 21st
After missing the postseason for eight consecutive seasons, there is a light at the end of the Hurricanes' tunnel. Scott Darling (2016-2017: 18W – 5L – 5OT – 2.35GAA), which was acquired throughout the offseason, now has the opportunity to show that he can play as an NHL number one goaltender. He has been playing with consistency the last three years as a number two goalie with the Blackhawks. The Hurricanes' GM Ron Francis has also signed free agent Justin Williams who has proved to be a great playoff asset for years. His experience would help the young players within the team. Some important additions like Trevor Van Riemsdyk and Teuvo Terravainen—both of whom are players looking for more responsibilities—give hope to the fans who have been patiently waiting for a signal of life.
5. Buffalo Sabres – 2016-2017 – Finished 26th
Since the 2011-12 season, the Buffalo Sabres have been stocking up on young guns thanks to the NHL Draft. Last year in April, they fired coach Dan Bylsma along with GM Tim Murray. A couple months later, they named Phil Housley as head coach and Jason Botterill as the new GM, which should bring a new voice in the dressing room along with new ideas within the team. They also reacquired the veteran winger Jason Pominville during the offseason along with defenceman Marco Scandella for Tyler Ennis and Markus Foligno. Those players should add some valuable experience to a very young team. The Sabres were able to nab Beaulieu from the Montreal Canadiens for a third-round pick, hoping to give him a new opportunity to start his hockey career. With Robin Lehner, who was signed a one-year contract, their should be more stability in the goaltending position. Buffalo has a new chance to put the dark past behind them and build around the strong pieces they have.
Main image credit:
Embed from Getty Images