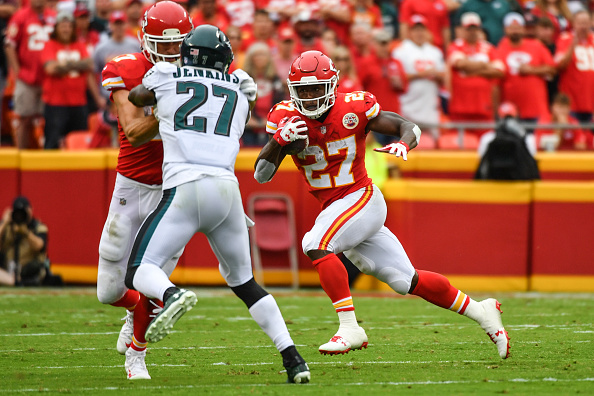 Through the first two weeks of the NFL season, there might be no bigger story than Kareem Hunt. The Chiefs rookie running back has rattled off an impressive first two games, and was the primary cog in the Chiefs takedown of the defending Super Bowl Champion, New England Patriots on opening night. The sky really does seem to be the limit for Hunt, who has surpassed anyone and everyones expectations of him. Even though it has only been two weeks, the legend of Hunt is already being written.
The Newest Kansas City Chiefs Weapon: Kareem Hunt
Chiefs Go Hunting
Kareem Hunt, 22 years old out of the University of Toledo, was selected as the 86th overall pick in the third round of this year's entry draft. Hunt was the sixth running back taken when Kansas City traded all the way up from pick number 104 to 86.
Hunt, a three-star recruit in Ohio, played his high school football at South High School in Willoughby, Ohio. He finished his collegiate career as a two-time All-MAC running back. At 5'11″, 216 pounds, Hunt rushed for 1,475 yards and 10 touchdowns last season at Toledo, while also totalling 41 catches for 403 yards and a TD. Hunt holds Toledo's all-time yards per carry record at 6.7 yards per carry and rushing record with 4,945 career yards.
Special K
'Special K' as Hunt is called by his new teammates, is a special three-down talent. Hunt, while he does not have elite speed-as evidenced by his 4.62 forty time at the Combine-does have good speed and hands, great contact balance, is solid in pass protection and vision. All of which combine to make him a stud running back for the Chiefs. The Chiefs have had many great running backs come throughout their history dating back to the late Joe Delaney. Household names included, Marcus Allen, Priest Holmes, Larry Johnson and Jamaal Charles. When it is all said and done, Hunt will be right up there with the rest.
Hunt definitely plays faster than his 4.62 forty time suggests and is elusive enough to make defenders miss but is more of an inside runner than outside. He has excellent hands coming out of the backfield which will be highly utilized by Andy Reid. Reid has quite the history of getting the most out of his running backs from the likes of Brian Westbrook, Duce Staley, Correll Buckhalter, and LeSean McCoy from his Philadelphia Eagles days, to now with the Chiefs in Charles, Spencer Ware, Charcandrick West.
Another important aspect to Hunt's game is his ability to stay in on third downs in pass protection. Hunt's pass protection was on display in the second preseason game in Cincinnati when Hunt took out two defenders on a 4th and 1. Hunt's pass protection will go unnoticed by the casual fan but will be an integral part of his game.
The New Beast Mode
Move over Marshawn Lynch. There is a new beast mode in the NFL. Hunt initiates contact like Lynch. Hunt also has fantastic vision that allows him to find the important holes. Vision is something that separates the great backs from the poor backs.
Hunt has great contact balance which may be his best asset overall. Defenders never bring Hunt down on first contact. Hunt forced the second most missed tackles in the nation last season (98) while at Toledo. Against the Bengals, Hunt broke four tackles on a 25-yard run. Hunt's terrific contact balance has drawn high praise comparisons to tough runners like Lynch, Larry Johnson and even a comparison to Hall of Fame running back Emmitt Smith by The Kansas City Star's Terez Paylor.
Like other great running backs, another incredible trait of Hunt is ball his security. He had just one fumble-yes that is correct ONE-in his career at Toledo. That is one of the most mind-boggling stats out there. Hunt now gives the Chiefs a third element, giving them a three-headed monster on offense. Defenses now have to account for Hunt along with Tyreek Hill and Travis Kelce. KC now has a dangerous offense like the Pittsburgh Steelers and Oakland Raiders.
Bold Prediction
These traits add up to Kareem Hunt being an immediate impact player for the Chiefs from day one. Factor in Ware's torn PCL and MCL in the third preseason game which vaulted Hunt into the starting role; Hunt will see the majority of the touches out of the backfield. I will even go as far as predicting that Hunt will be the offensive rookie of the year. Hunt will make teams pay for passing on him and be the best running back of his draft class. Prepare yourselves NFL because the Chiefs now have a top 5 offense.
Image Credit:
Embed from Getty Images