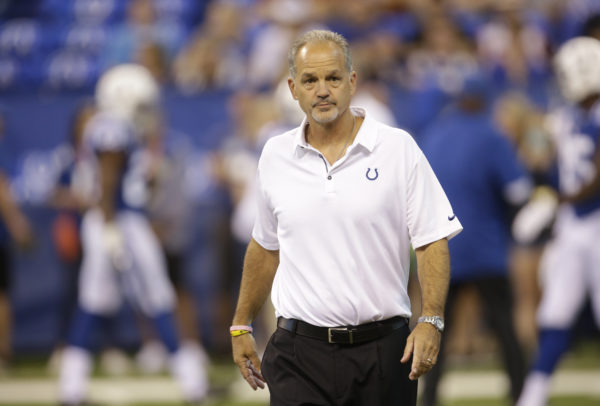 Every year, several NFL coaches find themselves on the hot seat.  Whether it's from personality differences, poor player performances, or a another job opening.  This year will be no different.  Here are four coaches that are likely to be shown the door unless their team turns it around.
NFL Coaches on the Hot Seat in 2017
Chuck Pagano
Pagano's Colts looked horrendous in Week 1, giving up a league high 46 points to the Rams. The Colts had numerous problems to deal with, on both offense and defense. They have no Andrew Luck, their skills players are aging, and their defense made Jared Goff look like a star. Although credit where credit is due, Goff took steps toward being the man the Rams need. The Colts woes aren't solely on Pagano, though. There have been draft busts, injuries, and poor development that compromise this team. With the likelihood that Luck will miss as many as 6 games this season, Pagano's job could be in jeopardy if he can't find a way to win with what he's got.
Todd Bowles
Oh, the joys of a rebuild. The 49ers went through it last year, and the Jets are next. Expect a new head coach, general manager, and a potential franchise quarterback on their way in 2018. The Jets have made their plans for 2017 known by starting Josh McCown and trading or releasing every other talented individual on their roster. A week 1 loss to the Bills showed that the Jets are going to be non-competitive this year. Except for the first overall pick in 2018, that is.
John Fox
I imagine that it's frustrating to coach quarterback Mike Glennon when you know that a budding star rides the bench. Fox is another coach caught in a strange scenario. In the scenario that the Bears win more than about eight games, I'd think that Fox's job may be safe for another year. If the Bears go 2-14, it won't be on Fox, but he will be the scapegoat. If Glennon turns out to be serviceable, I'd expect the Bears to trade him to make way for Mitch Trubisky.
Marvin Lewis
It seems as though every year is "the year" for the Bengals. If the Bengals aren't competitive this year, Marvin Lewis could see the door. They have offensive talent. The defensive attitude has been the Bengals' calling card the last few years. The problem comes with the offensive line. The Bengals didn't score a single point in week one, and that falls directly on the line. They also share a division with the Steelers and the Ravens, both of whom have defenses that can expose a terrible offensive line. All of which leads to the Bengals ending the season with a losing record, and a Lewis firing.