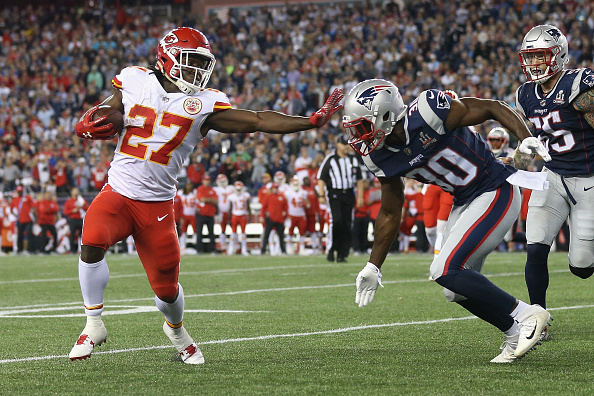 NFL opening week is in the books and like every year, it had it's fair share of surprises. It started on the first night of the season and only ramped up as the weekend progressed. Even though, the first week showed us the capabilities of many different players, there is a lot of season to go before Super Bowl LII. Week 1 is where the highest multitude of overthinking is done, but there were still plenty of takeaways from the first days of NFL action. It isn't preseason anymore and everyone is relieved.
10 Things We Learned From Opening Week
1. The Patriots Are Beatable
Almost everyone but the Patriots were happy with how the NFL season kicked off. The Pats dropped their opening night matchup with the Chiefs 42-27, ending all speculation that the Patriots would finish the regular season 16-0. This should be a wakeup call to every team in the NFL; it is 100% possible to beat the Patriots. The Chiefs are obviously a good football team, but their performance on Thursday night should inspire any team going into Foxborough in the future.
Divisional games in the NFL are always tough, but the Texans were flat-out embarrassed in a game they should have had every reason to win. Tom Savage had a performance to forget, and he reassured Texans management that they made the right call on trading up to get another quarterback in April's draft. The Texans defence is good, but they just let a rookie making his NFL debut, run for 100 yards on them. The AFC East might not be the fiercest division, but it is impossible to make up ground if your quarterback does not throw touchdowns.
3. The Ravens Defense Is For Real
No matter how good the Ravens defense performs every year, they never seem to get the credit they deserve. This year, teams need to take notice. Baltimore's defence was recognized over the offseason as having one of the league's most improved secondaries, but their new look front seven flew under the radar. The defence as a whole produced five turnovers, including four interceptions; two off of front seven deflections. If the Bengals were supposed to be the sleeper team that many experts predicted, a shutout at home should validate just how good the Ravens defensive unit is. Terrell Suggs is looking like himself again, and many of the Ravens young guns are stepping up and contributing in stellar fashion.
4. There Is No Need To Give Up on Jared Goff
After last years 4-12 forgettable season, the Rams really needed something to look forward to in 2017. Goff is that glimmer of hope. Even after being written off by some as a bust after one NFL season, Goff had an impressive first game of 2017; throwing for 306 yards on 21 passing attempts and a TD. He also did all of that with Todd Gurley putting up a less-than-impressive, 40 rushing yards on 19 carries. These were the games that Les Snead had in mind when the Rams drafted Goff with their 2016 first-overall pick. The 46-9 beatdown of the Colts will hopefully kick start Goff's career as a reliable NFL starting quarterback.
5. Seattle's Achilles Heal is Still Their Offensive Line
Seattle ranked dead last on Pro Football Focus's 2017 offensive line list, and the first game of their season proved exactly why. Despite only losing by eight points to the Packers, the Seahawks offensive line was ran through all day, forcing Russell Wilson to scramble far too often. When Wilson had time he wasn't great, but the o-lines lapses made exploiting one of the leagues worst secondaries, almost impossible. The Seattle running backs could also only average 3.5 yards a carry all day, and their top two backs only had a combine 14 yards on the ground. It is important to note that the Hawks defense held the NFL's best QB to 17 points, but because of their shortcomings on offense, they have nothing to show for it.
6. The Browns Are No Longer An Easy Win
Cleveland made a lot of improvements over the offseason and many of them helped make a statement on Sunday. Even though they picked up a loss, the Browns put up a good fight against many experts pick the represent the AFC in Super Bowl LII; the Pittsburgh Steelers. With rookie starter, DeShone Kizer at the helm, the Browns played a solid game; collecting more first downs and more rushing yards than their opponents. The Browns also held Pittsburgh's star running back, Le'Veon Bell, to only 47 yards of total offense. If teams are going into Cleveland looking an easy win, they might have a tough time maneuvering through their constantly upgrading offense and defense.
7. The Cardinals Window May Have Closed
Going into the 4th quarter of Arizona's game in Detroit, the Cards were up two points and had a defense who looked to be regaining its 2015 form. By the end of the game, they had been handed their first loss of the season by 12 points, and their best player had been removed due to injury. David Johnson, left the game late in the 3rd quarter due to a wrist injury and is now looking like he will miss at least the next eight weeks of football. Johnson is an irreplaceable player in the Cardinals offense, and with Carson Palmer throwing three INTs against an unproven defense, Arizona looks to be trending down. The Cardinals trying to get back to the playoffs after missing in 2016, but the circumstances brought upon them may have already sealed their fate for the season and near future.
8. Dalvin Cook Is Going To Fit Well In Minnesota
After Monday night's Saints vs. Vikings game, every GM who passed on Dalvin Cook is regretting their choice. The young RB out of Florida State, picked up solid yardage all night against the Saints, including: the back breaking run that put an end to the Saints comeback hopes. In the game, Cook picked up regular yardage, two runs of 30 plus yards and finished with an impressive 127 yards on 22 carries. It took Cook awhile to get his feet going, but it is apparent that the Vikings plan to utilize him to the fullest in their offence. Cook out carried all of Minnesota's other backs by far and will continue to take those carries if he keeps playing this way. All while Minnesota's best franchise running back was watching from the other side of the field.
9. The NFC East Is Going To Be A Struggle All Year
With a divisional game already in the books for each NFC East team, it looks like this year could be the tightest race in a while. The Eagles had a big fourth quarter to finish off Washington 30-17, and the Giants missed Odell Beckham Jr. as they dropped a rather bland affair with the Cowboys 19-3. Despite, both these games being two score games, neither victory was particularly convincing. Ezekiel Elliott had a rather pedestrian game – by his standards – but Eli Manning just could not find a receiver without OBJ in the lineup. It is also going to be a couple more games before all of Washington's receivers get on the same page. However, Carson Wentz looked really good in his first start as a sophomore.
10. Trevor Siemian is The Answer At Quarterback in Denver
Monday night's opener between the Broncos and the Chargers was more nail-biting than expected, but perhaps what stood out the most was how composed Trevor Siemian looked. While facing a stout and improved Chargers defense, the second year QB did not parry at all. Siemian threw for 219 yards, two TDs and finished with a 94.2 total QBR; leading the Broncos to their first victory of the season. If not for a wildly deflected interception and a missed field goal, Siemian may well have lead the Broncos to a stomping over one of the NFL's most improved teams. Though he may not be in the highest tier of quarterbacks, if Siemian keeps playing like he did against the Chargers, Denver is going to be a very hard team to beat in 2017.
Image Credit:
Embed from Getty Images