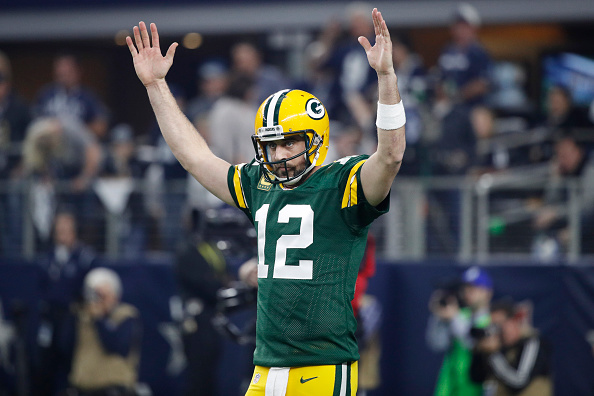 The annual Top 100 NFL Players list was finalized on Monday night and Aaron Rodgers was slated at No. 6. Being ranked the sixth best player in the entire league seems like a huge accomplishment for any NFL player but for the Green Bay Packers quarterback it still seems a bit low. This is not to downplay the ability of the lists top player: Tom Brady, but Rodgers has performed on just as high a level with significantly larger hurdles.
Rodgers play in 2016-17 was just the tip of the iceberg. The two-time MVP has been playing at an incredible level ever since he stepped out of Brett Favre's shadow in 2008. Rodgers has remained the best QB in the NFL over the last few seasons and is looking to reclaim his title as the NFL's best player in 2017-18.
Aaron Rodgers Remains The NFL's Best Quarterback
1. His Numbers
The easiest way to showcase anyone's football ability is with their numbers. Rodger's stats since taking home his first MVP have been ridiculous. In those six seasons, Rodgers has only had one season where he posted a total QBR of less than 100.0. That was in 2015 where he was without his top receiver; a legitimate starting tight-end; and a consistent starting running back.
2015 may have been a down season by Rodger's standards, but he was right back to his old self in 2016-17. 2016-17 was as a whole a crazy year. What is lost in it was that Rodgers led the league in passing touchdowns. Not only that, but only two starting quarterbacks had a better TD:INT ratio. Those players were Brady; who played four less games, and Dak Prescott; who threw 17 less touchdowns than Rodgers. Rodgers also had over 750 more yards thrown for, than either of the two.
Another component opponents have to consider when facing Rodgers, is his ability to run the ball. Last Season the 32-year-old Rodgers found a way to make himself an even more versatile player. In 2016, Rodgers ran for career bests in both yards and rushing touchdowns. It is even more impressive considering Green Bay's makeshift backfield.
The stats just begin to tell Rodgers story but they are among the most impressive of any player in the NFL.
2. His Lack of A Supporting Cast
Aaron Rodgers lack of support has been maybe the most disappointing thing throughout his NFL career. Since winning the Super Bowl in 2010-11, the Packers have not placed in the top-10 in either scoring defence or defensive yards allowed. Obviously there are more players than just Rodgers to thank for that but he has been the biggest cog; considering the Packers can not seem to run the ball.
Running back problems have been surrounding Green Bay for over half a decade. They climaxed in 2016. None of the Packers running backs were able to start more than six games. Their leading rusher, Ty Montgomery was a converted wide receiver.
So why does this matter? Because he continues to win.
Rodgers has been able to accomplish so much with so little. After his first season as a full-time starter, he has never had a losing season. Rodgers has been one of the only consistent quarterback to continually win games in both the regular season and the playoffs by going out and winning games by himself.
Rodgers is not allowed to have a bad game because there is no one who will bail him out. Of Green Bay's 10 wins in 2016, the Packers offence put up an average of 29.5 points. What is even crazier is that in their six loses they still put up 22.8 points in losses. The Packers also won two playoff games with an average of 36 points per game.
The things that Rodgers has pulled off even without a quality defence or consistent running game is simply outstanding and is something no other quarterback can do right now.
3. What He Was Able To Do In The Second Half of Last Season
No critique of Rodgers would be complete without referencing what he accomplished at the end of last season. After a shootout loss to Washington during week 11, the Packers were 4-6 and many speculated it was the end of the Mike McCarthy era as head coach in Green Bay. The Packers were 3 games back of the division leading Lions and chances of a return to the playoffs seemed slim-to-none.
But then Rodgers took over.
After the loss in Washington, Rodgers went on an unprecedented tear and looked 'incredible' even for a two-time MVP. Over the last six games of the regular season, Rodgers put up an average QBR of 121 whilst throwing 15 touchdowns and no picks. It was not an easy road either. Rodgers was not only winning games, but beating quality teams too. Of the six teams that fell to the Packers, three were playoff teams. The Packers would finish 10-6 and take the NFC North crown for a fifth time in six years.
Rodgers magic then carried into playoffs. In a 'coin flip' matchup with the Giants, Rodgers threw for four TD's and absolutely dismantled one of the leagues best defences. Next were the Cowboys and their PFF No.1 ranked secondary. Rodgers would lose his no INT streak but still throw for 355 yards, including one of the most clutch pass and catch plays of 2016-17. The Packers unthinkable run would end in Atlanta where the Green Bay defence just could not hold Matt Ryan but despite the loss, Rodgers 8-game win streak was one for the ages.
Looking Ahead
Going into 2017 Rodgers should be considered the NFL's best QB because of what he was able to accomplish in the second half of 2016. Rodgers may not have been the best player for the entirety of last season but was by far the most impactful player after week 11.
NFL fans have been blessed to watch Rodgers play over his first 10 seasons as a starter and there could be a lot more to come. If Rodgers can keep his form from the end of last season, he could capture his next Super Bowl ring much sooner rather than later.
Image Credit: