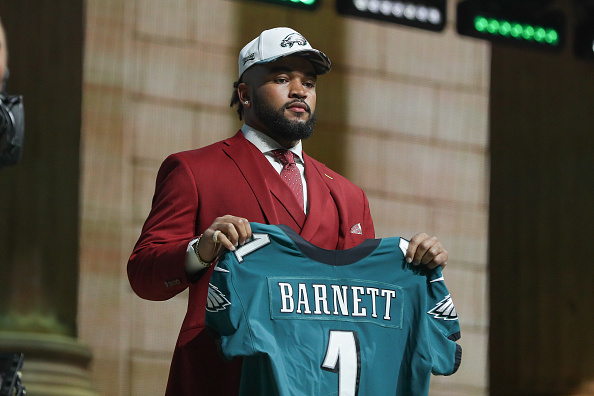 A Look Back at the Philadelphia Eagles Draft Class
It's no secret that the Eagles draft was regarded as one of the best in the NFL following the draft. Now that preseason action is over, let's take a look back and see what role each player can fill realistically.
Rookies
Derek Barnett has made his presence felt loud and clear this preseason with three sacks in four games. His bend around the edge has been viewed as Von Miller-esque, a huge compliment. His hand fighting skill has turned a boring trait to watch into something beautiful. Those traits alone are enough to make a viable starting DE in the NFL, but Barnett doesn't just stop there. He was one of the hardest workers in training camp, and is continuously trying to add new moves to his arsenal. Barnett's most attractive trait to Eagles fans though has to be… his motor.
Watching Barnett chase players down after it seems like his job has already been done on the play reminds me of my favorite Fletcher Cox and Brandon Graham play from last year. During the play, Cox and BG (yes 300-pound DT Fletcher Cox and 270-pound DE Brandon Graham) stayed on the TV screen the whole time during a 72-yard TD run by CJ Prosise. Cox and Graham both kept pace with Rodney McLeod and CJ Prosise up until about the ten yard line. They didn't catch him, but more importantly, they didn't give up. Now picture Derek Barnett on that play too, you have three defensive lineman 72 yards downfield from the line of scrimmage. It's an admirable trait that only few players have in the NFL, and it can make Barnett elite.
What should we expect from Barnett this year? Jim Schwartz loves rotating his defensive lineman so even if he doesn't start, he is still going to get a lot of snaps. Based on his preseason, he will be able to make those snaps count. Barnett will easily be in the running for Defensive Rookie of the Year.
Obviously Jones has been out with an Achilles injury since his pro day, but you can't help being excited about getting him back (which is looking closer and closer each day). Before his injury, Jones was my favorite corner back in the draft. He flat out knows how to play and that shouldn't change after his injury. He was compared multiple times in the draft process to Marcus Peters, which is quite the compliment. It makes me pretty excited to have a player who has been compared to the DROY in 2015.
Jones should be on the field this year around Week 7. It's important to remember that he is a rookie who missed all of training camp when he comes back, we all know Eagles fans don't know how to temper expectations. With that being said, I still think he will be effective with the potential of being a lockdown corner soon.
First of all, Douglas loves tackling and being around the ball kind of like Barnett but as a corner, which I love (so does Jim Schwartz). Douglas also has great size for a corner at 6'2. Height is important in a division with receivers like Dez Bryant, Terelle Pryor, and Brandon Marshall. At the beginning of OTAs, Douglas was trying too hard because all the pressure was on him. However, in training camp, more specifically since the Ronald Darby trade, I've liked what I've seen from Douglas. He has a knack for getting his hands on the ball and being aggressive, which was obvious with his eight interceptions in his final year at West Virginia.
Since the Darby trade, Douglas has quietly shown promise as a 3rd round pick. Douglas has not drawn any attention his way due to poor play, which is exactly what you want from a corner. Now is he going to be a quality starter right away? No, but with some more time I think he has the ability to develop into a good corner with that ball hawk mentality.
The Eagles addressed their wide receiver need through free agency, but I'm glad that didn't stop them from addressing it through the draft as well. Hollins is a special teams ace with a very high ceiling both physically and potentially. He is a playmaker as you could tell by his ridiculous yards per catch numbers at UNC. Hollins gave me the Jordan Matthews vibes in camp because of how much he competed and how hard he worked. His touch down catch against Green Bay is a good indication of what he is capable of as a big wide receiver with yards after catch capabilities. This year he is the WR4 on the Eagles, which is no insult to him considering who is above him. I expect to see flashes of what he can become this year, similar to the first preseason game, along with some eye popping special teams plays.
There's no denying Pumphrey was productive in college, but the NFL game hasn't slowed down for him just yet. He has struggled holding onto the football throughout the offseason, and has looked slow on the field. Against the Dolphins and the Jets I did like what I saw from him. He is definitely starting to make me feel better about the pick but I still feel like he has a ways to go.
Whether or not they dress him during game days or just force him out there, that decision is not up to me. I'd personally stash him on the IR with turf toe or a sore hamstring to make room for a free agent running back. Who knows, maybe Darren Sproles will sprinkle some of his magic dust on Pumphrey and we will be able to see just how good he can be. He's tough, and Duce Staley has said that over and over again. Let's hope he can translate his potential and toughness to the field.
Oh boy, this is an interesting one. I don't even know what to think of Gibson. He has struggled with drops, but he started to impress towards the end of training camp. Gibson is a player I can definitely see the Eagles developing as their WR6 because frankly he's real fast. The Eagles love fast players, which was clear with all of the names linked to them at the trade deadline last year. Gibson's big play potential is undeniable, but I don't see him contributing this year and probably not next year either. The speedster needs time, and that is the bottom line.
I was so disappointed to see that Gerry got cut, but knowing that he is on the practice squad gives me some relief. Nathan Gerry is a football player, it's that simple. He loves football and you can tell. Gerry's transition from safety to linebacker is taking some time this offseason, but that is exactly what the Eagles expected. That should not keep the Eagles from pulling him up to the 53-man roster when he's ready. I think he has the potential to be an average NFL starter at LB, which is solid for a 5th round pick.
I can see Gerry taking Kendricks spot in the future because his background as a safety gives him good coverage skills and he loves to tackle. I'm interested to hear about his development on the practice squad. Gerry is definitely a player to keep track of this year.
I love Elijah Qualls! There is just something about him that you can't deny is funny and awesome (maybe it's his body type). He's also a player I thought would get picked well before the sixth round because he is very talented. He takes up a lot of space along the line of scrimmage which is great for run blocking. He has great lateral movement and can get to the quarterback, which is rare for a 6th round pick. If you don't believe me telling you he's good, just look at his PFF grades in the preseason. I think he is a great player and can contribute in this defensive tackle rotation that is probably tops in the NFL. He deserves more attention and I will be very, very disappointed if he doesn't dress for game days this year.
Takeaways
Biggest Steal:
It's Elijah Qualls, obviously. You could argue Jones was a bigger steal but he was still selected in the second round. Qualls would be starting or at least the top backup on most other NFL teams. This year he has the chance to climb up the defensive tackle depth chart.  I can see him making a big impact on the defensive line this year in the run and passing game. #BriQualls (get it brick wall) for DROY! Just kidding that's a little extreme, but still he's really good.
Biggest Regret:
I'm sticking with my favorite talent-draft position, running back, this year and it's Kareem Hunt. Andy Reid knows how to select a running back and he clearly saw what I saw in Hunt. Hunt will be the featured back in Kansas City this year, and I expect him to capitalize on that. Who knows, we may be seeing him in talks for Offensive Rookie of the Year. He is a complete back who doesn't have to leave the field. I wish he landed on the Eagles and I'm pretty sure Howie will too by the end of the season. However, I think Smallwood has the ability to make me eat my words this year.
Main Photo: