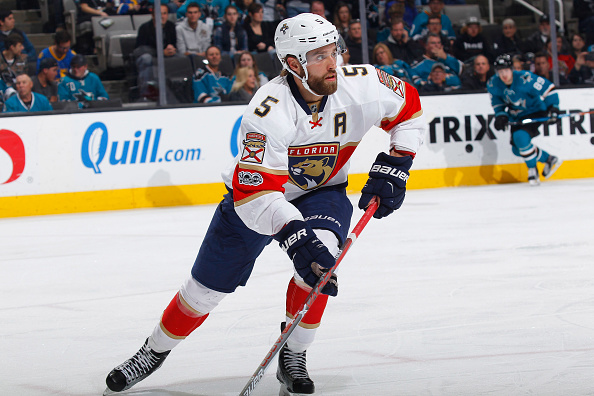 The 2017 NHL season was a season defined by how many new players established themselves as household names. However, the emergence of this talent left other established players flabbergasted at the sight of a new crop of superstars. Almost all good NHLers have an occasional down year, but the great ones do not let those seasons dictate their career pace. Here are five players looking to show that their 2017 seasons were just career outliers.
5 NHL Players Due To Bounce Back In 2018
After being acquired in 2016 by the Rangers from the Ottawa Senators, Zibanejad was off to a good start with his new team. Over his first 19 games in New York, Zibanejad put up an impressive 15 points. His hot start would then be derailed by sustaining a broken fibula, and would be forced to miss just under two full months of Hockey. After returning, he was not the same. In Zibanejad's final 38 games, he would only add another 22 points; dropping his season PPG from 0.79 to 0.66.
Despite the slow return from injury, Zibanejad put in a decent playoff performance through two rounds and will be looking to build on that in 2018. Over the offseason, the Rangers long time, no.1 centre, Derek Stepan, has been shipped to Arizona; leaving Zibanejad to fill the void. No other Rangers centre has the offence capability of Zibanejad. This will leave Zib as the default no.1 centre, as well as give him every opportunity to offensively succeed.
Zibanejad does not turn 25 until mid-April, and should be a key cog in the Rangers offence this season.
Ekblad was set to breakout in 2017, but instead fell flat on his face. After moving on from long-time leader: Brian Campbell, the Panthers made it known they were expecting big things from Ekblad. Unfortunately, he did not fair well in his first season as a full-time, first-pairing defensemen. Ekblad was unable to handle the role and posted career lows in points, plus/minus, and average time on ice. He also posted a career high in giveaways.
However, all is not lost for the young defender. Ekblad may have had trouble with his role in 2017 but he started pulling himself together at the end of the year. In Ekblad's last 11 games, he managed six points until injury spoiled his last two games. Those numbers do not leave all that much to be desired but there is no reason to think Ekblad will not bounce back. Florida might be finding it hard to make up room in the rapidly improving Atlantic Division, but they have no reason not to give Ekblad every opportunity to improve. Ekblad is another year older and should see increased ice time and powerplay time in 2018.
At the end of the day, Ekblad is too talented to have another season like the one he had in 2017.
Usually a 50 point season is nothing to take away from a player, but for Thornton 2017 was a huge disappointment. Thornton has consistently been one of the NHL's elite playmakers and 2017 was the first season in a long time that he looked among the average. Though he played 79 games, Thornton was only able to muster 43 assists on the season. Those assist totals were his lowest since 2001; leading to his first relatively full NHL season with less than 60 points since 1999. IT HAS BEEN THAT LONG.
Age might be catching up with Thornton, but there is also a good chance this season does not spell the end for the 1997 first-overall draft pick.
Three seasons ago, Thornton put up an ok 65 points in 78 games. This was supposed to be the beginning of the end for Jumbo, but instead he rebounded in 2016 with a point per game season; notching 82 points in 82 games. Thornton just signed a brand new 1 year(s)/$8,000,000 contract in July and would not have been brought back had the Sharks thought he was only going to be used as a role player. With Patrick Marleau now gone, Thornton may be relied on just a little bit more for scoring. If he is up to the task he could easily rattle off another 70 point season.
Bishop's 2016-17 season was one to forget simply because he could not find a rhythm. In 31 starts for the Tampa Bay Lightening, Bishop put up an underwhelming .911 SV% and a measly 16 wins. With budding star Andrei Vasilevskiy backing him up, Bishop was traded to Los Angeles Kings to give his understudy room to play. Bishop's play would worsen in LA and was traded to Dallas before he could become a UFA.
In Dallas, Bishop gets a fresh start. Signed to a 6 year(s)/$2,950,000 deal by the Stars, the experienced tender will be the undisputed starting goalie and should face significantly easier scoring chances in Dallas as oppose to last year in Tampa. The Stars heavily retooled in the offseason and should help Bishop improve on his less than stellar 2016-17 season.
Expect Bishops SV% to push back in the .920s and his wins to maybe reach past 40.
Even though he was just 22 at the beginning of the 2016-17 season, the expectations were fairly high for Rielly. Entering his fourth pro season, the Leafs expected a jump from solid-defender to star in 2017. Instead, Rielly may have taken a step in 2017. For a two-way defender, points typically are not the most important stat, but Rielly put up his lowest point total since his rookie year last season. He also had the lowest plus/minus total in his NHL career. His advanced statistics also remained paralyzed from the year before; this with Rielly playing less minutes in 2017 than in 2016.
Rielly was forced into a more defensive role by Head Coach, Mike Babcock, but he needs to do better in 2018. Luckily for him that should not be a problem. The Leafs had a ton of new faces in 2017 and heavily passed their season expectations. Now that everyone is settled in, Rielly can continue to blossom. Even though last seasons numbers did not jump off the screen at anyone, Rielly's fenwick for percentage has increased every year since entering the NHL. The same trend played out with his even strength corsi; until past season. When you add all that up with the extra year of experience the Leafs gained last season, Rielly should see improvements in his defensive stats along with his point totals.
This could possibly be the season where Rielly finally makes his jump into the elite tier of defenders.
Image Credit:
Embed from Getty Images