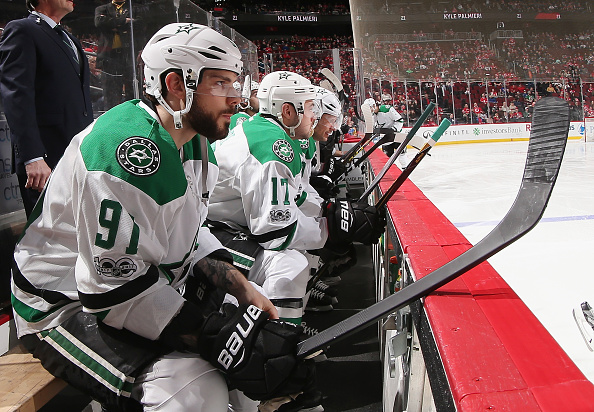 At this point in the NHL off-season, it would be remiss to not acknowledge what the Dallas Stars are putting together. Coming off maybe the franchises best regular season in history in 2015-16, the Stars fell flat on their face this year; finishing 15 points clear of a playoff spot and seventh last in league standings. Dallas looked nothing like the team that finished first in the Western Conference and first in league scoring the season before.
This off-season however, Dallas general manager Jim Nill has gone on a mission to make sure failure is not a growing trend in the Stars organization. Be it through trades, free agency or the draft, Dallas has done everything right to make sure they return to elite form in 2018.
2017-18 Dallas Stars Planning A Massive Rebound
If fans only remember one thing about Hitchcock from last season, it will be how much better the Blues started playing after he was fired. Hitchcock had a good run in St Louis. He never missed the playoffs over his five and a half seasons as head coach. Unfortunately, that same tenure will be marked as one where Hitchcock could not get it done when it mattered. Of the eight playoff series he coached, the Blues only won three. It's not an impressive stat for a very good coach.
Dallas should be a great place for Hitchcock to revive his coaching career. The Stars were the first organization where Hitchcock had success. In his first spell in Dallas, Hitchcock would reach the playoffs every year of his tenure besides his first and last; reaching two Stanley Cup Finals. He also won the Stars first and only Cup in 1999. Another element that makes him an effective fit is his style of coaching. The Stars have commonly had a problem keeping the puck out of their own net. Hitchcock's emphasis on structured defence should help improve a defensive unit that gave up the second most goals in 2017.
Everything that Hitchcock represents fits this current Dallas team. His hiring is a step in the right direction if they wish to become a true Stanley Cup contender.
The Stars have been trying to find a goalie ever since Kari Lehtonen's numbers began to steadily drop in 2015. A two goalie system between him and Antti Niemi was not the answer; as evidenced in the 2016 season. So the Stars went out for the second time in three years, and acquired a netminder. This time it was Bishop.
The three time all-star is in the prime of his career. He has playoff experience. Bishop should give the organization confidence in the goaltending position. Bishop has a humungous frame, standing 6'7″ but his skill set goes far beyond height. Despite being part of four different NHL teams before Dallas, Bishop has great numbers. He boasts a 2.28 goals against average over his eight year career. In his three years as a definitive starter, he has averaged over 37 wins per season. In those three years he only lost a total of 48 games. It is also important to note his save percentage. Since stepping into the league, his SV% increased the first five seasons he was in the NHL. It has only dropped twice.
The acquisition of Bishop is not only a move to put goaltending troubles behind the Stars, but one that gives them a game changer. Just one year removed his second Vezina Trophy candidacy and two years removed from a Stanley Cup finals appearance; Bishop is an elite goaltender.
Unfortunately for Bishop, he could never quite find his footing last season. When he seemed back on track, he hit a new road block. Battling injuries, a trade and playing on a bizarrely inconsistent team made his year a nightmare. Bishop should almost certainly rebound in Dallas. He should also secure the starting role with ease.
3. Defensive Reinforcements
The most defining characteristic of the Stars is their offence. Their defence on the other hand, has never consistently put up steady numbers. Not only that, but it has been down right awful over the past three seasons. Despite finishing 18th in goals against in 2016 – which is still not very impressive – the Stars had the fourth most goals against in 2015. The also had the second most against this past season. Evidently, Nill recognized the unit needed help.
Marc Methot was probably the biggest of Dallas's pickups this off-season. His skill-set should go a long way in improving the entire team. His ability to eat minutes 5-on-5 and on the penalty kill are exactly what the Stars needed after moving on from Johnny Oduya and Jordie Benn last season. He also loves using his body. Dallas' top defencemen have never been ones to throw their weight around. Perhaps Methot's influence will spark a change and inject a bit of much needed grit into the Stars play. The Stars also finished dead last in league PK%. This is an area they must improve if they want to return to the playoffs in 2018. Methot's presence helps in so many ways and was a perfect acquisition this off-season.
On the rise is also Dallas's 2014 first round selection Julius Honka. After two successful seasons in the AHL, Honka finally looks ready to secure a starting NHL role. Only 21 years old, Honka brings defensive scoring – putting up 75 points in 123 AHL games over the past two seasons – and could be looking to add flare to an already scoring heavy team. If Honka makes the leap to the NHL this year, he could have a similar impact to that of New York Rangers 2016 rookie Brady Skjei.
4. Even More Offensive Firepower
Despite all the firepower Dallas had in 2017, they still found it somewhat tricky to score goals. This is a rare shortcoming for Dallas considering that they are 2nd overall in goals since the beginning of the 2014-15 season. The Stars management wants 2017 to be an outlier.
In what has been the largest UFA contract of the offseason so far, the Stars signed winger, Alex Radulov to a five year, $31.25 million contract. The enigmatic 31-year-old was in great form during his return from CSKA Moscow in the KHL. The Stars believe he is next piece in an already immensely talented top-six forwards.
Though his sample size may be small, Radulov has proven he can contribute points at the NHL level in all circumstances. With the Canadiens in 2017, Radulov notched 54 points in 76 games including 16 power play points; a unit that in Dallas should improve dramatically next season. The number-one PP unit for Dallas in 2017 should include stars: Jamie Benn, Tyler Seguin, Jason Spezza and John Klingberg. It should be nearly impossible to not produce on special teams with the addition of Radulov and large improvement should happen to the unit that finished 20th in PP% in 2017.
Realistic Expectations
For the Stars, it would be a monumental disappointment if they were to miss the playoffs in 2018.
Dallas's specialty is putting the puck in the net, but they have improved greatly on defence with their offseason moves. Losing Cody Eakin may have briefly stung the Stars, but the addition of Martin Hanzal fills that same void and gives Dallas a bigger and more experienced 3rd-line centre. Special teams were Dallas's biggest disappointment of 2017 and all of their key additions should help improve both the penalty kill and power play.
It is too early to call the Stars contenders in the West because they missed the playoffs in 2017 and their division remains clogged with quality teams but Dallas has improved the most of any team in the conference. 2017 was the year of overachieving from teams in the Central and Dallas should be right in the thick of the playoff race come March and April.
End of Season Prediction: 2nd in Central Division
Image Credit: