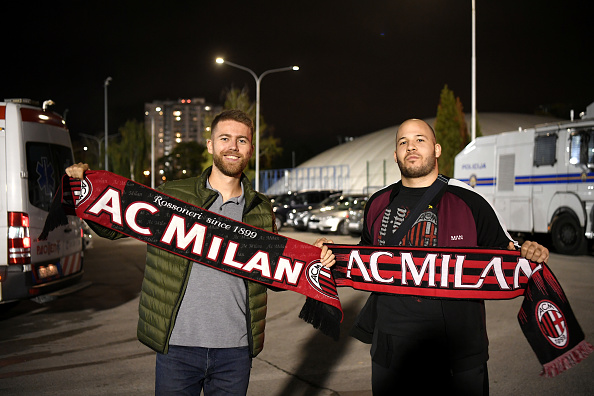 There is no doubt that AC Milan has been boldly written in the history of football, both domestically and internationally. With seven UEFA Champions League titles, 18 Serie A titles, 5 Coppa Italia titles, 5 UEFA Super Cup titles and various other pieces of silverware, the club has had periods of remarkable success.
However, the success of this trophy-laden San Siro side has been hugely dented in recent years.
A New Era of AC Milan Football
After the team won the Seria A title in 2011, management had a big responsibility to replace old legs with fresher ones.
The brilliant Fillippo Inzaghi, who was already 37 years old, needed to be effectively replaced; while the energetic midfield duo of Gennaro Gattuso (33 years) and Clarence Seedorf (35) were also due for replacement.
The always-composed Andrea Pirlo left for Juventus at the start of the 2011-12 season— he eventually led his new team to the league title. Veteran stars Clarence Seedorf, Alessandro Nesta, Pippo Inzaghi, Gennaro Gattuso, Mark Van Bommel and Gianluca Zambrotta were also allowed to leave a year later.
AC Milan seemed to cope well after the exit of the 'oldboys', though. Milan reached the quarter finals of the Champions League and finished second in Serie A, which in itself was seen as an underachievement.
But, they still managed to snatch the SuperCoppa Italiana which was their only silverware that season—a consolation. In fact, Ibrahimovic, who was then a  Rossoneri, was Serie A's top scorer that season, netting 28 goals.
Downturn
Things were supposed to be better. But, the diminishing process of this great club had only just begun.
In July 2012, one of the best strikers in the world, Zlatan Ibrahimovic, switched to Barcelona. Thiago Silva, arguably the world-best defender as at that time, also departed for Paris Saint-Germain for a combined £49 million ($75 million).
"Without Thiago Silva and Alessandro Nesta, Milan have no reference points in defence. Ibrahimovic, meanwhile, wins you 10 games a season on his own. If I was Allegri (the then manager of the team), I'd have trouble sleeping."

~Former player and manager Caesare Maldini, as reported by Football Italia
The club managed to finish 3rd in the next season, but drastically slumped to 8th, 10th (their worst finish since 1997) and 7th positions respectively in the following seasons.
Their struggles were not limited to domestic football alone. They also had big problems in the European competitions.
When the Rossoneris won their seventh European Cup in 2007, Milan were five ahead of Barcelona and only two behind Real Madrid, but in the past few years Real have extended their lead to four.
In 2014, the Italian side failed to qualify for an European tourney for the first time in over a decade. In fact, hitherto, the team failed to qualify for any European tournament for the three consecutive seasons.
New owners
"We want to create a team which will last through the ages, with class, heart and style. Courageous at home and abroad. Spectacular and capable of winning international trophies. Remember, he who believes, wins,"

~Silvio Berlusconi, the new owner of AC Milan
Until recent years, he did quite fantastic: 8 Serie A titles, 1 Coppa Italia, 7 Supercoppa Italia titles, 5 European Cup trophies , 5 UEFA Super Cup trophies, 2 Intercontinental Cup trophies and 1 Club World Cup trophy are testament to his leadership achievements. Still, many felt new management was needed.
In April 2017, a heavy-hearted Berlusconi brought down the curtain on the most successful era an owner has ever seen in this game. He left with a whopping 29 trophies in 30 years
He sold the club to Rossoneri Sport Investment Lux in a £630m deal which saw the Chinese-led consortium take a 99.3% stake in the club.
A few months later, AC Milan fans had something to cheer about. The club qualified for the Europa League after a 3-0 beating of Bologna.
"We could have done better, but this is a new beginning. Now we have to work to aim a bit higher"

~manager Vincenzo Montella after the victory
Maybe a Europa League qualification was not something to be jubilant about. But for a team that has not played European football since the 2013-14 season, the celebration was worth it.
The summer resurrection
A few days into the summer transfer window and the resuscitation process began. One, two, three…ten major signings have been made so far by the Italian side.
Experienced defender Leonardo Bonucci joined the team from Juventus for just £35m. Considering the inflated prices now experienced in the transfer market and the quality of the player, Bonucci was a bargain for Milan.
Other players like Mateo Musacchio, Franck Kessie, Andre Silva, Fabio Borini, Hakan Calhanoglu, Andrea Conti, Ricardo Rodriguez, Lucas Biglia and Antonio Donnarumma have also been added to the team
Last season, the Rossoneri's final total spending was only over £23m. So far in this transfer window, they have spent an impressive £160m.
The Italian side's chances of having a good 2017/18 season were boosted as Gianluigi Donnarumma, arguably the most promising goalkeeper in the world, agreed to sign a new five-year deal worth £5m-a-season.
Slow climb back to the top
Fans of the San Siro side will be right to expect a great season from their darling team that now seems to be perfectly mixed with the experience of both the old legs and the young ones.
Make no mistake, the San Siro side is on her way back to the top. Slowly, but surely, this is the beginning of a new era!
Main Image Credit Embed from Getty Images