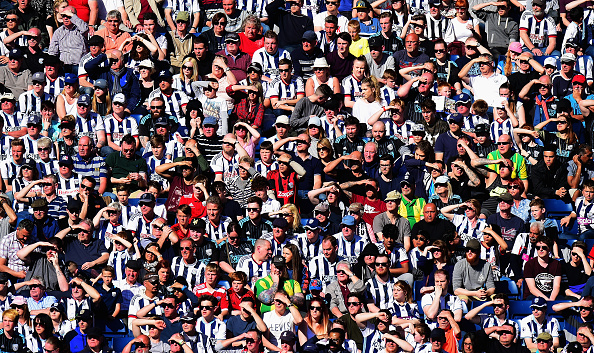 Opening day of the football season. For most fans, opening weekend is filled with optimism and hope. Excitement builds as the countdown to kick off intensifies. For Baggies' fans however, this doesn't seem to be the case. A distinct lack of excitement amongst fans causes negativity to fill the air leaving ill feeling at The Hawthorns.
A recent poll surveying West Brom fans suggest that more than 50% are dreading the upcoming season, whilst only 8% of fans show optimism. Why are The Baggies lacking their boing?
Ill Feeling for Baggies Fans
Owner Ambition
It has been a year since new owner Guochan Lai acquired West Bromwich Albion last summer. Baggies fans were initially thrilled at the deal worth a cool £175million with the feeling that former owner Jeremy Peace had taken the club as far as he could. It has since become clear to fans that Lai leans heavily toward business away from the football field. Globalisation of the West Bromwich Albion brand appears to take priority over the team itself. A new partnership with Werder Bremen of the Bundesliga as well as several 'West Bromwich Albion' soccer towns popping up in China are good for Lai and the 'brand', but do very little to get the faithful at The Hawthorns excited.
Perilously Thin Squad
A small squad was an issue for the Baggies last season. An award winning medical science team managed to keep the squad in good health to avoid a major issue with only Matt Phillips being of notable loss. Flying this close to the sun doesn't appear to have instigated change as another frustrating summer reaches it's climax. Since Lai's arrival, Albion have made £14million from the sales of Saido Berahino and Craig Gardner. Whilst signings Chadli, Livermore, Rodriguez and Hegazi mean a total spend of £26million. A net spend of £12millon following a season that yielded £120million in prize money indicates a huge lack of on field investment. With players such as Jonas Olsson and Sebastien Pocognoli allowed to leave as well as club captain Darren Fletcher, squad numbers dwindle.
Terrible Form
West Brom ended the 16/17 Premier League campaign in terrible shape, only Watford ended the season in worst form. Ending the season with only one win in 12 left a sour taste in the mouths of fans. These 12 games coincided with the general rule that a Tony Pulis side downs tools at 40 points. A dip in form that almost cost Albion a top 10 finish despite sitting in a comfortable 8th for the majority of 2017. Frustrating form that has carried into pre season as results against lower opposition leaves little to be exited by.
Restless Fans
Negativity breeds negativity. Nowhere is this more evident than amongst the West Brom fan base. Unhappy with results, style and transfer inactivity leaves the Baggies with very little to shout about. Even the recent hiring of highly popular Gary Megson as assistant manager was met with cynicism by some. For most it was a beautiful shot of nostalgia at a much needed time, but for some it was described as a distraction tactic designed to blind fans to Albion's problematic transfer window. With Baggies fans growing increasingly restless it appears that the knives are already out for manager, chairman and owner with not a ball yet kicked this season. A somewhat favourable start to the season only adds to the pressure for Albion. Facing only one of last seasons top six before October leaves Pulis's side with no option but to hit the ground running. Failure to start in a positive manor will leave the Hawthorns atmosphere turning very sour, very quickly.
Main image credit:
Embed from Getty Images