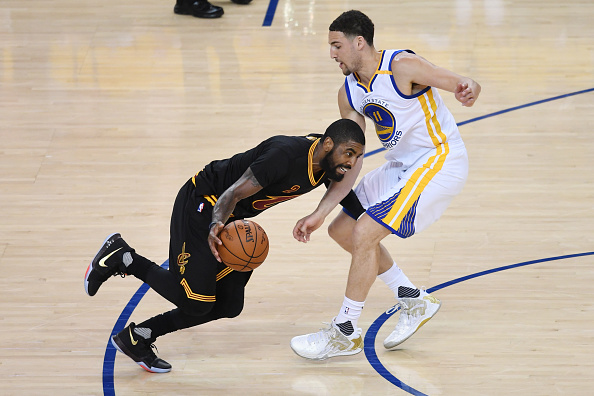 On July 21st, Kyrie Irving shocked the basketball world when he asked the Cleveland Cavaliers to trade him away. Drafted first overall by the Cavs in the 2011 draft, the Cavs saw Irving as their future. This pick was a complete success, as Irving went on to win rookie of the year, and in six seasons in the NBA, he has been an NBA All-Star four times.
Examining Kyrie Irving's Preferred Landing Spots
Irving was stuck on a bad Cavs team for three years, but that all changed in July of 2014, when LeBron James announced his homecoming. That same off-season, the Cavs traded Andrew Wiggins, their first overall pick, for Kevin Love. During the regular season in the 2014-15 season, they robbed that year's (and many other years also) punchline of the NBA in the New York Knicks when they acquired J.R. Smith and Iman Shumpert.
An NBA Championship was expected, but due to injuries to Irving and Love, James could not do it all on his own. The Cavs made the championship, and even with James playing like a monster, fell short to the Golden State Warriors.
The Cavs got their revenge though, coming back from a 3-1 deficit in the 2016 NBA Finals, to beat the 73 win Warriors. Irving hit a huge shot late in Game 7.
Last summer, the Warriors signed Kevin Durant. They won the 2017 NBA championship wit ease.
Irving's preferred trade destinations  are reported to be the New York Knicks, San Antonio Spurs, Miami Heat, and Minnesota Timberwolves. The goal is to examine the options and determine the most likely team to land Irving.
Quick Note: These teams are in no specific order
Minnesota Timberwolves
Not too long ago, this would seem like a really funny joke. With the Wolves adding Jimmy Butler and Jeff Teague in the off season, the team is intriguing.
Pro: He is Kyrie Irving.
Con: He is ball dominant, just like Karl-Anthony Towns, Jimmy Butler, and Andrew Wiggins.
If Minnesota were able to pull it off, good for them, they have a player who actually knows it is no longer the 1960s and makes threes. There are some hoops to jump through, though. The Wolves can't give up Teague, as he was just signed and can not be traded until December. This means that one of Irving or Teague is playing shooting guard.
Another problem is that Irving is valuable, so who will the Wolves give up to make it happen? Andrew Wiggins seems likely to be the odd man out here, but the Cavs would ask for more. The Wolves need to add someone with a lot of money to make it work through the salary cap. Also, a key factor is that the Wolves love Wiggins and do not plan to trade him any time soon. With the Wolves not giving up Wiggins, that means they are basically giving up Kyrie Irving.
Chances Are: It's More likely Irving finds out the Earth is round than he finds out he got traded to the Wolves.
Miami Heat
According to Barry Jackson of the Miami Herald, the Heat are the least interested of all of these teams. If a player of Irving's caliber is interested in your team, you should probably go after him. This trade would be perfect for Miami, as they can get younger, and contend now with Irving and Hassan Whiteside.
The Heat also can offer the Cavs a solid package in exchange for Irving. The Heat can give up a package of Goran Dragic, Justise Winslow and two first rounders in exchange for Irving, which is not bad at all. Pat Riley is one of the best presidents a team can have, so they probably could snag Irving in a trade. Irving and Whiteside can be dangerous in the East, and give the Celtics a run for their money in the Eastern Conference. This really could have worked out very well for the foreseeable future for Miami, but they are blowing it off.
Chances Are: Have you ever missed your chance with someone, and wondered what could have been? That is basically going to be the story of Pat Riley and Kyrie Irving.
San Antonio Spurs
It looks pretty clear that the Spurs have most weak points in the back court. Irving can change it all, as a backcourt combo with Danny Green looks pretty nice.
It is hard to see how this trade will go down. The Spurs really have very little to offer. The most valuable piece they have and are willing to trade is probably Lamarcus Aldridge. A problem is that the Cavs and Spurs are similar in having a very strong front court. Would the Cavs even want Aldridge? It would have to be a three team trade, with a team with a weakness at power forward and willingness to take Aldridge. The Cavs can receive something from the third team, and the Spurs can receive Irving.
According to rumors, the Spurs want to move Aldridge, and this is their chance.  If the Spurs and Cavs can find a third team that would want Aldridge, and have value to give to Cleveland, this trade could become very real. Gregg Popovich works some type of voodoo magic since the Spurs have not missed the playoffs in 21 years. All the Spurs need is some signature voodoo magic from Popovich and Irving is their's.
Chances are: It's the Spurs, they work miracles, so acquiring Irving shouldn't be too difficult. Adding Irving to this core should provide a real threat for the Warriors.
New York Knicks
Ahh, the sentimental reason. Recent news came out saying that Irving wants to be a Knick "very badly". He does not really get a say though, as he does not have a no trade clause. Irving grew up in East Orange, New Jersey. East Orange is close to Manhattan, home of the Knicks. As a child, Irving used go to New York City playing pickup basketball. Now, he has a chance to play on his home floor.
This probably has to be a three team trade, involving Carmelo Anthony, Frank Ntilikina, and some picks. The Suns would probably be involved according to various sources.
The rumors have this trade:
Knicks Receive: Kyrie Irving, Tyson Chandler.
Cavs Receive: Carmelo Anthony, Eric Bledsoe and the Knicks 2018 first rounder.
Suns Receive: Kevin Love, Frank Ntilikina.
There is no reason for New York or the Suns to decline this trade. Anthony and Bledsoe want out, so they team up with the best player on the planet. Anthony could leave and finally join Chris Paul and James Harden one year later, after making the NBA finals with James. This is a win-win-win for Anthony. He finally makes the finals, and gets to play with James. Then if he wants, goes to Houston the next off-season with Finals experience. Here, he will try to take down the Warriors with Harden and Paul.
If the Cavs fear LeBron James leaving they can actually get something for Love before he leaves. Also in the Cavs benefit, if the Knicks do what they do best and fail miserably and miss the playoffs, the Cavs get a lottery pick.
The Suns fill a hole and get an all-star big man to pair with Devin Booker. Along with Love is Ntilikina, who looks like the perfect point guard to pair with Booker.
The Knicks also get Irving, so they are happy.  This trade shakes the NBA up. This also helps the Knicks and Suns as they get  the change of scenery they need. The Cavs shake things up, which maybe can do damage to the Warriors.
Chances are: Kyrie Irving should start singing "I'm Coming Home", because if he is leaving, it looks like he is the New York Knicks point guard.
Main Photo: