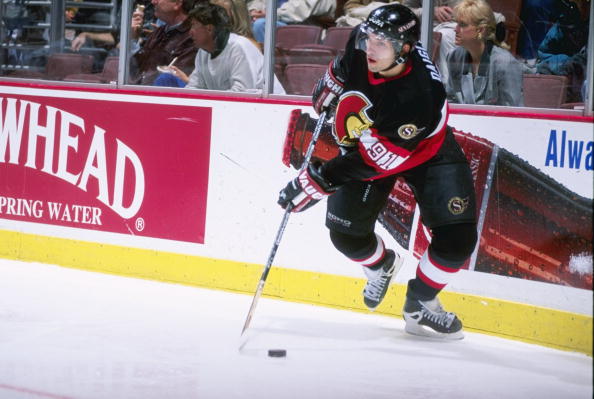 The NHL has been around for 100 years and over that time teams will end up drafting a player that never reached or came close to the potential they showed at some point in their career. While some players never even make their way into the league, others make their name as the player who failed to live up to expectations. The Ottawa Senators and Edmonton Oilers have seen first hand a player go from a Juniors superstar to an afterthought. Alexandre Daigle vs Nail Yakupov, who's the bigger bust?
The Battle of the Busts: Alexandre Daigle vs Nail Yakupov
Alexandre Daigle was drafted 1st overall in the 1993 NHL Entry Draft by the Ottawa Senators, ahead of future superstars Chris Pronger (2nd) and Paul Kariya (4th). Before Daigle was drafted he was being called the "Next One". He was looked upon as a franchise changing player, but he was far from it.
Daigle entered the NHL during the 1993-94 season. He posted 20 goals and 31 assists for 51 points in 84 games (0.61 PPG). For a rookie those numbers are pretty solid and Sens fans finally thought the team found the face of their franchise.
During the shortened 1994-95 (due to a lockout) season, Daigle produced 16 goals and 21 assists for 37 points in 47 games (0.79 PPG). With these totals Daigle's production increased and kept Sens fans hopeful.
The Fall
His third season in the league, 1995-96, fans and management would see Daigle's production drop to a staggering 5 goals and 12 assists for 17 points in 50 games (0.34 PPG). This was a huge drop in his production from the previous two seasons, causing fans to become worried that Daigle was not the same player that dominated in juniors.
The next season, Daigle would match his career high in points, 51 (26 goals and 25 assists), in 82 games but would go pointless in seven playoff games, again putting doubt in the management and Sens fans.
During the 1997-98 season, Ottawa finally came to the realization that Daigle was not going to be a superstar. They traded him, part-way through the season, to the Philadelphia Flyers. Daigle would score his first and only hat-trick with the team on March 14th, 1998.
Daigle would end up playing for another four teams (Tampa Bay Lightning, New York Rangers, Pittsburgh Penguins and the Minnesota Wild). He would eventually head overseas to Switzerland where he finished off his career. Daigle retired in 2009-10 at the age of 35.
Over his entire career, Daigle produced 129 goals and 198 assists for a total of 327 points in 616 games. He had a PPG average of 0.53. That's around the same production as a good 3rd liner/decent 2nd liner.
Nail Yakupov was drafted 1st overall in the 2012 NHL Entry Draft by the Edmonton Oilers. He was selected before notable players such as Alex Galchenyuk and Morgan Rielly. Many thought he could be a core piece that would help end the Oilers playoff drought.
Yakupov entered the league during the 2012-13 shortened season (due to a lockout). He produced 17 goals and 14 assists for 31 points in 48 games (0.65 PPG). At the time this was considered good for a rookie. With those totals, Yakupov was able to get Oilers fans excited for his potential.
The Fall
The following season he scored 11 goals and 13 assists for 24 points in 63 games (0.38 PPG). This was a big drop from his rookie season. Some were calling this a sophomore slump. Others started to realize that Yakupov was becoming an Alexandre Daigle 2.0.
The following season, Yakupov produced 14 goals and 19 assists for 33 points, a career high, in 81 games (0.41 PPG). This was a minor increase from the previous season. It certainly wasn't good enough for his potential.
In Yakupov's final season with the Oilers, he had 8 goals and 15 assists for 23 points in 60 games (0.38 PPG). This was his worst season with the team. He started off strong after playing with Connor McDavid. After McDavid's injury, Yakupov went back to his poor production.
During the 2015-16 off-season, the Oilers traded Yakupov to the St. Louis Blues for Zach Pochiro and a 3rd round pick in 2017. Yakupov would go on to have his worst season in the NHL. He produced a measly three goals and six assists for nine points in 40 games (0.23 PPG).
Following his poor performance, the Blues would decide to not re-sign or tender Yakupov (he was an RFA). This allowed him to become a UFA. He signed with the Colorado Avalanche for $875,000 for one season.
So far, Yakupov has 120 points (53 goals and 67 assists) in 292 career games for a PPG average of 0.41 which is equal to a decent 3rd line player.
Who's the Bigger Bust?
Comparing point totals, both of these players were huge let downs to the teams that drafted them 1st overall.
Daigle definitely was a better player. He was also seen as the next great superstar while Yakupov was seen as a top line winger. While neither lived up to their potential, I would say Daigle was the bigger bust based on the fact that he was judged to be a generational player.
Yakpuov still has a bit of time to change his future but the window is closing quickly.
Main Photo: