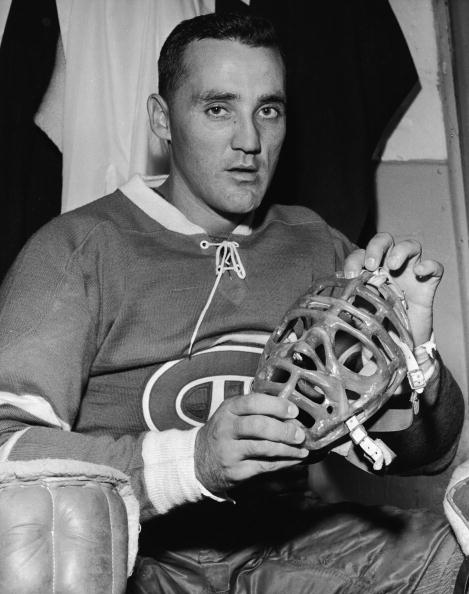 We often celebrate goaltenders who make the unbelievable look pedestrian. Here we'll celebrate the pioneers, the downright bizarre and those who can make even the pedestrian look ridiculous.
Top 10 Unorthodox Goalies in NHL History
Career: 1952-1973
All of today's star goalies should be thankful for perhaps the most famous legend in the goalie community, Jacques Plante. He was the first ever to wear a goaltender's mask on a regular basis. He even needed to fight his coach, Toe Blake, to do so. Once he did, his superlative results spoke for themselves. He won six Stanley Cups (five of them consecutively) with perhaps the most dynastic Montreal Canadiens team the NHL has ever known. He was also one of the first to play the puck to help his defenceman break out of the zone. Seven Vezina Trophies and a Hart for his troubles mean Plante and his innovative genius top this list with sumptuous ease.
Career: 1990-2008
A two-time Stanley Cup winner, Dominik Hasek could well have led this list. Hasek played the position of goal in a way that had never been done before and will likely never be done again. Whether he was windmilling his legs over his head to make the save or diving across the crease like a soccer goalie, Hasek always stopped the puck. It may not have always been pretty because mostly it was downright spectacular to behold. It's hard to argue with his success. Over his 18 year career in the NHL, he won two Stanley Cups, the Vezina Trophy six times as well as a pair of Hart Trophies as the league MVP.
Career: 1991-2015
Brodeur effortlessly combined stand-up and butterfly styles with excellent returns as one of the league's first "hybrid" goaltenders. His adaptability gave him incredible longevity and relevance in 24 years in the NHL. Many argue he's greatest goaltender of all time. He stands at the top of the NHL's wins list at 691. He also has four Vezina Trophies on nine nominations and three Stanley Cups of his own.
Career: 1984-2003
Roy and Brodeur are nearly interchangeable in the conversation in terms of their successes. Between the Montreal Canadiens and the Colorado Avalanche, Roy compiled 551 wins, two Stanley Cups with each franchise, 3 Vezina Trophies and 3 Conn Smythe trophies as playoff MVP. His confidence in his own play set him apart from the rest of the league in more ways than one. Roy was an unabashed showboat, adding a little flair to his glove saves. While he was not the innovator of the butterfly style (more on that later), he worked with Francois Allaire to perfect it. Along the way Roy inspired a generation of goaltenders, including many from the province of Quebec.
Career:1986-1999
Hextall's penchant for violent tantrums had any self-respecting shooter hesitant about firing the puck anywhere near the net. Hextall carried on the Broad Street Bullies legacy long after that era was finished. He often used his stick a scythe to cut players legs out from under them with his signature slash. He did win the Vezina and the Conn Smythe in his rookie season, though. Perhaps there was more to him than his white hot temper would suggest.
Career:1952-1971
Glenn Hall is the undisputed father of butterfly goaltending.  They say the first one through the wall always gets bloody and that's certainly true of Hall. With his head closer to the ice he often took pucks to the face (and without a goalie mask no less.) In fact, one night playing at Maple Leaf Gardens, he required 26 stitches in his chin after taking a shot to the face. He was as tough as a man could come: he played through a stretch from 1955 to 1962 without missing a single game. Needless to say that many of today's NHL goaltenders owe him lot of thanks for their style of play.
Career:2002-2014
One of only two men to break Dominik Hasek's single-season save percentage record, Tim Thomas did it all his own way. That is to say way, way out of the net. It's one of many ways he compensated for his small stature at 5'11". There is absolutely nothing in a Tim Thomas highlights video that you'd describe as pretty, but damned if he didn't make the save. He always knew how to stick out from the crowd. He proved that as the only member of the 2011 Stanley Cup champion Boston Bruins to refuse to visit President Obama's White House, citing political differences. One could surmise that it may also have had something to do with the Confederate flag prominently featured on his goal mask.
Career: 2007-present
Jonathan Quick's freak athleticism enables him to do things in the net no other goaltender can. His explosiveness in his lateral movement is on par with some of the NHL's fastest skaters and his flexibility rivals that of a professional gymnast. (Seriously, it looks like he could fall asleep in the splits.) Similar to Thomas, Quick enjoys playing well out of his crease but the way he makes up lost ground in recovery makes him look like a nitro-fueled octopus. Strange to say the least, but he is nevertheless one of the most entertaining goalies in the NHL. (Two Stanley Cup rings and a Conn Smythe don't hurt, either.)
Career: 2005-Present
Speaking of entertaining, Pekka Rinne stands at 6'5". With that size of a frame, you'd expect him to play a conservative style, deep in the net. You're not likely to find the word "conservative" in Pekka Rinne's dictionary. His style of play is so hard to quantify that it's got goalie coaches from Nashville to Moscow scratching their heads. That's just when he's stopping the puck. Whenever he comes out of his cage to actually play the puck, it's a Tolkien level adventure. It's clear that Rinne will never even attempt to be anything but what he is, and NHL fans love him for it.
Career:2001-2015
In the immortal words of John Tortorella "It's good to have weird dudes." Ilya Bryzgalov is weird enough to pass for an alien. That's a good thing. He's the only Goaltender who made this list solely on his off-ice resume.  After his coming out party in four seasons with the Arizona Coyotes Bryzgalov received a massive payday. In 2011, the Philadelphia Flyers agreed to pay him $5.6 million annually for nine years. They thought they were getting their long-awaited franchise goaltender. What they got instead was a Titanic sideshow worthy of the silver screen. In two seasons with Philly, Bryzgalov posted a paltry .905 save percentage that he more than made up for in entertainment value. From his theories on the universe to his proclamation of great news when he was scratched for the 2012 winter classic, you can't help but love him. Despite the on-ice debacle, even Flyers fans can't get enough of Ilya Bryzgalov's sense of humor and outlandish personality.
Main Photo: