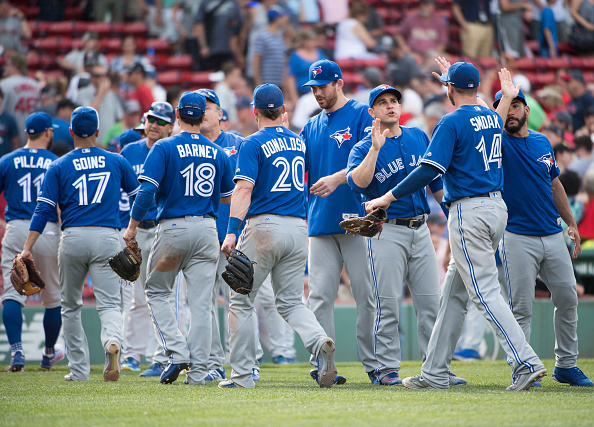 The Toronto Blue Jays have not been nearly as good of a team as they have been the past two seasons. However, that does not mean it is time for a rebuild. It's simply the term of retooling that the Blue Jays could look at doing if not at the deadline then in the off-season.
The Toronto Blue Jays Should not Rebuild This Deadline
The Challenging AL East
Simply put the Blue Jays can't afford to rebuild in the AL East. A team like the New York Yankees never entered a full rebuild just simply retooled the major league club, and remember they really didn't have any intentions of contending this season, they were going with the young prospects but still had some veteran players.
Why is the East different than any other division? Because of teams like the Boston Red Sox and Yankees who have the money and resources to add more veteran players to retool their teams. A rebuild simply takes too long in a competitive division. Look at the Tampa Bay Rays numbers in attendance since their rebuild started back in 2014, it has been consistently close to the bottom in the American League because of how hard it is to really truly rebuild in the division; now just 2.5 games back of first Tampa's average attendance per game is hovering at an AL worst 15,340 per night.
Youth Movement?
Also, the Jays do have a team that is incredibly experienced but almost to a flaw. They enter play July 21st with the second oldest roster in the major leagues and oldest in the American League with an average age of 30.2, and Toronto is beginning to show their age. Jose Bautista, the oldest player on the current Jays roster at the age of 36 (turns 37 in October) is having a well sub-par year considering what Jays fans have seen in the past. Toronto isn't striking out a lot which is good, but they are grounding into a bunch of double plays. Entering July 21st the Blue Jays have grounded into a double play 102 times, thats an GIDP% (Grounded Into Double Play Per Opportunity) of .151.
The Blue Jays have an impressive core of young pitchers in Marcus Stroman, Aaron Sanchez, and Roberto Osuna. Pitching wins games, and these two starters and elite level closer are players that the Blue Jays can build around. While Sanchez has had blister problems this season, he showed his value last year when he lead the American League in ERA. If the Blue Jays can figure out his blister issue, there is every reason he can bounce back. Meanwhile Stroman and Osuna have been every bit as good as advertised this year.
Speed
They are also one of the slower teams in the league according to the new stats Speed Sprint, the Blue Jays have only two players on the active roster with above average speed in Kevin Pillar and Ezequiel Carrera. With that being said adding Dee Gordon (sprint speed fastest among all second baseman) makes sense. Selling everyone and field a team of prospects simply put does not.
For Jays fans is this season a disappointment? Absolutely, but that doesn't mean it's time to rebuild in the impossible to rebuild AL East. Adding someone like Dee Gordon, maybe even a Sonny Gray and sending off a Marco Estrada could make the Blue Jays at least have a decent chance of not miraculously winning the division, but at least making it possible to compete again next year. Making some more moves in the off-season will be key as well to add more speed to the lineup.
Main image credit: