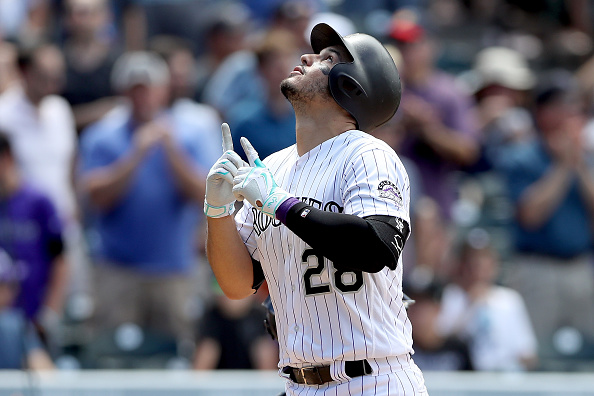 It is no secret that the game of baseball comes very easily to Colorado Rockies third baseman Nolan Arenado. Wednesday afternoon, Arenado proved that to be correct as he had one of the best day's in Colorado Rockies history.
Arenado went on a tear, having a career day as he recorded the first five hit game of his career. Arenado not only recorded five hits, three of the five hits left the yard for home runs. In total, Arenado was 5-for-6 with 3 HR's, 7 RBI's, and 4 run's scored in a 18-4 Rockies rout of the San Diego Padres.
At-Bat's #1&2
Arenado started his day off by recording RBI singles in both the first and the second innings off Padres starter Clayton Richard.
At-Bat's #3&4
Leading off the bottom of the fourth inning, Arenado burned Richard again as on a 2-2 fastball the All-Star third baseman roped his 19th homer over the left field fence.
An inning later leading off the fifth inning, Arenado did it again. On a 3-2 fastball from Kevin Quackenbush Arenado hit his 20th homer of the season to right center field.
At-Bat #5
With the Rockies already leading 14-4, Arenado stepped into the box with two men on base in the sixth. On the first pitch he saw, Arenado left the yard again against Quakenbush for a three run shot.
The History
He became the first player in Rockies history to record five hits and three homers in a game. Arenado's total of 14 bases tied the Colorado team record set by Larry Walker in 2004.
Postgame Quote
Postgame Arenado's teammate Trevor Story told the Denver Post, "It's unbelievable, but it didn't seem too out of the ordinary for something he can do. We were all just kind of like, 'Yep. That's Nolan.' But obviously it's special."
Main Photo: