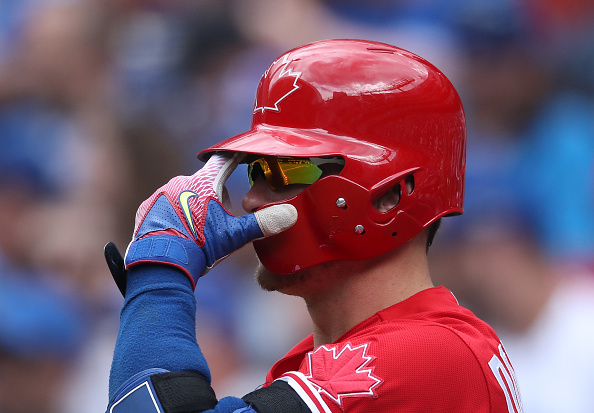 The Toronto Blue Jays are in a less than ideal place. With the All-Star break come and past the team finds themselves five games back of the last wild-card position with a .466 winning percentage (41-47). They ended the first half of the season with a horrendous loss to the AL best Houston Astros.
The 2016 AL Wild Card champions have been very underwhelming in the 2017 season. This is not something Jays fans should take lightly either. With a farm system that is depleted of projected stars, aside from Vladimir Guerrero JR (3B, Ranked 2nd on Baseball America's Top 100), Anthony Alford (OF, 38th), Bo Bichette (SS, 44th), and the struggling Rowdy Tellez (1B, unranked), the Jays look unlikely to be back in the playoff picture in the near future without a significant overhaul.
So to avoid another 20 year playoff drought here are three trades the Jays must make:
3 Trades for the Blue Jays Future
Josh Donaldson
The favorite son of the Blue Jays was a steal when the Toronto Blue Jays bought low two-and-a-half years ago. Now it is time for the blue jays sell high. The 2015 AL MVP, while currently struggling, has raised his value during his tenure with the Blue Jays and is their most valuable trade chip.
What kind of package could make you trade a franchise player like Donaldson? Comparables are hard to find given his age, injuries and success. Adam Eaton is a 28-year-old center fielder who hit .286 over the last three years with 30 home runs combined. He was traded for two prospects, ranked 23 and 40 on Baseball America's preseason ranking. Donaldson, 31, has hit at an ever-so-slightly lower average (.285) but has hit far more homeruns (86) over the same period. It would not be a stretch to assume that Donaldson could fetch a package closer to the one that sent Chris Sale to Boston. The White socks received top prospect Yoan Moncada (1st), Michael Kopech (24th), and two non-ranked prospects.
J.A. Happ and Marco Estrada
In 2014, two pitchers, Jeff Samardzija and Jason Hammel, were traded by the Chicago Cubs to the Oakland Athletics. In return the Cubs received Addison Russell, (3rd – 2014), Billy McKinney (83rd -2014), and another unranked prospect. This package should be very interesting to the Blue Jays. Samardzija and Hammel had ERAs of 3.84 and 4.11 respectively and combined record of 25-33 over the season and a half before being traded. Happ and Estrada boast similar or better numbers with ERAs of 3.25 and 3.97 and a combined record of 36-24 over the last season and a half.
Win-loss and ERA is not the be-all-end-all for pitchers value, far from it. However, the Jays' pair also boasts better-combined WHIP, and only have 27 fewer strikeouts in 42 fewer innings. Although this would be a near impossible trade to orchestrate, it would go a long way to rebuilding the Jays for the future.
Justin Smoak
Smoak has emerged as a powerhouse bat in the AL East. Unfortunately, his bat does not make the Jays an elite team. Last season at the trade deadline a similar, aging player, Jay Bruce, was traded for Dilson Herrera (46th – 2014) and a pitching prospect. Smoak is hitting .299 (Bruce .265), has three fewer homeruns in 92 less at bats, and has a WAR of 2.5 (Bruce 0.6). Smoak should be able to fetch you a better prospect than Bruce did the Reds. There is still potential that he falls off, much like Michael Saunders did last year, but there is also a chance that he is just realizing his potential. The Blue Jays must trade him while his value is highest.
Main image credit: