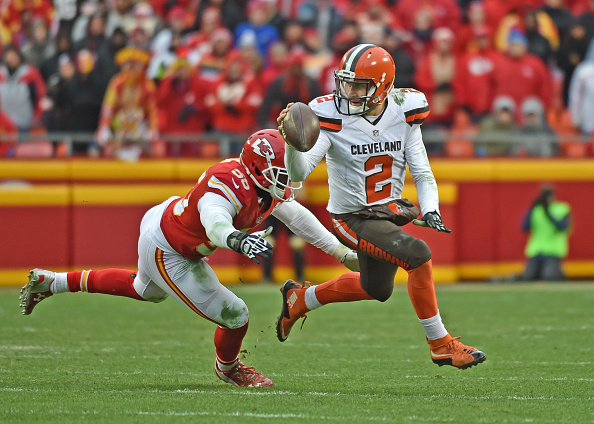 Johnny Manziel aka Johnny Football is back – maybe. The former Texas A&M star quarterback, who has been plagued by off-field troubles since being drafted by the Cleveland Browns in 2014 and released in 2016, said recently he is looking for a chance to get back into the league and a couple of teams have made contact.
Between his poor on-field play, highly-publicized drinking problem, rehab stint, domestic abuse allegations and his four-game suspension in 2016, it's hard to imagine teams rushing to sign the free agent.
However, in the NFL it only takes one team willing enough to take a chance. Here are the five most likely destinations for Manziel.
Top 5 destinations for Johnny Manziel
5. N.Y. Jets
To put it mildly, the Jets' quarterback situation is murky. The team signed veteran Josh McCown (Manziel's former teammate in Cleveland) in the off-season as a possible "bridge" quarterback. However, McCown has been dreadful the past three seasons between Tampa Bay and Cleveland with only two victories. Behind him are Bryce Petty and Christian Hackenberg, both of whom were terrible last season.
McCown was more than happy to mentor Manziel in Cleveland. Would he do the same in New York? It's the most likely spot for Manziel to earn starting time quickly.
4. Oakland Raiders
The Raiders have Derek Carr. With him, they're a Super Bowl contender. When he went down with an injury late last season, they couldn't beat the Houston Texans with Connor Cook as their quarterback. With Cook and E.J. Manuel backing up Carr, would the Raiders take a look at having a talented backup?
3. Arizona Cardinals
The Cardinals should have been contenders last season, but Carson Palmer did not have a good year. If Palmer struggles again, the other quarterbacks on the roster are Drew Stanton and Blaine Gabbert. Would coach Bruce Arians want to take on a talented insurance policy?
2. Seattle Seahawks
In the off-season, the Seahawks took an interest in former San Francisco quarterback Colin Kaepernick, but ultimately passed. Manziel's size and skill set are similar to starter Russell Wilson. If coach Pete Carroll decided to sign Manziel, this would be a good place to learn an offense suited to his talents. And if Wilson were to get injured, the offense wouldn't change much with Manziel behind center.
Dallas Cowboys
It's no secret Cowboys owner Jerry Jones is a fan of Manziel. The team does have offensive rookie of the year Dak Prescott entering his second season. Therefore, there wouldn't be any pressure to start Manziel quickly. However, should Prescott hit a sophomore slump, or suffer an injury, Manziel certainly would make a lot more buzz for the Cowboys than current backup Kellen Moore.
Main Photo:
Embed from Getty Images