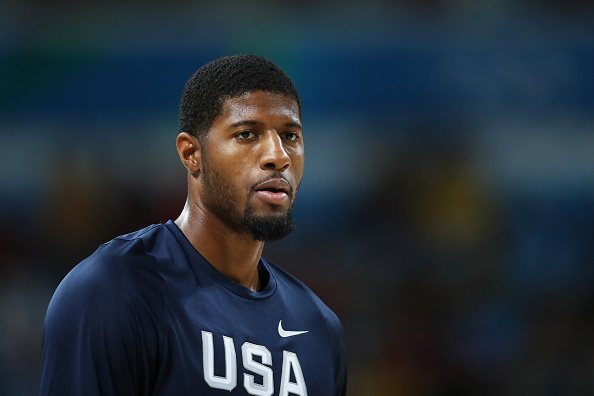 Los Angeles Lakers fans can't wait to see the trio of Lonzo Ball, Paul George, and Brandon Ingram hit the floor in 2018. They talk as if it's inevitable that Paul George will be wearing blue and gold starting next year. But let's not get ahead of ourselves.
Three reasons why Paul George will stay with the Thunder long term
The Thunder have a winning atmosphere
Down the stretch last season, George was fed up with how his team was playing because he didn't feel the organization was all in, like he was. This makes it ironic that he's been rumored to have interest in joining the Lakers.
The Los Angeles Lakers have been one of the least competitive teams in basketball over the last few seasons. They also don't have a first round pick next year and just traded away their second overall pick from two years ago, making their future look hazy as well. However, the Oklahoma City Thunder are on a much brighter path.
George will be joining a team that plays in one of the loudest arenas in sports, filled with one of the most loyal fanbases in sports. He'll be sharing the court with the reigning MVP, Russell Westbrook, and have the team's ninth straight playoff appearance all but locked up. After they make a deep playoff run, George might decide it's an experience he wants to re-live.
The Thunder are setup to win now
The Lakers are a rebuilding team. It may have started to shift to the latter stages, but the team is still unproven and needs time to develop. 27-year-old Paul George would be asinine to waste the prime years of his career playing for a rebuilding team.
It's very rare that a team goes from the lottery to serious contention because of the addition of just one player. After finishing with the third worst record last season, in all likelihood the Lakers will still finish in the lottery again next season, only they don't own the rights to their pick. If they added Paul George next summer, don't expect them to contend for championships for another two-three years even if everything breaks right.
The Thunder are ready to win right now. They have high volume talent around George that will allow him to flourish through his prime and compete to win championships. An aspect that must seem appealing to him.
Money
Money talks. If a team wants to sign Paul George, a max contract is what it's going to take. The Thunder will only have $31 million on the books after 2018 so they'll have the cap space available in order to lock up Paul George, Russell Westbrook, and Steven Adams long-term.
When it's all said and done and that max contract is staring George in the face, it wouldn't be surprising if he chooses the Thunder over the Lakers.
Main Photo: