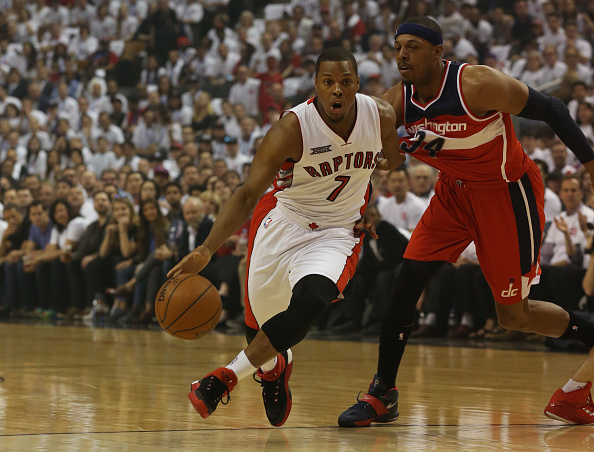 Ever since the heart-breaking Game 7 defeat against Brooklyn in the 2013/2014 NBA season, and the brutal sweep against Washington in the first round the next year, the Toronto Raptors have proved their worth as at least the third best team in the East. After reaching 50 wins in back to back seasons, as well as a Eastern Conference Finals appearance, the Toronto Raptors must to continue to take steps towards forward the and legitimately challenge for a ring in the years to come. The only way that they can do it is if Masai Ujiri and the Raptors front desk make the right decisions. Starting with if they really need The Bulldog of Bay Street, Kyle Lowry.
The Toronto Raptors Don't Need Kyle Lowry
To start, the Toronto Raptors have a clear dilemma with point guard Kyle Lowry. After opting out of his final year, the Philadelphia Native has an unlimited amount of choices to choose from. The two-time NBA All-Star is arguably the third best free agent point guard in the league, only behind Stephen Curry and Chris Paul. He has voiced his opinion on what he wants, which is a championship. There is no doubt that there will be teams offering him a max contract especially in today's inflated market.
The Raptors should not value Lowry as highly as the rest of the league does. Although he has been a successful point guard these past three years, Lowry is now 31-years-old with a history of injuries, one being his ankle which forced him to sit out the remainder of the Cleveland series. Additionally, his playoff form over the years have been atrocious compared to his regular season numbers.
 Regular Season Stats (Per Game)
Season
FG%
3P%
FT%
AST
STL
TOV
PTS
REB
2013-14
.423
.380
.813
7.4
1.5
2.5
17.9
4.7
2014-15
.412
.338
.808
6.8
1.6
2.5
17.8
4.7
2015-16
.427
.388
.811
6.4
2.1
2.9
21.2
4.7
2016-17
.464
.412
.819
7.0
1.5
2.9
22.4
4.8
 Playoff Stats (Per Game)
Season
FG%
3P%
FT
AST
STL
TOV
PTS
REB
2013-14
.404
.395
.878
4.7
0.9
2.9
21.1
4.7
2014-15
.316
.217
.727
4.8
1.3
3.0
12.3
5.5
2015-16
.397
.304
.750
6.0
1.6
3.2
19.1
4.7
2016-17
.462
.342
.818
5.9
1.5
2.1
15.8
3.1
via: Basketball Reference
Numbers do not lie, and in Lowry's case, prove that he does not deserve a maximum contract. He Raptors must not fall victims to the trap of this years free agency and over pay for Kyle Lowry. They did a wonderful job signing DeMar DeRozan to a maximum which was reciprocated by his performance all season and should look to build around him.
Other Options
There are plenty of cheaper free agents available such as: Jrue Holiday (26), Jeff Teague (29), George Hill (31), and Patty Mills (28). Instead of cashing out on Lowry, the Raptors should look to improve on their point guard depth by adding one of these guards and working with Cory Joseph and Delon Wright. Three guards will have more competition knowing that the starting spot will now be available. This will also allow for spending on other needed positions which include the all important power forward position.
The fact of the matter is that Kyle Lowry was injured during NBA All-Star weekend, and missed most of the Raptors stretch drive. The team did not miss a beat with Joseph and Wright spelling Lowry down that stretch. With those two players at the point, and another solid point guard, the Raptors should not miss Lowry too much.  The Raptors should not re-sign Lowry for anything over $18 million per year, instead choosing to spend that money to improve the team in other areas.
Main Photo: