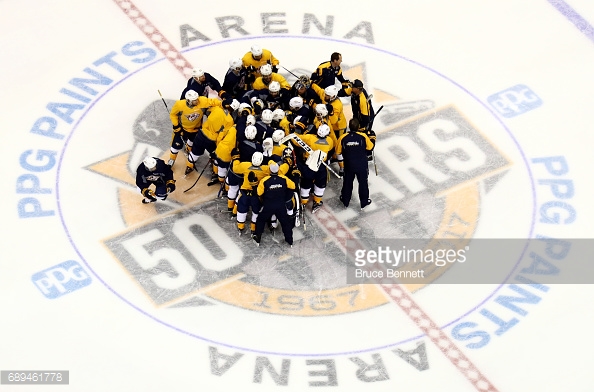 Do you remember the story of David versus Goliath? Well, if you don't then you don't need to look much farther than this years NHL Stanley Cup finals. The 16th seed Nashville Predators are David and Goliath is the Defending Stanley Cup Champion, Pittsburgh Penguins. David ended up beating Goliath in the biblical tale but this story may end very differently.
Nobody can take anything away from the Nashville Predators. They continue to surprise everybody as they've rolled through some major heavy weights to get to their first final in team history. However, no team is quite like the Penguins. They feature the best player in the world who happens to be from my hometown of Halifax (well Cole Harbour) but for this story I won't confuse you.
Goliath: Pittsburgh Penguins
Sidney Crosby can never be counted out in the playoffs. There is no doubt the Pens will live and die by what he accomplishes in this series. Add that to the team leader in points Evgeni Malkin and the ever dangerous Phil Kessel and the Preds will have a hard time containing this high octane group. They are also getting a balanced attack from many others. The goal tending situation also seems to be taking shape with Matt Murray looking fantastic since taking the reigns from Marc Andre Fleury. Justin Shultz has continued his surprising season on defense and is helping with the loss of Allstar defenseman Kris Letang. The only weak link on this team might be their defense, so only time will tell if Nashville can exploit it.
David: Nashville Predators
The Predators feature the best defense in the league and one of the best goalies in Pekka Rinne. Although they are without their number one center, Ryan Johansen, they have many other players stepping up. They also have the luxury of nobody really expecting them to win except for the fans in Nashville and sometimes that can be a major factor.  Over the course of a seven game series though I have my doubts.
Prediction
No matter what happens in this series it will be extremely fast paced and exciting for even the novice fan. Tune in Monday night for some great hockey and remember, never bet against Sid the Kid. He always rises to the occasion. And with that being said, Pens in 7!
Main Photo: