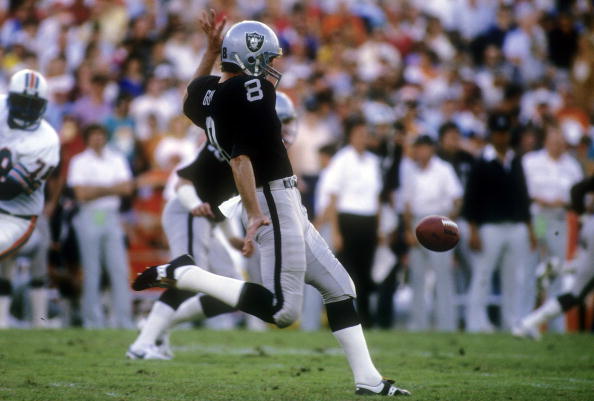 When people here the word punter, they often think of a useless position in football. Contrary to popular belief, the punter is an extremely important position in the game. If your team is pinned down on your own one-yard line, its the punters job to get the ball as far down the field as possible. A punter is a diverse position, and has been revolutionized in the modern game. As retired Indianapolis Colts punter, Pat McAfee once said, "Punters are people too!" Here's a look at the five best punters to play the game.
The Most Underrated Position in the NFL: Top 5 Punters
Shane Lechler owns the all-time highest average punt with 47.5 yards per punt. He is the definition of a traditional punter. With the amount of power he can deliver with his leg, its amazing that he doesn't have to register his leg as a weapon. He is known for punting the ball high and far, which is what you want in an ideal punt. He has recorded 18 tackles in his 18 seasons, and is three for five throwing the ball with a 132.5 passer rating, including a passing touchdown in 2011. His longest punt went for 80 yards.
4) Jon Ryan (Seattle Seahawks)
Jon Ryan will forever be remembered in Seattle for his work in the NFC championship game in 2015, where he turned a fake kick into a touchdown with a perfect pass. He has a passer rating of 109.7. In 822 career punts, he averages 44.7 yards. His total yards is 36,754! 282 of his punts have been inside the 20 yard line. Like Pat McAfee, this guy nows how to hit. In his seven seasons in the league, he has 18 total hits. He is the first punter to come from the CFL.
3) Ray Guy (Oakland Raiders, retired)
Ray Guy is the only punter to ever be drafted in the first round. He played 14 seasons in the NFL, all for the Oakland Raiders. His first three seasons in the league, punting statistics were not done, so all of his stats are lowballed. In 1,049 punts, he averaged 42.4 yards, with a long punt of 74 yards. Punts inside the 20 yard line was not a stat taken then, but it is estimated to be very high. In his career, he punted for over 44,493 yards! A six time NFL All-Pro selection, Ray Guy was the second ever punter to be inducted into the NFL hall of fame in 2014. His trademark was kicking the ball so high that his team had a chance to get downfield and make a defensive stop. In his college career, he kicked a record shattering 93 yard punt!
Johnny Hekker is the Rams all time leader in quarter back rating with a rating of 114.2. He is seven for twelve in his career, including two touchdown passes. Yes, he is a punter. Johnny Hekker revolutionized the way punters are seen. He was a quarterback in high school, so he knew how to throw a ball around. With that said, the Rams don't hesitate to use him on fake punts. In the 2016 season, he was first in the league in NET average (46.0), and punts inside the 20 (51). In his career, he has kicked over 434 punts, for 20,367 total yards, with an average of 46.9 yards a punt. His longest punt went for 78 yards in 2016. At only 27, he still has a lot of time left in the league. Check out his trick shot video with Dude Perfect. This guy is a machine.
1) Pat McAfee (Indianapolis Colts, retired)
Pat McAfee is the most diverse punter to ever play the game. Not only can he punt and kick, but he can throw, run, and hit (Oh man, can he hit). Because of his ability to hit, the NFL had him 'randomly' drug tested. He had an all-time passer rating of 95.8, an average of nine yards per carry, and an average of 46.4 yards per punt with his long punt of 74 yards. 34% of his punts were inside the 20 yard line, with the average return of his punts being only 10 yards. In his career, he punted for over 26,669 yards. He is also one of the best onside kickers to date. He is most known for his personality on and off the field (If you haven't seen his stand-up comedy, you are wrong!). Pat McAfee made punting fun again, while revolutionizing the position. Here are some highlights of the GOAT punter. McAfee decided to retire following the 2016-2017 to join Barstool Sports.
Main Photo: