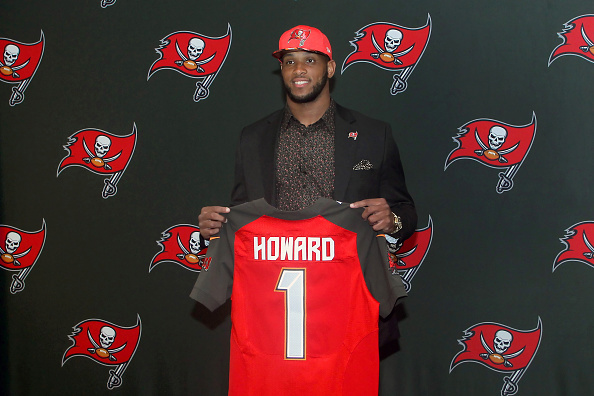 The NFL Draft closed just over a weak ago and it is time to look ahead to which rookies will have the biggest impact. Every team is looking for their first couple picks to make their mark this season but some will be noticed quicker than others. The candidates on this list are looking to start Week 1. With continuous controversy at the majority of quarterback positions, quarterbacks have been left off this list. These are players primed to change the outlook of their teams and have an immediate impact on the NFL.
5 Rookies That Will Have An Immediate Impact
The generational talent, Garrett was (as expected) the first player taken by the Browns in the NFL Draft. Garrett is expected to not only start week one, but to be an elite player and show why he was selected with the first overall pick. The expectations for Garrett are high but if his combine is any indicator, he should not have any trouble transitioning into the NFL. The problem is the lack of talent that surrounds Garrett. The Browns defence was awful last year and Garrett will be leaned on to make an immediate impact. Any sort of contribution would help a defence that was so poor a year ago.
Since Bruce Smith was drafted in 1985, only three defensive ends have been taken with the first overall pick; Jadeveon Clowney, Mario Williams and Courtney Brown. All three had at least 4.5 sacks in their first season of ten-plus games. Garrett will look to brake that trend but Browns fans should not look for double digit sack numbers. Instead, look for Garrett to hurry the quarterback and make crucial stops on third down.
Corey Davis (WR) – Tennessee Titans
Davis may have been a small reach for Tennessee but he fills an immediate need at wide receiver. Tennessee picked Davis with their fifth overall pick and want him to contribute to their budding offence from the first day of camp. The Titans have been steadily improving their offence and finished 2016 at 11th in total offence. This was a step in the right direction but the personnel could have used even more off-season upgrading. Davis is that offensive upgrade they were looking for.
Since drafting Marcus Mariota in 2015, the Titans have been looking for a true number one receiver to pair him with. In College, Davis showed that he has the talent of an elite receive. Steve Smith had such high praise for Davis that he compared him to Terrell Owens. However, Davis did not play in a top NCAA conference so this first year will be a huge test. Due to a lack of receiving talent Davis, will be a week-one starter and will find it hard to hide from Mariota. Mariota has improved every year and the link between him and Davis should only further the quarterback's growth.
If there is one thing people know about the Carolina Panthers, it is that they love their ground game. McCaffrey will make an impact because Carolina loves to run the ball and he is an all purpose back. Jonathan Stewart's best days are behind him and it would have been hard to lean on him for another 200+ carries again.
It was a match made in heaven and a perfect pick for the Panthers when they selected McCaffrey with the eighth overall pick.
Not only will McCaffrey give the Panthers a dual threat coming out of the backfield, but he also has the ability to catch the ball. McCaffrey was the most versatile back in the draft this year and will take some of the impending pressure off of Cam Newton. Newton took too many hits in 2016 and McCaffrey will soften the pressure. McCaffrey is also a great check-down option. Even though McCaffrey may not get as many snaps in year one as predicted, he will catch enough balls and pick up enough yardage to make a noticeable difference in the Carolina backfield.
O.J. Howard (TE) – Tampa Bay Buccaneers
The Buccaneers offence was good in 2016, but has gotten better over the off-season. They had already picked up a deep threat option in DeSean Jackson, and have now added a red zone target in Howard. The Bucs already have Cameron Brate at tight end but Howard gives them a far more athletic pass catcher. Both tight-ends will be used but Howard will be used in all passing situations and will see a large amount of snaps from day one.
The reason Howard will have an immediate impact in Tampa is because he is not as strong as a blocking tight end. Those responsibilities will most likely be given to Brate. If Brate handles the majority of the blocking roles, Howard will be given every chance to be utilized on passing downs. Mike Evans will draw double coverage and Jackson will draw downfield coverage. This will give Howard the entire middle of the field to work with. If Howard finishes the preseason as the no.1 TE on Tampa's depth chart, then his touchdown numbers could be huge for a rookie.
Derek Barnett (DE) – Philedelpiha Eagles
The Eagles could not have been happier when Barnett fell to them at 14th overall. This offseason, Philly already added defensive Timmy Jernigan to a defensive line that has Brandon Graham and Fletcher Cox. Barnett makes the Eagles defensive line even scarier. It might be harder for Barnett to earn starting duties but if he earns a starting spot over veteran Chris Long, his impact will be felt.
With the addition of Barnett, this d-line has the potential to feast on opposing quarterbacks. The Eagles had a painfully average defensive in 2016 and finished tied for 16th in sacks and 13th in total defensive. However, the Eagles were also second in defensive hurries. Adding Barnett to this line will turn some of those hurries into sacks. During Barnett's college career he had more sacks than Myles Garrett, finishing with 32 including 23 in his last two years at Tennessee. Barnett makes this current Eagles pass rush one of the best in the NFL and one that should drastically improve their team's overall success.
Image Credit: