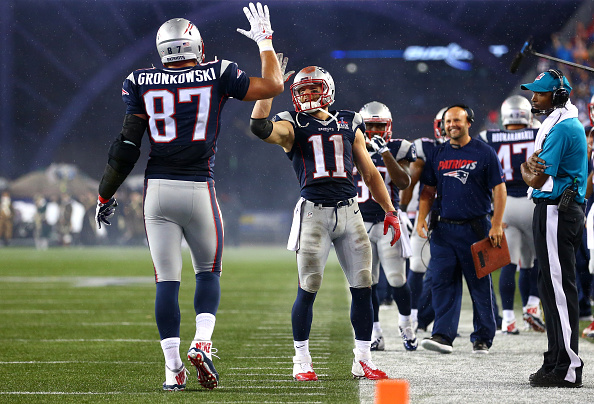 Looking at the NFL right now, there are many teams that look primed to have a great year, at least on paper. Looking at what teams should excel moving the ball through the air, a lot of factors come into play. Quarterback, receivers, tight ends, even running backs are the main ingredients to a potent passing attack. Here are a few teams that boast the most potent passing attacks for the 2017 season.
Five Most Potent Passing Attacks for 2017
New York Giants
The Giants' wide receiver corp for the 2017 season currently consists of several big-name receivers. Odell Beckham Jr is one of the most talented athletes to play the game, while Brandon Marshall is a veteran coming towards the end of a Hall-Of-Fame-type of career. They also have Sterling Shepard, the sure-handed slot receiver who showed his play-making ability in his rookie year.
The New York Giants are just a year removed from being one of the league's most high-powered passing offenses. And even after a down year, the team has put the right pieces together for the offense to bounce back. These three guys will give opposing defenses fits as they provide some much versatility for Eli manning.
Odell Beckham Jr. is the elite play-maker, while Marshall will be the big-bodied target on the other side to pull coverage off of Beckham while also providing a big red zone and third down target. Sterling Shepard should also show a lot of improvement in his second year. The Giants also just added a match-up nightmare of a tight end in Evan Engram from Ole Miss, that fills a long needed void at the tight end position for them.
All this, with the veteran signal caller in Eli Manning slinging it definitely gives this unit a chance to be one of the most explosive passing attacks in the NFL.
Tampa Bay Buccaneers
Jameis Winston is the first quarterback in NFL history to throw for over 4000 yards in each of his first two seasons, and don't be surprised if he does it for a third year in a row. Although Winston has had some issues with consistency, an offense that runs through Mike Evans is scary for any opposing defense. Also, with Cameron Brate emerging as a great red zone threat and Adam Humpries playing well from the slot throughout 2016, the offense is being primed to perform even better as last year.
The biggest addition to the team was when Desean Jackson was signed through free agency, because now the Bucs have a four-headed monster in the passing game. Mike Evans is a true number one receiver, while Jackson is the speedster who can stretch the field—and we know Jameis Winston loves to throw it deep.
This group of pass catchers got even scarier in the first round of the NFL draft when they selected Alabama's O.J. Howard. It is unsure what his exact role will be, but the Bucs have had a history of running two tight end sets. Imagine Cameron Brate and O.J. Howard on the field at the same time—I sure wouldn't want to be on the opposing side of that.
Atlanta Falcons
The returning number one scoring offense of 2016 is a unit that most would agree is going to continue to thrive in 2017. Matt Ryan was MVP last year and spread the ball around more than any other quarterback. Julio Jones is one of the best wide receivers in the game right now that can beat double teams. Mohammad Sanu is a very solid number two receiver who can make plays when they defense is focusing too much on Julio Jones.
As the 2016 season went, Taylor Gabriel emerged as another true weapon for the Falcons offense, using his tremendous speed and quickness to break big plays. Combine all these receivers with what is one of the best running back duos in Devonta Freeman and Tevin Coleman, this is another offense that should just shred defenses for a second straight year.
New England Patriots
With Tom Brady at quarterback, it is hard to not put them at the top of all passing offenses, especially with the amount of talent he has catching the ball. When healthy, Rob Gronkowski may be the best tight end to ever play the game. Utilizing the skills of Julian Edelman and Danny Amendola gives opposing defenses fits.
2016's offense saw some new contributing talent in Chris Hogan and rookie Malcolm Mitchell who should both improve in 2017. The Patriots made a huge acquisition when they traded a first-round pick for Brandon Cooks adds just another dynamic play-maker in the passing game.
Let's not forget that Tom Brady loves to get the ball to his running backs through the air, too, and he has both James White and Deion Lewis who are both terrific. This offense of talent led by the one and only Tom Brady is just scary.
Green Bay Packers
When you are playing against Aaron Rodgers, you better be able to defend the pass no matter who he is throwing the ball to. Unfortunately for NFL defenses, he has some great weapons at his disposal.
We all know Jordy Nelson and what he can do as a number one receiver. With him and Randall Cobb as the two veteran receivers on the team, the younger guys are continuing to grow, as we saw happen with Davante Adams last season. The Packers are definitely a team in which their offense runs through the air—even their starting running back is originally a wide receiver, though they will be changing Ty Montgomery's number this season.
And let's not forget their big free agent addition, Martellus Bennett, a well-rounded tight end that can block and make plays in the passing game. Granted, the Packers do not utilize their tight end as much as other teams, but with Bennett on the field it will be hard to ignore him.