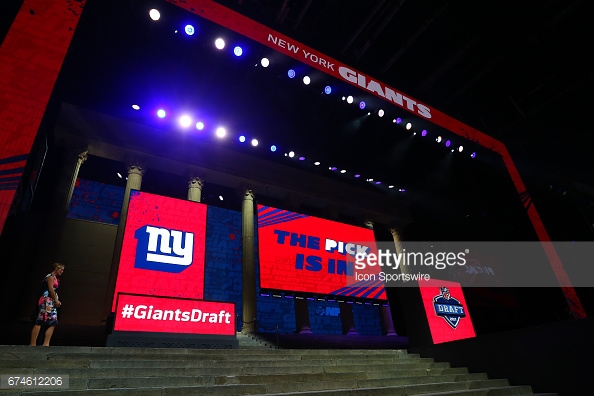 The 2017 NFL Draft was this past weekend. Some teams made some excellent pickups, and some teams made some questionable picks. The New York Giants draft class was solid this year. They covered both building for the future and filling some holes in the process. Here is Big Blue's 2017 Draft Class.
New York Giants 2017 Draft Class
Round 1 : Evan Engram, TE, Ole Miss
Engram is a No.4 receiver with the size to play tight end. He adds just another playmaker to this already talented offense. Engram's speed will make him a mismatch for opposing linebackers. Despite the issues in blocking, Engram's playmaking ability makes him a huge asset in this offense.
Tomlinson was great second round pick for the Giants. After losing
Johnathan Hankins
in free agency, Tomlinson could be a terrific replacement. The Alabama DT is a big body, and is very difficult to move fro the middle of the line. He's your typical Alabama DT, he wins with a very powerful technique.
The Giants may have found
Eli Manning
's successor down the line in the third round. Webb is a first round caliber quarterback. He has a very strong arm and pushes the ball down the field well. Webb also has some scrambling ability as he moves around the pocket very well. The Giants however will have to work on his foot work as he sometimes throws off his back foot.
Wayne "The Train" Gallman is a great fourth round pick for the Giants. He will be a great complement to
Paul Perkins
, and may even win the starting job. Gallman runs with power, and has an excellent burst through the line of scrimmage. Gallman is an excellent third down and red zone back. He uses his shoulders as weapons against defenders. Gallman should play a vital role in the Giants offense this year.
Round 5 : Avery Moss, DE, Youngstown State
Avery Moss has been described as a poor man's
Justin Tuck
. He is said to be just the type of player Giants defensive coordinator Steve Spagnuolo loves. Moss is relentless on defense and never gives up on plays. Moss will collapse the pocket, but has to evolve his pass rush moves. However, at this point in the draft Moss has one of the higher ceilings amongst pass rushers.
Bisnowaty described himself as a "nasty" football player. He has starter potential down the road, but may steal a spot on the Giants disastrous offensive line. Bisnowaty uses pure power and toughness. He just needs to prove that he is able to stay on the field as he missed time in three of his four years at Pitt.
Main Photo: