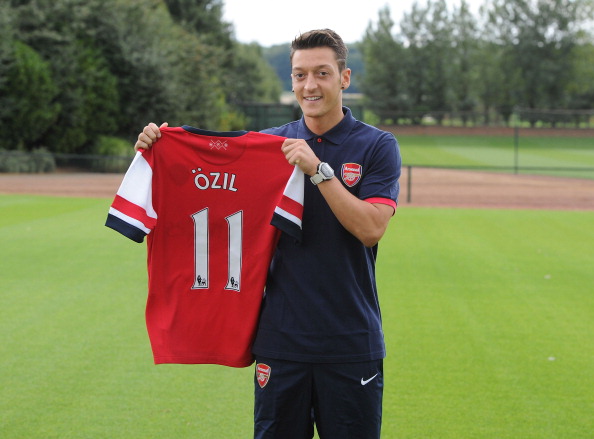 Love him or hate him, 'Wenger in" or "Wenger Out", one thing that can be said about the legacy of Arsenal manager Arsene Wenger is that he errs on the frugal side. He became known for finding diamonds in the rough for much of his early career, with a smattering of big name Arsenal signings to complement the talent he molded himself. Consider he paid a mere £500k for once heralded Cesc Fabregas.
The signings of Dennis Bergkamp from Inter Milan and Thierry Henry from Juventus catapulted Arsenal into a period of triumph, and each cost the club a fair price. But with the building of the new Emirates Stadium in the period after "The Invincibles", and the familiar 'war chest' locked tight, Arsenal fans went many years without expensive signings. Wenger also built the reputation of trying to get a deal for a player, only to lose out to a club willing to meet the asking price.
As the astronomical expense of the building of one of football's great stadiums has been paid for, the proverbial war chest has been open for several seasons, and the club and manager have finally started to spend. Whether they have spent wisely is a conversation for a different day.
The 10 Most Expensive Arsenal Signings
10. Danny Welbeck – £16m
Danny Welbeck signed at The Emirates at the close of the transfer window in 2014. The former Manchester United man still plays for the club, though has been second fiddle for much of his time at Arsenal. Having been injured for long stretches of time, he is a perfect squad player who can be used situationally.
9. Calum Chambers – £16m
Arsene Wenger was apparently eyeing the former Southampton player for some time, noting his ability to play several positions. Having featured on and off during his early time at Arsenal, he has since moved out on loan to Southampton where he has played very well and earned much needed experience. His signing in the summer of 2014 was seen as a strong move for the future.
8. Santi Cazorla – £16.5m
The signing of Santi Cazorla was widely accepted as one of the best bits of business from Wenger. Signing the midfielder from Malaga gave Arsenal a playmaker who has versatility. Gifted with being fantastic on the ball with both feet, Cazorla's absence this season has certainly affected Arsenal's form.
7. Andrey Arshavin – £16.95m
Andrey Arshavin's signing at Arsenal was very well received — even if it was under tense circumstances. The deal reportedly almost never happened due to difficulties with the paperwork. Nonetheless, the diminutive Russian was brought to London from Zenit-St. Petersburg in 2009. He became a fan favourite before slowly seeing his time on the pitch reduced. He returned to former club and now plays for Kairat in the Kazakhstan Premier League.
6. Lucas Perez – £17.1m
Lucas Perez signed for Arsenal from Deportivo La Coruña in August 2016. He was seen by Wenger as very strong in front of goal, with the propensity to find open spaces and to clinically finish. However, his time at Arsenal has seen him rarely appear and almost never start. Whatever the issue, fans have been been left wondering why Lucas Perez has not featured more regularly given how many goals he's produced in limited playing time.
5. Jose Antonio Reyes – £17.4m
Jose Antonio Reyes signed for Arsenal in the January transfer window of 2004 as a way for Arsenal to bolster its attack. Reyes found playing time early, coming in for Dennis Bergkamp. His career in London was short-lived, however. Arsenal brought in Robin van Persie soon after, and coupled with a dry spell in terms of production, Reyes was swapped on a loan deal to Real Madrid with Julio Baptista. Eventually it was Atletico who sought his services, paying Arsenal less than half of what they paid for him.
4. Granit Xhaka – £34m
Swiss international Granit Xhaka was signed from Bundesliga side Borussia Monchengladbach at the beginning of the 2016 summer transfer window. Xhaka was brought in for his tenacious reputation. And while he has gone through a somewhat tumultuous season, he still figures into Arsenal's plans moving forward, having shown much growth in the latter stages of the season.
2. Shkodran Mustafi – £35m
The signing of German international Shkodran Mustafi was warmly received from Arsenal's supporters. Having identified the need for a centre back, the former Valencia player Mustafi fit the bill with his experience and reputation as a defender. After signing in the busy summer of 2016, his first season with the club has been met with mixed reviews. He still features regularly for Arsenal when healthy, and some claim he could benefit from the recently adopted 'back three' formation Wenger has been using.
2. Alexis Sanchez – £35m
To say the signing of Alexis Sanchez was massive for Arsenal is an understatement. When the Chilean was transferred from Barcelona in July 2014, it put Arsenal in a new light. While the club hasn't seen the success that perhaps many expected, it proved it could compete with other global superpowers for the game's top players.
1. Mesut Özil – £42.5m
When Mesut Özil signed on Deadline Day in the summer of 2013, football fans were stunned. Moving to Arsenal from Real Madrid, Özil was seen to be entering his prime. A game-changer, he is as revered for what he does off the ball as he does when he has it at his feet. His time at Arsenal has not been entirely a smooth one. Being criticized as appearing apathetic, he is often misunderstood if not frustrating. When he is on, though, he is amongst the greatest playmakers.
Main image credit: