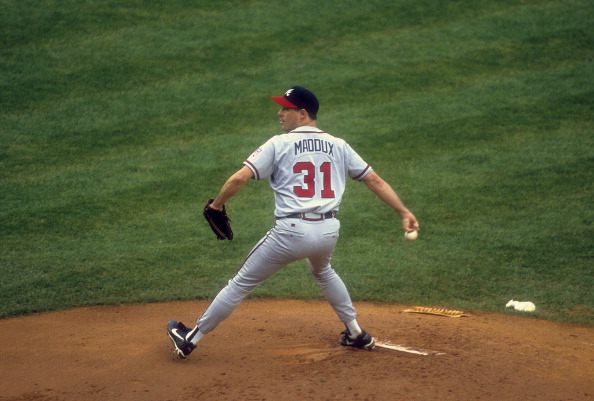 In the second round of the 1984 Major League Baseball draft, the Chicago Cubs drafted Greg Maddux. Possibly one of the best finesse pitchers of all time, Greg Maddux was the master of control and deception.
The Legend of Greg Maddux
Maddux by the numbers
In the first game he ever started, Maddux pitched a complete game. More than two decades later, he left the game with some of the most impressive stats in baseball history.
3371 career strikeouts—ranked 10th on the all-time strikeout list
Career win-loss record of 355-227
ERA of 3.15
League ERA leader for three-straight years (1993-95) when he went 55-8 with a 1.90 ERA in 678 IP
WHIP of 1.14
18 gold glove awards
Four consecutive Cy Young awards
Faced 20,421 batters—only 310 saw 3-0 counts (177 were intentional walks)
546 put-outs ranks Maddux number one among pitchers
97.19% vote in the Hall Of Fame ranks him the eighth highest percentage ever
Defense
Maddux had great reflexes and decision-making abilities. He was able to make impressive plays defensively, which was recognized with him winning the most gold gloves out of any player in history (18). Posting a career FLD% of .970, the hard work and consistency proved he was an excellent all-around pitcher.
Pitching
Greg Maddux was a complete pitcher with a wide variety of pitches. He's able to mix them very well and was known for confusing even the best of hitters. He never threw the ball very hard—his fastball averaged around 93 mph at best, having to rely on finesse and movement. His two-seam fastball being one of his most dominant pitches, he mixed it very well with his cutter, curve, and slider.
"Pitching a Maddux"
When a pitcher throws a complete game shut-out in under 100 pitches, it's called "Pitching a Maddux". In his career, he threw a whopping 102 complete games, the majority of which were under 100 pitches.
Maddux is on most analyst's lists as one of the greatest pitchers to ever play the game.
Main image credit: