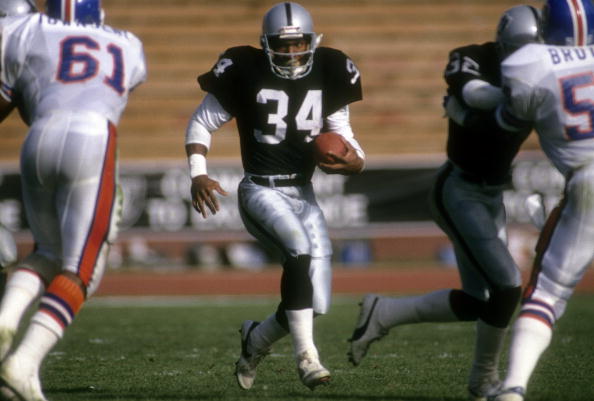 As NFL fans, we hope and pray that every one of our team's draft picks and free agent signings will turn into pro bowlers and all pros. With that being said, hope is usually never reality. The college game is a lot different from the pro version. There were some players that were pretty easy to spot as likely never to find pro success, such as former Jaguars and 49ers quarterback Blaine Gabbert or former number two pick Ryan Leaf. There have also been many who either experienced terrible breaks or just could not stay out of trouble. These are five of the biggest "what if" NFL stars in recent memory.
5 of the Biggest "What If" NFL Stars
What if Jamaal Charles didn't tear his ACL, twice?
While we can't say that Jamaal Charles was a bust by any stretch, it is impossible not to wonder what could have been. After suffering a torn ACL in 2011 he ran for 1500 yards, defying sports history as we know it. He continued throughout the next couple of years to be one of the best running backs in the NFL, making the pro bowl in 2012, 2013, and 2014. Then, in 2015, Charles suffered another torn ACL in week five, ending his season. He was not the same player this past season, nearly never getting on the field. If Charles had avoided the dreaded knee issues, it would be safe to say that he could be a top three running back in the NFL. He is only 30 years old, but in NFL terms that is pretty old—especially for an NFL workhouse back. As athletic as Charles is, it will be interesting to see if he can regain his form when, or if, a team signs him this offseason.
What if Johnny Manziel did not have off-field issues?
Manziel was as close to a deity on the college football field as you could get. His ability to make plays, escape pressure, and sling the ball was legendary at TAMU. Need proof? Just go look up his highlights against Alabama in 2012. The first freshman ever to win the Heisman trophy, Manziel slipped in the draft because of his size. He was taken 22nd overall by the Cleveland Browns. While he had all the intangibles to be a success in the NFL, the glitz and glamour of the life of a celebrity was too much for Manziel to handle. After struggling in his rookie year, Manziel showed flashes in his second year, until he was benched after a TMZ video surfaced of him partying in Texas. The Browns released Manziel in March of last year. He struggled with reported substance abuse problems and a domestic violence case, causing him to lose all his sponsorship deals and his agent. At one point, even his father thought that it would be better off if he was in jail. While Manziel has his own personal demons to still get over, he has the tools to make an NFL comeback, which many football fans would welcome.
What if Robert Griffin III didn't tear his ACL?
The debate in the first overall pick of the 2012 draft was either Andrew Luck or Robert Griffin III. The Colts ended up choosing Luck, the pro style quarterback from Stanford. Griffin went to the Washington Redskins, who had traded with the Rams to acquire him. Griffin was an athletic QB from Baylor whose ability to expand plays and his arm strength warranted a top five pick. In his rookie year, Griffin tore up NFL defenses, throwing for 3200 yards and 20 touchdowns while winning Rookie of the Year. He suffered some smaller leg injuries in his freshman year, but he was alright until a playoff game against the Seattle Seahawks. Griffin tore his ACL and his LCL, altering his career. He was never able to run the same, losing some of that quickness that made him such an elite prospect. He never ended up fully recovering, being benched for former fourth round pick Kirk Cousins late in his second season. In 2014, Griffin dislocated his ankle in week two, came back later in the season and was inconsistent at best. Finally, he suffered a preseason concussion in 2015 that left him on the bench in favor of Cousins, until he was released and picked up by Cleveland. Now no one knows what is in store for Griffin after a less than mediocre year with the Browns.
What if Michael Vick was never arrested?
Michael Vick was singlehandedly changing the quarterback position with the Falcons. His new two-dimensional style was a rarity in the the NFL. Vick was an exception. He was like a human cheat code, evading defenders with his legs and throwing missiles with his arm. Then, it all came crashing down. Vick was charged with bankrolling a dogfighting operation in his Virginia home, and was sentenced to 18 months in prison. When he was let out a year and a half later, the NFL had moved on. Vick had a couple of successful years with the Eagles, but never really got back to the top of the league. He backed Ben Roethlisberger for a couple of years before retiring this year. It is interesting to think about how different the league might look today if Vick did not go to jail. The Falcons drafted Matt Ryan, and moved on, but what if they hadn't? Where would Ryan be? Would the Falcons have been in Super Bowl 50, or would they have made more Super Bowls?
What if Bo Jackson never hurt his hip?
Bo Jackson was an icon. The multi-sport pro is considered one of the greatest pure athletes of all-time. He could even be considered one of the greatest halfbacks of all time, if not for a hip injury he suffered in his fifth NFL season that ended his football career. He was the poster boy for Nike's NFL "Bo Knows" campaign. He dominated the field with his quickness and agility, but also could be a bruising bone crusher inside. He was on his way to becoming an all pro when the playoff game against the Cincinnati Bengals happened and he dislocated his hip. While this injury ruined his football career, Jackson had a very successful baseball career with the Kansas City Royals, showing how truly athletic he was. It is sad that we will never know how good Bo could have been and how he could have challenged the greatest backs of all time for a share of that honor.
Main Photo: